AVALON BALLROOM

Date : 30/03/1969
Lieu : Avalon ballroom, Boston, MA
Label : Inconnu
Support : 1 cd
Durée : 36:16 mn
Source : Soundboard
Qualité sonore : 7/10

Liste des titres :
01. No Longer Umpire (2:33)
02. Reflected (3:50)
03. Ten Minutes Before The Worm (2:03)
04. Swing Low Sweet Cheerio (6:24)
05. B.B. On Mars (1:23)
06. Fields Of Regret (6:23)
07. Nobody Likes Me (3:49)
08. Don't Blow Your Mind (9:51)

Commentaire : L'un des plus ancien concerts d'Alice Cooper disponible en bootleg. Le son n'est pas fameux et le groupe n'avait pas encore vraiment les moyens (techniques) de ses ambitions à cette époque. Il n'avait pas non plus composé de chanson vraiment renversante. Plus un document historique qu'autre chose, donc.

Disponible ici (en mp3) : http://turbobit.net/uz88fhozptrd.html
Pochette :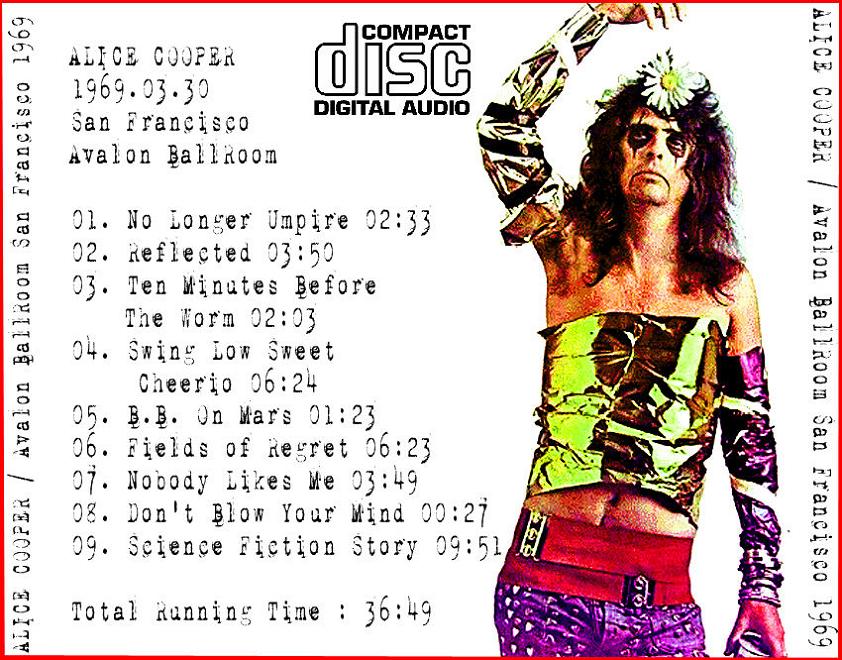 Bootleg n°836