ENTERING A NEW RIDE (Unreleased album)
Date : 1996-1997
Lieu : Studio Recording, London
Label : Inconnu
Support : 1 cd
Durée : 63:00 mn
Source : Studio recording
Qualité sonore : 10/10

Liste des titres :
01. Man, That Is Dynamite! (6:23)
02. B.A.D. And The Night Time Ride (4:55)
03. Sunday Best (4:20)
04. Must Be The Music (6:08)
05. Taking You To Another Dimension (6:49)
06. Sound Of The B.A.D. (6:20)
07. Cozy Ten Minutes (8:11)
08. Get High (5:01)
09. Bang Ice Geezer (4:33)
10. On The Ones And Twos (4:59)
11. Nice And Easy (6:53)
Musiciens :
Mick Jones – Producer, Vocals & Guitar
Nick Hawkins – Guitar
Andre Shapps – Keyboards
Bob Wond – Drums
Commentaire (en anglais) :
written by David Parker for planetbad.files
Despite positive reviews the "F-Punk" album (released in June 1995) wasn't a major commercial success, and the next year BAD would play no live dates at all, as they worked on new material, which would see them change direction once again.
Work started on BAD's second album for Radioactive, "Entering a New Ride" during 1996. Chris Kavanagh and Gary Stonadge had already left the band, whilst guitarist Nick Hawkins played on the sessions, but left to form his own band Dynamo Jo, after the album was completed. New members Joe Attard (DJ/vocals), Bob Wond (drums/vocals), and Daryl Fulstow (bass/vocals) were recruited along with Ranking Roger (vocals) who had previously enjoyed success with both The Beat and General Public.
There were now two DJ's in the band, and the emphasis switched from the guitar driven music of the "F-Punk" album, to music that once again reflected current trends in UK club culture. Unlike "Megatop Phoenix" though, Mick's vocals were not present throughout the album, and he was credited as being the guitarist and MC. This meant other members of the group contributed more to the album vocally than on any previous BAD project, and it sounded somewhat different to anything the band had issued before. So different, in fact, that Radioactive Records refused to release the album when it was finished, as it seems they couldn't work out how to market a band who could change styles so dramatically from one album to the next.
Promotional copies of both the single "Sunday Best", and the album were circulated, and Norman Cook a.k.a Fat Boy Slim gave the "Sunday Best" single the following enthusiastic review in Wax magazine:
"Mick Jones' Ladbroke Grove contingent return from an all too long absence with a shockingly good record. For my mind this venerable statesman of rock/dance crossover has a genius for keeping up with the pace of underground dance and incorporating it into his own sound. Mick carries on with his love affair with promoting London as his beloved metropolis after dark, but he's interjected the social/big beatbreaks and sirens to astounding effect. Remember this was the man who in the Clash introduced a generation of NME readers to rap, funk and reggae, and if you don't like the A side there's a tough instrumental on the flip. Go ahead London."
Despite these positive comments Radioactive refused to change their stance, and both the single and the album remained officially unreleased. BAD fans started an internet campaign known as "BAD Aid", in which all fans were encouraged to write to Radioactive records showing an interest in the unreleased album, and requesting its release, but despite a great deal of time and effort by a number of BAD fans the album remains in the Radioactive vaults to this day.
Pro-quality CDR copies have been circulating amongst BAD fans for a number of years now. So in the end the BAD fans didn't lose out, but the record company did, and in many respects so did the band, as the album really deserved it's full release, and the royalties that would have come from it.
BAD played two dates in Hull on August 9, and 10th 1997, as part of a Mick Ronson tribute, and this marked the first and last time that any of the material from the "Entering a New Ride" album was played live.
The BAD Sound System was formed during 1997 and consisted of DJ's Mickey Custance and Joe Attard, Andre Shapps on keyboards and samples, and Mick as the MC. The Sound System held regular DJ sessions at Club Maximum in London, but it seems that Radioactive Records decision not to release the "Entering" album signalled the end of Big Audio Dynamite as a band, with the name only being associated with the Sound System after BAD's final appearances in Hull in August 1997.
1998 saw the BAD Sound System play further dates in the UK and Europe, and they also remixed records for other artists including DJ Punk Roc, and Hurricane #1 (1999). The official Big Audio Dynamite website: www.bad.co.uk was launched in 1999, and tracks and out takes from the unreleased "Entering a New Ride" album were made available as MP3's on the site.
The reformation of the original line up of BAD was officially confirmed on 25th January 2011 with the announcement of a 9 date UK tour, which delighted fans that had probably given up hope of ever seeing the band in action again. From late March to early September BAD toured the world, played festivals, and appeared on prime time TV. Reviews were good, with the better writers also pointing out that music the band recorded all those years ago, was not only influential but underappreciated too, and we finally saw the band get the acclaim they deserved for being so far ahead of the game all those years ago.
Disponible ici :  https://1fichier.com/?a5if7uq053eckwowxyfp
Pochette: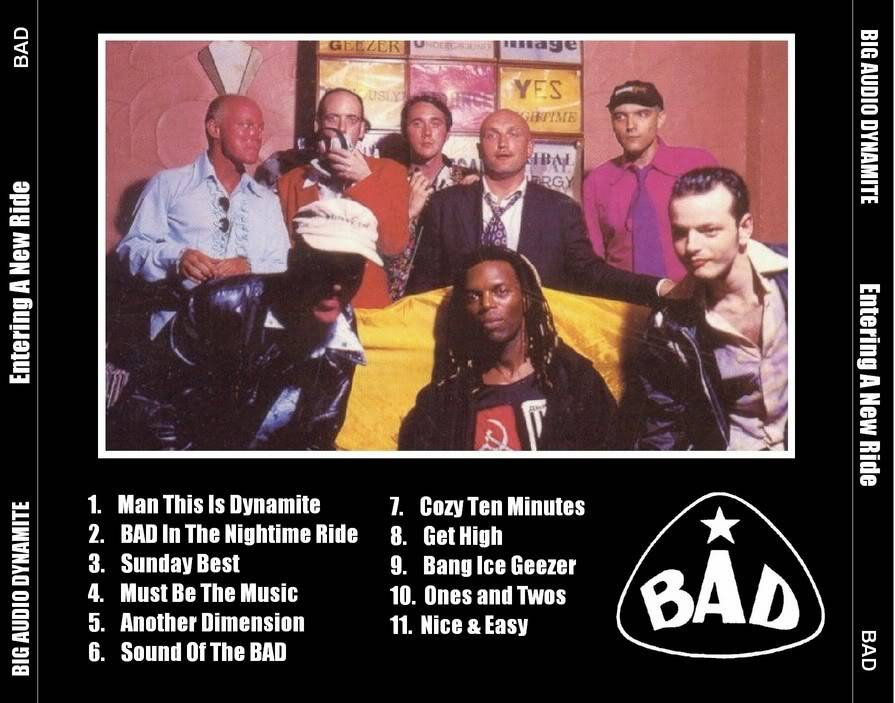 Bootleg n°3423