ROLLING THUNDER REVIEW
Date : 03/05/1976 (Second concert – soirée)
Lieu : Warehouse, New Orleans, LA
Label : Flashback (Réf. : Flashback 01.94.0225)
Support : 2 cd
Durée : 139:22 mn
Source : Soundboard
Qualité sonore : 9/10

Liste des titres :
CD1 – 69:23
01-I Love My Music (3:30)
02-Flint Hill Special (1:59)
03-Werewolves Of London (5:47)
04-Rollin' Across The USA (2:27)
05-Dear Abbie (4:31)
06-Asshole From El Paso (2:21)
07-Mr Tambourine Man (5:19)
08-Love Minus Zero (3:31)
09-Vincent Van Gogh (2:53)
10-Maggies Farm (5:31)
11-Mozambique (4:12)
12-Eight Miles High (3:33)
13-Jolly Roger (4:39)
14-Lover Of The Bayou (3:49)
15-Chestnut Mare (5:24)
16-Do Right Woman (2:35)
17-Gonna Build A Brand New World (2:37)
18-Love Is A Pain In The Ass (4:45)
CD2 – 69:59
01-The Night They Drove Old Dixie Down (3:28)
02-Red Telephone (4:27)
03-Dancing In The Streets (7:22)
04-Diamonds And Rust (3:56)
05-Railroad Boy (2:42)
06-I Pity The Poor Immigrant (4:20)
07-Shelter From The Storm (6:02)
08-Stuck Inside Of Mobile (6:39)
09-Rita May (3:42)
10-Lay Lady Lay (4:27)
11-Idiot Wind (10:22)
12-Knockin' On Heaven's Door (4:36)
13-Gotta Travel On (7:56)
Musiciens :
Bob Dylan (guitar & vocal)
Scarlet Rivera (violin)
T-bone J. Henry Burnette (guitar & piano)
Steven Soles (guitar)
Mick Ronson (guitar)
Bobby Neuwirth (guitar & vocal)
Roger McGuinn (guitar & vocal)
David Mansfield (steel guitar, mandolin, violin & dobro)
Rob Stoner (bass)
Howie Wyeth (drums)
Gary Burke (congas)
Commentaire :  Le même concert a été publié par le label Soundboard Mastertape sous le titre « Friends and other strangers ». La qualité me paraît légèrement inférieure sur la version de Flashback (peut-être un effet du réducteur de bruit de fond) mais il est un peu plus complet (139 minutes contre 133). L'intérêt est que certains titres de Dylan figurent sur l'un des deux bootlegs mais pas sur l'autre, et réciproquement. Au total, on dispose de tous les titres joués par Dylan ce soir-là.

Disponible ici : http://www.guitars101.com/forums/f145/bob-dylan-1976-05-03-new-orleans-la-sbd-flac-191324.html
Pochette: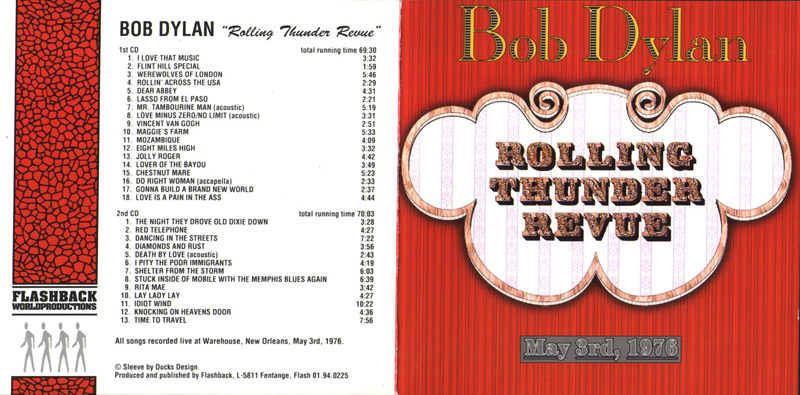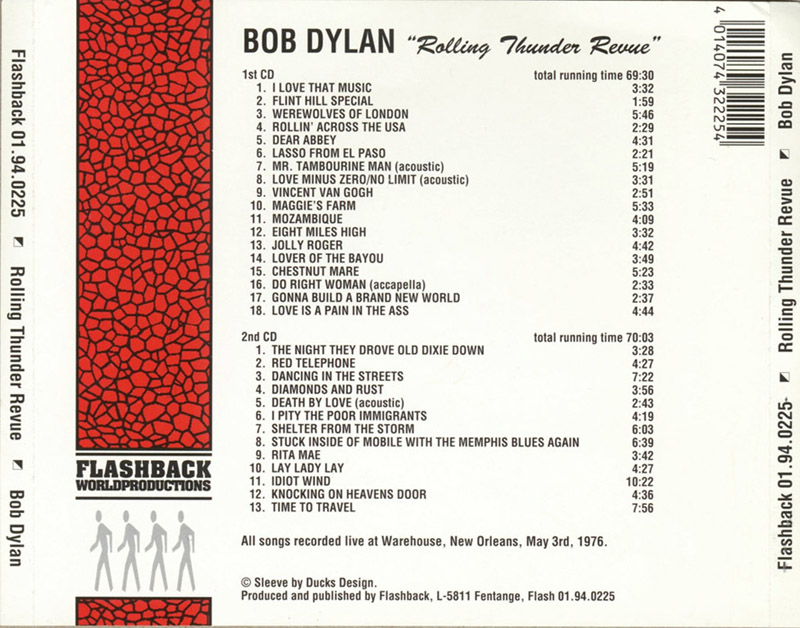 Bootleg n°2254