THE TORONTO ROCK'N ROLL REVIVAL
Date : 13/09/1969
Lieu : Varsity Stadium, University of Toronto
Label : Warlock (Réf. : WARCD 8703)
Support :1 cd
Durée : 48:46 mn
Source : Soundboard
Qualité sonore : 9/10

Liste des titres :
01. Introduction
02. South California Purples
03. 25 or 6 to 4
04. Does Anybody Really Know What Time It Is?
05. I'm A Man
06. Questions 67 and 68
07. Liberation
08. Beginnings (fades out)

Commentaire : Ce bootleg existe dans des dizaines de versions, dont beaucoup ont été vendues en toute légalité dans le commerce mais sans mention de lieu et de date (généralement juste sous le titre de « Live », de « Chicago » ou même de « Greatest Hits »). Le groupe joua 8 titres durant ce concert, mais la plupart des versions bootleg n'en comportent que sept – pas toujours les mêmes cependant. Les titres indiqués sur les pochettes sont souvent erronés, par exemple « South California Purples » est souvent indiquée comme « Purple song ». Souvent également, les titres sont saucissonnés, surtout « Liberation », qui dure normalement plus de 16 minutes. Bien que ce bootleg illustre à la perfection le cynisme des vendeurs de disques, il ne doit pas forcément être négligé car il constitue un témoignage rare du groupe à ses débuts et bénéficie d'un son tout à fait correct. Cependant, mieux vaut rechercher les versions qui ont tenté de conserver l'ordre des titres et les enchaînements d'époque, comme c'est le cas par exemple de la présente version.
Disponible ici : http://plumdusty.blogspot.fr/2015/04/chicago-transit-authority-1969-09-13.html
Pochette :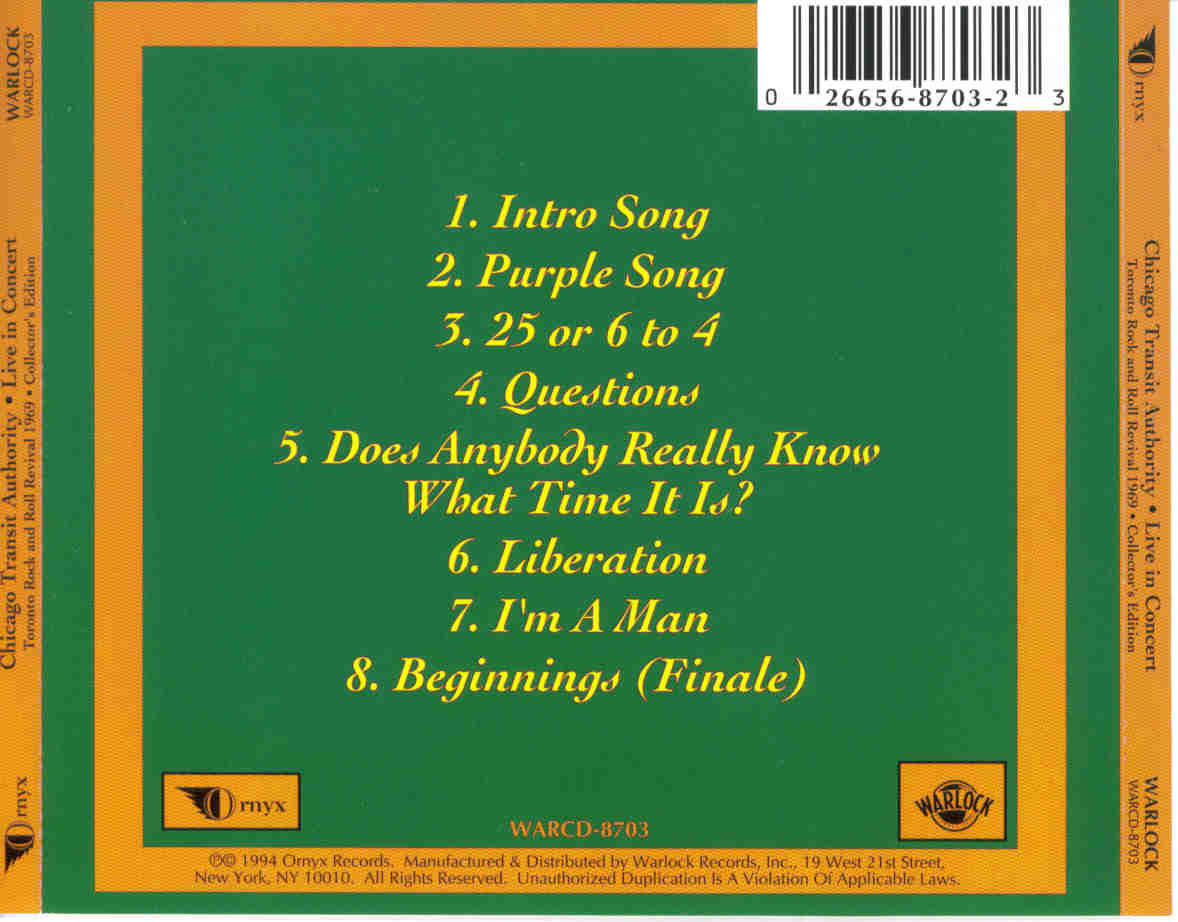 Bootleg n°631