CLEVELAND 22.10.85 (D3RN rMASTER)

rMASTER provided by D3RN
Date : 22/10/1985
Lieu : Cleveland Music Hall, Cleveland, OH
Label : The RS Archives
Support : 2 cd
Durée : 100:38 mn
Source : Soundboard
Qualité sonore : 9/10

Liste des titres :
CD1 – 71:07
1. The Baby Screams (3:48)
2. Play For Today (3:54)
3. Kyoto Song (4:57)
4. Primary (3:32)
5. The Hanging Garden (4:29)
6. Cold (4:33)
7. A Night Like This (4:57)
8. In Between Days (3:00)
9. Let's Go To Bed (3:25)
10. The Walk (3:18)
11. Push (4:25)
12. Screw (2:30)
13. One Hundred Years (7:28)
14. A Forest (11:41)
15. Sinking (5:10)
CD2 – 29:31
1. Six Different Ways (3:09)
2. Close To Me (3:44)
3. Charlotte Sometimes (3:55)
4. Three Imaginary Boys (3:17)
5. Boys Don't Cry (3:03)
6. 10-15 Saturday Night (4:05)
7. Killing An Arab (2:45)
8. Do You Wanna Touch (5:33)
Commentaire :  Concert complet et qualité sonore excellente, surtout la version améliorée par D3RN. Un must.
A word or two by D3RN : « Inbetween Days' was a big hit and The Cure was moving up from cult status into true stardom. First time the Cure play Ohio, showing their growing audience and status, thanks to songs like 'Let's Go To Bed' and 'Inbetween Days'. Us hardcore fans know this was a special time for the Cure, Simon had just rejoined the band, and after a few line-up changes we had a solid band that would be together for a least a few years, (except for Lol). I think of this time as the most 'Cure' for some reason. Great set-list, only one I don't care for is 'Six Different Ways', just not my favorite song, but other than that every song is great. I would have killed for this complete Soundboard back in 1996 when all I had from that time was 'Mad Bob', not a bad show, but I much prefer Soundboards over audience one with few exceptions. Ending the show with 'Do You Wanna Touch' is a nice bonus. I did some EQ work to it; the high's needed to be brought out some I felt, it was a little flat sounding. The reason I gave it a 9 and not a 10 was that the original tape source was just a bit flat and dull sounding to start with. I was also unable to get rid of that last bit of hiss from the tape source without altering the sound too much, which was vexing. I chose to stay true to the original recording and not add any headroom with Stereo Enhancer effects or Reverb. I held myself back. It may have improved the sound a bit, but it no longer would sound true to the original source, which I feel is important. I don't believe the original files are available anymore online, although I still have them and used them for the start of this rMaster. The source I got them from now has the 'other' remaster. I made this one in response to the 'other' remaster, which like all my main complaints about these sh*t remasters everyone makes these days is; they all do the same thing and make something that sounded great with full harmonics and dynamics into a tinny, digital, and compressed sounding Scheiße. 99% of the time I prefer the Original recording everytime. (!) Hope y'all enjoy very much. »
Version originale disponible ici* : http://www.guitars101.com/forums/f145/the-cure-1985-10-22-cleveland-oh-fm-flac-118284.html#post927045
D3RN rMASTER disponible ici : https://mega.nz/file/ZZYEGCoY#kAQJKS15drornw1RTVh7QPkxuaE19Nd-pVhLMaYYrA8
*Assurez-vous que le téléchargement de ces fichiers ne contrevienne pas à la législation en vigueur.
Pochette :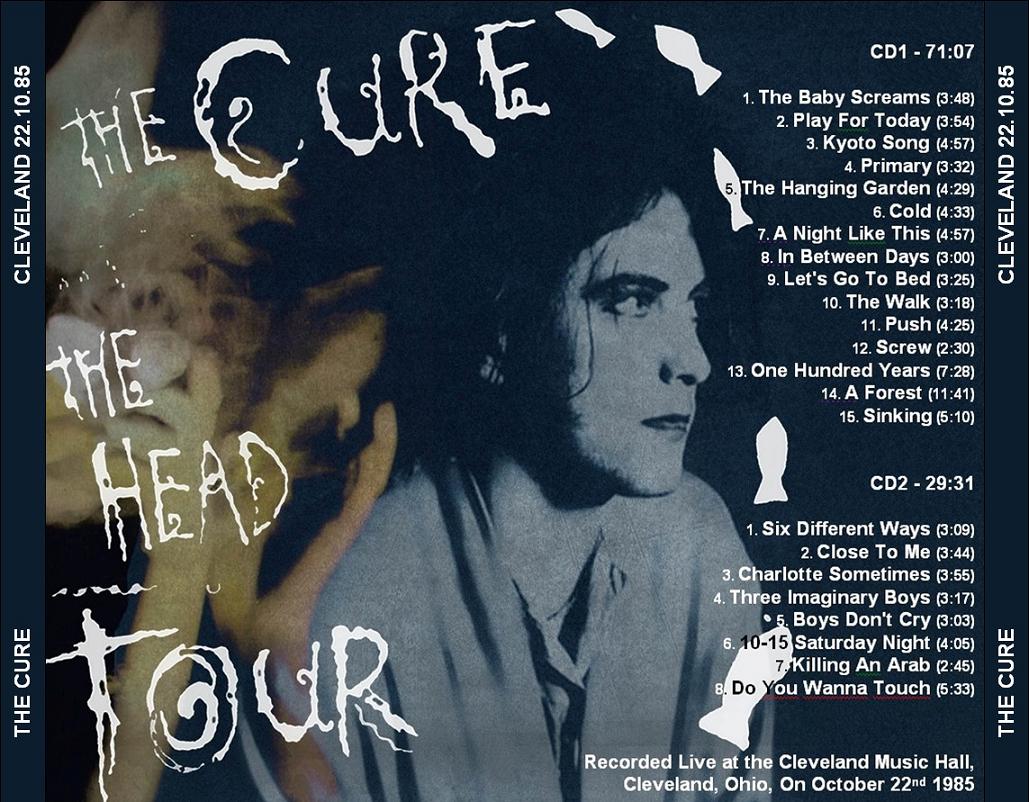 Bootleg n°112