AYLESBURY 1971

Date : 25/09/1971
Lieu : Aylesbury Friars Club (U.K.)
Label : Savage Jaw (www.savagejaw.co.uk)
Support : 1 cd
Durée : 62:02 mn
Source : Audience
Qualité sonore : 6,5/10

Liste des titres :
01. Intro
02. Fill Your Heart
03. Buzz The Fuzz
04. Space Oddity
05. Amsterdam
06. The Supermen
07. Oh You Pretty Things
08. Eight Line Poem
09. Changes
10. For Bob Dylan
11. Andy Warhol
12. Queen Bitch
13. Looking For A Friend
14. Round And Round
15. Waiting For The Man

Commentaire :
Un concert assez connu, car c'est le plus ancien – ou l'un des plus anciens – de Bowie qui existe sur le marché du bootleg. C'est davantage un document historique qu'autre chose. La médiocre qualité sonore rend l'écoute assez pénible, même si ça reste supportable.
Il existe une tripotée de version de ces bandes. En voici deux exemples* :
http://vivalesbootlegs.blogspot.fr/2011/07/david-bowie-aylesbury-friars-club-1971.html
http://www.guitars101.com/forums/f145/david-bowie-1971-09-25-aylesbury-uk-aud-flac-164910.html#post1107694
*Assurez-vous que le téléchargement de ces fichiers ne contrevienne pas à la législation en vigueur.
Pochette :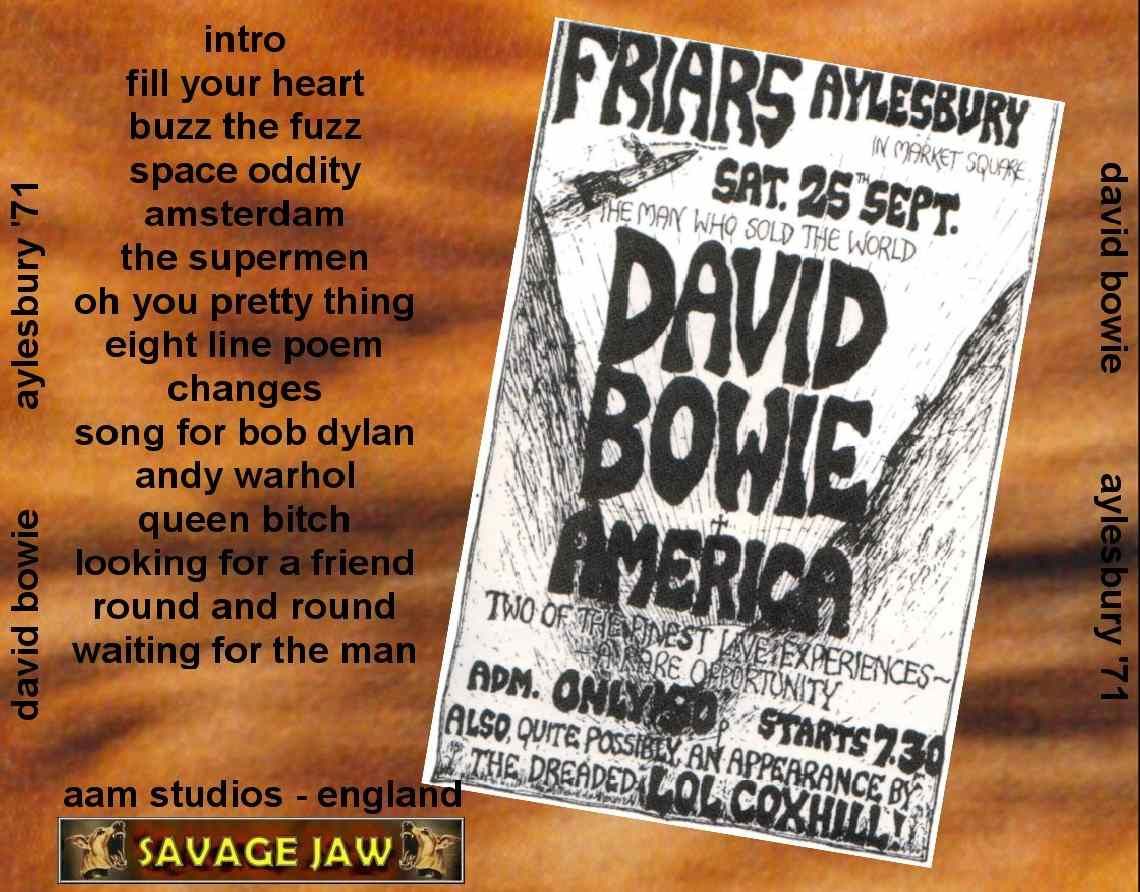 Bootleg n°1238