WEALTH & AUTHORITY

Date : 05/09/1974
Lieu : Universal amphitheater, Los Angeles (Ca.)
Label : Shout At The Top (STTP 126/127)
Support : 2 cd
Durée : 107:02 mn
Source : Soundboard
Qualité sonore : 9/10
Liste des titres :
CD 1 – 53:48
1. Intro (9:57)
2. 1984 (3:38)
3. Rebel Rebel (2:32)
4. Moonage Daydream (5:14)
5. Sweet Thing (7:35)
6. Changes (3:44)
7. Suffragette City (3:46)
8. Alladin Sane (5:52)
9. All The Young Dudes (3:16)
10. Cracked Actor (3:20)
11. Rock N' Roll With Me (4:53)
CD 2 -53:14
1. Knock On Wood (3:24)
2. It's Gonna Be Me (7:26)
3. Space Oddity (5:15)
4. Diamond Dogs (6:56)
5. Big Brother (4:04)
6. Time (5:46)
7. Jean Genie (5:35)
8. Rock N'Roll Suicide (6:16)
9. John I'm Only Dancing (8:25)
Commentaire : La tournée 1974 fut la plus chaotique de la carrière de Bowie. Drogué jusqu'à la moelle (il ne pesait plus que 40 kg), beaucoup pensaient qu'il n'y survivrait pas. Musicalement, Bowie venait de sortir son dernier chef d'oeuvre (je parle de l'album « Diamond Dogs, et quand je dis dernier, je veux dire vraiment le dernier grand disque de toute sa carrière) et s'était entiché de la « plastic soul », une musique d'inspiration funky venue des Etats-Unis. Il avait donc décidé de revisiter tous ses anciens succès à la sauce funky. Sur certains titres, cela fonctionne assez bien ; sur d'autres (comme sur « Changes », par exemple) c'est assez catastrophique. Enfin, pour le décor scénique, Bowie avait exigé une construction mégalomaniaque qui avait manqué de ruiner ses producteurs. Bref, pour beaucoup, public compris, cette tournée fut un cauchemar. Mais c'est aussi une période de créativité assez exceptionnelle, celle de son grand tournant du glam à la soul.
S'il ne vous faut qu'un seul concert de cette tournée, c'est celui-là! Et pour cela, il suffit d'aller voir la-dessous :
Disponible ici* : http://plumdusty.blogspot.fr/2015/04/david-bowie-1974-09-05-universal_12.html
ou ici : http://www.guitars101.com/forums/f145/david-bowie-wealth-and-authority-sbd-flac-185422.html
*Assurez-vous que le téléchargement de ces fichiers ne contrevienne pas à la législation en vigueur.
Pochette :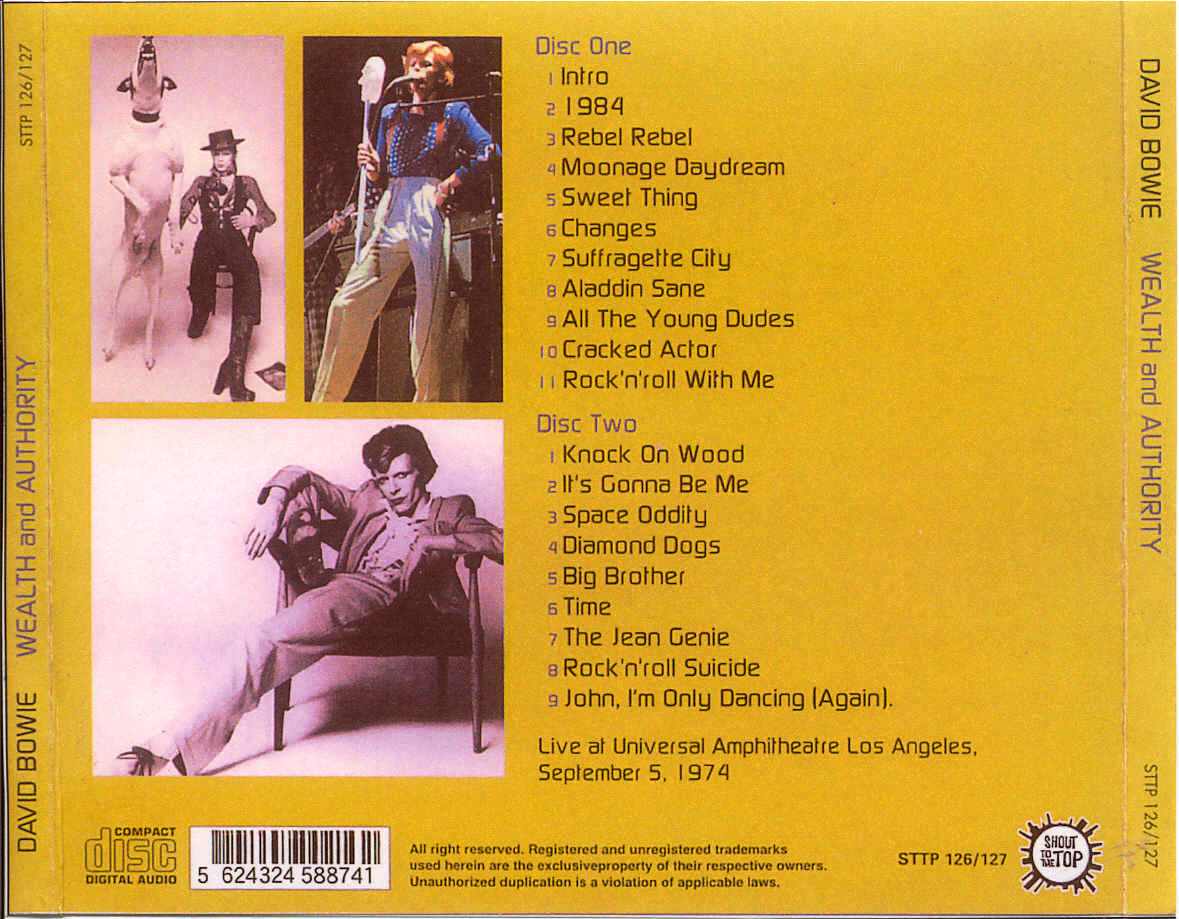 Bootleg n°871