MAD DOG USA

Date : 16/04/1987
Lieu : Civic Centre, Portland, Oregon
Label : Power Gate (Ref. : PG 068)
Support : 2 cd
Durée : 104:56 mn
Source : Soundboard
Qualité sonore : 8/10

Liste des titres :
CD1 – 59:58
1. Intro (1:30)
2. Highway Star (5:49)
3. Strange Kind Of Woman (7:59)
4. The Unwritten Law (4:09)
5. Drum Solo (2:45)
6. Dead Or Alive (5:30)
7. Perfect Strangers (6:34)
8. Hard Lovin' Woman incl. Under The Gun (4:26)
9. Bad Attitude (5:33)
10. Child In Time (10:12)
11. Woman From Tokyo (1:27)
12. Mad Dog (4:04)
CD2 – 46:28
1. Intro (1:30)
2. Difficult To Cure (2:50)
3. Jon Lord Keyboard Solo (5:24)
4. Knocking At Your Backdoor (7:29)
5. Lazy (5:27)
6. Space Truckin' (4:45)
7. Keyboard/Guitar Solo (10:05)
8. Smoke On The Water (8:58)
Commentaire : Un concert avec un son correct (mais pas parfait) de la tournée 1987. L'album « The House of blue light » n'a pas très bonne presse. Le groupe ne l'aime pas car l'ambiance était mauvaise au moment de l'enregistrement; d'ailleurs, Gillan a été viré du groupe peu après. Quant à la critique, elle a fait la fine bouche. Pourtant, à y regarder de près, il est dans la lignée de Perfect Strangers et propose même des compositions plus ambitieuses. Pour tout dire, je le considère comme le meilleur album de la reformation de Deep Purple. Dommage qu'en concert le groupe n'ait pas interprété certains titres de l'album, notamment Call of the wild, qui n'a été joué que quelques fois, et l'excellent Strangeways, qui aurait pourtant pu donner lieu à de terribles chorus.
Disponible ici en torrent* :  magnet:?xt=urn:btih:3dd1c37013d76768fa652b1fa1472b67334cee32&dn=Deep+Purple+-+1987-04-16+-+Portland%2C+ME%2C+USA+%28Mad+Dog+USA%29

Ou bien sur demande (en mp3)
*Assurez-vous que le téléchargement de ces fichiers ne contrevienne pas à la législation en vigueur.
Pochette :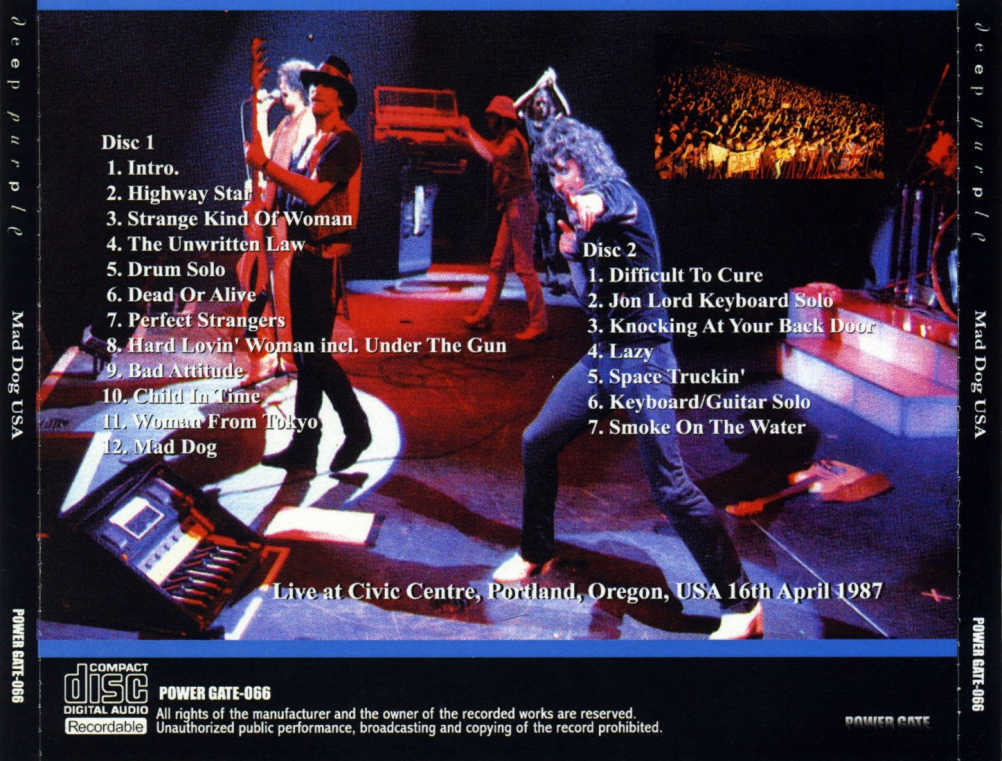 Bootleg n°2323