PARADISO 1969
Date : 24/08/1969
Lieu : Paradiso Club, Amsterdam, Netherlands
Label : Divers (nombreuses versions en circulation)
Support : 1 cd
Durée : 54:38 mn ou 79:51 (selon les versions)
Source : Soundboard
Qualité sonore : 8/10 à 9/10 selon les versions

Liste des titres :
version 1 :
1. Kneel & Pray (Speed King) (8:42)
2. Child In Time (13:17)
3. Hard Road (5:55)
4. Ritchies Blues (15:32)
5. Outro (11:12)

version 2 :
1. Kneel and prey (9:21)
2. Child in time (12:36)
3. Hard road (wring that neck) (16:28)
4. Paint it black (9:04)
5. Mandrake roots (32:22)
Commentaire : Existe dans de nombreuses versions qui ont presque toutes en commun de comporter une version incomplète du dernier morceau (« Mandrake Roots ») car sur la bande master, le morceau – qui dure une trentaine de minutes – est endommagé et quasiment inaudible à partir de la moitié. La version « Crash Landing » omet carrément ce dernier morceau dans sa totalité.
Le découpage des titres varie légèrement (j'ai par exemple une autre version dont le découpage est le suivant : 1. Kneel And Pray (9:18) / 2. Child In time (13:47) / 3. Wring That Neck – Hard Road (15:43) / 4. Paint It Black – Drum Solo (11:24) / 5. Mandrake Root – Edit (4:28)).
Les chansons sont toujours les mêmes mais portent des titres différents : Kneel & Prey est parfois titrée Speed King (titre qu'elle ne prendra que plus tard, sur l'album Deep Purple In Rock) et Wring That Neck porte parfois le titre de Hard Road, tandis que Ritchie's Blues correspond en fait à une reprise de Paint It Black.
La version complète (ou presque) du concert existe, malheureusement elle comporte trois défauts majeurs:
– c'est en mp3
– le son (rippage d'un vinyl) est très moyen
– la version de plus de 30 mn de « Mandrake Root » est defectueuse à partir de la 14ème minute et le défaut ne fait que s'aggraver jusqu'à devenir insupportable dans les dernières minutes.

Version 1 disponible ici* : http://soundaboard.blogspot.fr/2009/09/deep-purple-paradiso-1969.html
Version complète disponible* : sur demande / on request

*Assurez-vous que le téléchargement de ces fichiers ne contrevienne pas à la législation en vigueur.  
Pochette :
version 1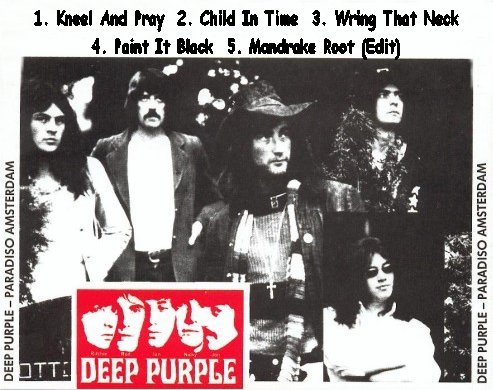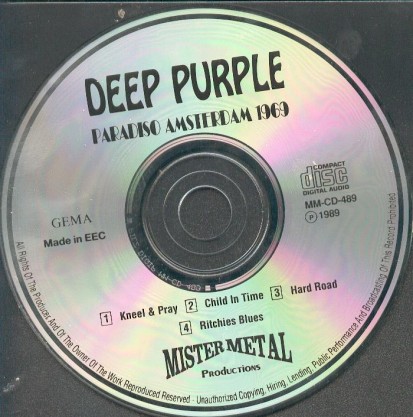 version « Crash Landing » :
version complète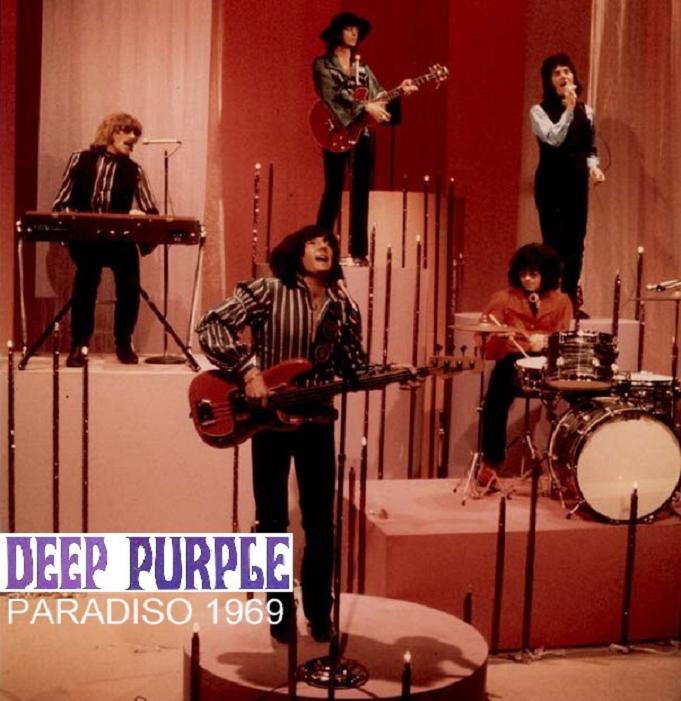 Bootleg n°1430