DREAMER
Date : 1968 à 1979
Lieu : outtakes, raretés diverses + chansons officielles
Label : Cisc-O-Disc
Support : 1 cd
Durée : 73:47 mn
Source : Soundboard
Qualité sonore : 7 à 10/10

Liste des titres :
01. Little Bird (1:58)
02. Be Still (1:24)
03. Be With Me (3:14)
04. Celebrate the News (3:03)
05. Slip on Thru (2:16)
06. Forever (2:41)
07. Lady (2:21)
08. Sound of Free (2:22)
09. Barbara (2:59)
10. Quad Symphony (4:27)
11. Carry Me Home (3:39)
12. Make It Good (2:35)
13. Cuddle Up (5:29)
14. River Song (3:45)
15. Dreamer (4:22)
16. Thoughts of You (3:01)
17. You and I (3:25)
18. Pacific Ocean Blue (2:39)
19. Farewell My Friend (2:25)
20. End of the Show (2:56)
21. Holy Evening (3:23)
22. Wild Situation (2:21)
23. Love Surrounds Me (3:40)
24. Baby Blue (3:22)
Sources:
Titres 1 à 6, 11 à 20 et 23 : chansons officielles
Titres 7 à 10, 21, 22 et 24 : raretés diverses
01. Little Bird : Dennis's first composition with a little help from brother Brian (uncredited). Lyrics were written by Steve Kalinich with Dennis and Brian composing and producing the track. Originally released as the b-side to « Friends » single, and also a highlight of the Beach Boys' excellent 1968 FRIENDS lp.
02. Be Still : Dennis's second song for the Beach Boys required only two tracks for recording: one for organ and another for his single lead vocal. Steve Kalinich based the lyric for this somber tune off of a greeting card sentiment. Also from the FRIENDS album.
03. Be With Me: While his previous two compositions served as production lessons, « Be With Me » demonstrates that by 1969 Dennis had mastered the art of studio recording. This lush ballad combines Beatlesque melody and arrangement feels with a heartwreching lead vocal, woven into a shimmery wall of sound. « Be With Me » was perhaps the strongest new track on the Beach Boys 1969 20/20 lp, a hodgepodge collection of years-old Brian Wilson outtakes, kitchy cover-version singles and a throwaway Bruce Johnston instrumental. 20/20 showcased Dennis as perhaps the only Beach Boy with enough songwriting talent to further the band's artistic legacy in the wake of Brian's increasing incapibility to create music on any sort of a regular basis. (Note:String arrangements courtesy of Van McCoy of « The Hustle » fame.)
04. Celebrate the News : Co-written by Dennis and the man who would be his most consistant writing partner throughout the next decade, Gregg Jakobson. « Celebrate the News » is a driving, melodic folk-rock number with a fantastic climax. The lyric is presumably about the Beach Boys 1969 break with Capitol records. Brian makes a superb harmony appearance, something that was becoming increasingly rare on Beach Boys recordings during this era. Originally released as the b-side to the « Breakaway » single, « Celebrate the News » was included on the master reel for an unreleased last Beach Boys' album for Capitol.
05. Slip on Thru : Though the majority of critical and fan praise is directed towards his slower, more emotional material, Dennis was equally adept at writing soulful up-tempo numbers like « Slip On Through ». Just like « Be With Me », « Slip » is a masterful production comprised of multi-layered vocals, a highly processed backing track and odd percussive effects. Chosen as the kick-off track for the Beach Boys' sparkling Warner's debut release SUNFLOWER, « Slip on Through » was also the only Dennis Wilson composition ever to be released as the a-side of a Beach Boys single. It failed to chart.
06. Forever : The most widely known and loved Dennis Wilson composition, « Forever » is an emotional thank-you card from Dennis to his wife Barbara Charren, co-written by Denny and Gregg Jakobson. The chord progression used is simple but effective, and the whole track really comes alive with excellent harmonies from the Beach Boys (especially Brian and Carl). Ably covered by Brian's wife and sister-in-law's singing group Spring in 1972, the original version of « Forever » hails from the 1970 SUNFLOWER lp.
07. Lady: In late 1969, Dennis teamed up with Beach Boys session keyboardist Darryl « Rumbo » Dragon with the idea of recording a solo album apart from the Beach Boys. For the next two years, Dennis would persue this notion, but only four songs would ever be made commercially available in his lifetime. Two of these, « Cuddle Up » and « Make It Good » would be included on the Beach Boys' 1972 CARL AND THE PASSIONS- SO TOUGH lp release, while two others, « Sound of Free » b/w « Lady », were released as a single in December 1970 and credited to Dennis Wilson and Rumbo in anticipation of the impending solo lp release. Though it was the single's b-side, Dennis and the other Beach Boys chose the gorgeous Ennio Morricone influenced ballad « Lady » (also known as « Fallin' in Love ») over « Sound of Free » for inclusion on two Beach Boys lp's, ADD SOME MUSIC and LANDLOCKED, neither of which were ultimately released. However, a version of « Lady, » titled « Fallin' in Love » and changing the word « lady » to « baby » for gender purposes, was recorded by the band Spring for their 1972 United Artists debut (produced by Brian). This version was covered by the band Lush in the 1990's. Curiously, though « Lady » is presumably dedicated to wife Barbara, one darker interpretation of the lyrics is that Dennis is singing about his initial experiences with cocaine (which many addicts refer to as the « falling in love » stage).
08. Sound of Free : The a-side of the first solo 45 released by a Beach Boy (excluding the 1965 « Caroline, No » single Capitol attributed to Brian Wilson), « Sound of Free » is a optimistic blast of late- 60's rock completely at odds with what the music the other Beach Boys were making at the time. The single was not released in the U.S. but received some radio support and achieved limited success in the U.K. Ironically it was cousin Mike Love who co-wrote « Sound of Free » with Dennis. The two would again collaborate on the songs « Only With You » (from the Beach Boys' 1973 HOLLAND lp) and « Pacific Ocean Blues » (from Dennis' 1977 PACIFIC OCEAN BLUE lp and also included in this collection).
09. Barbara: Another track intended for Dennis' unfinished first solo album, « Barbara » is yet another heavenly piano ballad written by Dennis for his second wife. Though he had many women in his life, Dennis seems to have had special feelings for Barbara, as he wrote many fine songs in her honor (among them « Forever », « Lady », « Barbara » and the unreleased « I've Got a Friend, ») and frequently made reference to his love for her in concert and tv appearences. The song « Barbara » was composed and recorded on two pianos played by Dennis and Darryl Dragon. Darryl later revealed his piano lines were a guide for a string part to be overdubbed at a future session. « Barbara » was never released in Dennis' lifetime, but was thankfully included on the Beach Boys' 1997 compilation of rarities ENDLESS HARMONY.
10. Quad Symphony : In 1970, as a favor to Beach Boys' head engineer Steven Desper, Dennis allowed segments of several song fragments he had recorded in quadrophonic (4-channel) sound to be pressed onto an acetate for Desper to use to demonstrate the capabilities of quad sound at an engineering seminar. These song segments were unfinished tracks intended for the solo album. Using state-of-the-art 24-bit digital editing technology, Cisc-O-Disc has compiled an extremely listenable edit of these segments, dubbed the « Quad Symphony ». The first of the three movements is a combined edit of a duet piano sonata and accompanying organ duet, both performed by Dennis and Darryl. These duets are a fascinating glimpse at just how far Dennis' melodic instincts had developed in only two years of writing music, and also highlight his largely underrated keyboarding skills. As the last organ notes trail off, the suite fades into a new segment titled « All of My Love ». This vocal choral features Dennis' voice overdubbed an incredible 350 times. Truly it must have been impressive to listen to this track in its original quadrophonic mix as it was being played over engineer Desper's hi-fidelity studio monitors that day in 1970! The last of the three parts is a lush piano piece laced with delayed electric guitar lines and propelled by Denny's steady drumming, referred to only as « Quad Instrumental ». Taken as a whole, this suite of « feels » shows Dennis progressing artistically at a phenominal rate.
11. Carry Me Home: From 1968 to 1970, Dennis' role in the Beach Boys had grown with each individual album. However, by the time of 1971's SURF'S UP, the other Beach Boys had begun to follow Dennis' lead and contribute their own material. With five different songwriters vying for space (not including Brian who had composed the album's title track 5 years previously and could barely be coaxed from his bedroom to hear how the Beach Boys were remaking his masterpiece) it's little wonder that Dennis decided to gracefully relinquish his customary three album slots to the others. To say the album suffers because of it would be putting it mildly, and to this day only one of Dennis' SURF'S UP songs, « Fourth of July », has been commercially released (on the 1995 Beach Boys GOOD VIBRATIONS box set). Lost are such legendary Dennis titles as « Behold the Night » and « It's a New Day ». However, with the success of the SURF'S UP lp and the departure of Bruce Johnston in 1972, the Beach Boys invited two black South African musicians from their touring band (who were also members of the all-black rock group Flame, for whom Carl Wilson had produced a fine album on Brother Records the year before) named Blondie Chaplin and Ricky Fataar to join the group. More than any other Beach Boy, Dennis enjoyed collaborating with these talented foreigners. The emotional « Carry Me Home », about a dying Vietnam soldier's request to have his body buried in his home town in front of his parents, was Blondie and Ricky's first recording session with the group. ennis later submitted the song for inclusion on the Beach Boys' 1973 Holland lp, but withdrew it shortly afterwords because he felt it was too depressing for a Beach Boys record. Blondie contributes an emotional duet with Dennis on this song, while Ricky would become one of Dennis' favorite recording partners even after leaving the Beach Boys in 1974, culminating in his playing drums on Dennis' 1977 solo debut PACIFIC OCEAN BLUE.
12. Make It Good: Dennis' ambitions to release his first solo album effectively ended when he submitted two songs from it, « Make It Good » and « Cuddle Up », to the Beach Boys for release on their 1972 CARL AND THE PASSIONS: SO TOUGH lp. Recorded again with the aid of close friend and studio ace Darryl Dragon, « Make It Good » is a slow symphonic piano piece with an underlying emotive quality so staggering it can reduce the most cynical listener to tears. In two and a half minutes the song progresses from « Be Still »-like tranquility to a majestic symphonic sweep a la « Be With Me ».
13. Cuddle Up : Like « Make It Good », « Cuddle Up » is another D. Wilson/ D. Dragon meloncholy tearjearker. Unlike the brief « Make It Good », however, « Cuddle Up » is extended to epic length, changing dynamics multiple times throughout. Legendary dance director Twyla Tharp, stunned by the song's emotive qualities, incorperated « Cuddle Up » into her ballet « Deuce Coupe II » in 1976.
14. River Song : A song Dennis worked on with brother Carl from the time sessions for his unreleased first solo album began in 1970 all the way through 1977, « River Song » is an immaculate production– featuring pianos, strings and even the Little Rock Baptist Choir– that kicks off his solo debut album PACIFIC OCEAN BLUE in high fashion. POB was released in September 1977 to critical praise and fair sales. The album charted in the Billboard Hot 100 and went on to sell over 100,000 copies, but failed to earn Dennis the widespread respect he deserved as an artist. Still, the album's justified reputation as a lost classic continues to grow to this day, with out-of-print cd and vinyl copies fetching over $100 a piece on internet auction sites.
15. Dreamer : A funky excursion also taken off of PACIFIC OCEAN BLUE, « Dreamer » is, according to Dennis, a look at the life of Jesus Christ. The track is propelled by a repetitive bass harmonica line and has a bit of a latter-day Grateful Dead sound to it. Lyrics for « Dreamer », as with most of the songs off of POB, were composed with partner/drinking buddy Gregg Jakobson who also produced the record with Dennis.
16. Thoughts of You : This is one of the Dennis' most heartbreaking songs. The piano lines delicately establish a psudeo-classical feel, as Dennis laments the loss of love. Karen Lamm, whom Dennis married after splitting up with Barbara Cherren and divorced shortly before POB's release, clearly is the muse of the track.
17. You and I : A samba-tinged ballad written by Dennis and Greg with lyrics by ex-wife Karen Lamm. The chords here are reminicient of Carlos Jobim, showing that Dennis had come a long way in terms of writing music since his humble beginnings within the Beach Boys. « You and I » is the sweetest sounding song on the emotionally charged POB. Many of Dennis' supporters thought this song would be the certified hit his album needed to achieve mass popularity. Although a promotional single of « You and I » was released to radio stations around the country, the song never caught on and remains yet another (generally) undiscovered gem in Dennis'
18. Pacific Ocean Blue : Another collaboration from Dennis and Mike Love, « Pacific Ocean Blues » is an ultra-funky rocker slipped in between a string of ballads of side two of POB. The ecologically-minded lyrics are certainly some of Mike Love's finest, but the track is clearly propelled by its grooving backbeat– a missing component from such contemporary Beach Boys records as MIU ALBUM or 15 BIG ONES (for which the song was initially intended). Although Dennis claimed that this was his least favorite song on P.O.B., many others see this track as the highlight of the entire record.
19. Farewell My Friend : Written as a eulogy for Otto « Pops » Hinsche, father of Carl Wilson's former brother-in-law and Beach Boy session musician Billy Hinsche. Dennis' strained relations with his own father were well documented, and their relationship was always a sour point in Dennis' life. As such, Denny looked to the affable « Pops » Hinsche as a surrogate father of sorts. Touchingly, when they first came together to discuss and mourn Dennis' death, the Beach Boys gathered around a phonograph, put on « Farewell My Friend » and cried.
20. End of the Show : Maudlin closing track on Pacific Ocean Blue could serve as a fitting epitaph for Dennis' life. When Dennis sings lines like « Thank you very much for everything I ever wanted, » or « It's wonderful to know you're alive at the end of the show, » it almost sounds as though he is communicating from beyond the grave to his brothers.
21. Holy Evening: Originally written for the aborted 1977 MERRY CHRISTMAS FROM THE BEACH BOYS lp, this stunning hymn was recorded by Dennis without any other Beach Boys participating in the session. When the Christmas record was rejected by Warner's and MIU ALBUM released in its place, Dennis tagged « Holy Evening » (also referred to as « Morning Christmas » or « Holy Holy ») for his intended follow-up to POB, BAMBOO. Intrestingly, this spiritual meditation on the joys of Christmas contains no explicit references to either Jesus Christ or Santa Claus. The layered background vocals on this evocative song were provided by vocalist Marisa Conover
22. Wild Situation : This catchy rocker from BAMBOO, complete with off-color humor during the fade-out, appears here (as on DREAMER'S companion release ULTIMATE BAMBOO) in a special remixed version comprised of the original track mixed with a seperate track of accompanying background vocals. We at BAP are confident that this stereo mix is truly the « definitive » version of this lost classic. Hence, Cisc-O-Disc has included it with both albums.
23. Love Surrounds Me : One of Dennis' prettiest, saddest numbers, « Love Surrounds Me » is the only released composition co-written by Dennis and Beach Boy collaborator George Cushing-Murray. Initially tagged for BAMBOO (along with « Baby Blue [Eyes] »), the song was handed over to the Beach Boys for the 1979 LA (LIGHT ALBUM), effectively killing any notion of a proposed Dennis Wilson solo release. The background vocals on the tag are courtesy of Christine McVie (!!!), member of the legendary band Fleetwood Mac, and Dennis' love interest at the time.
24. Baby Blue : The final song on this compilation also hails from the LIGHT ALBUM. « Baby Blue [Eyes] », however, contains substantial differences between the solo version (which features only Carl's voice) and the full Beach Boys version. The Cisc-O-Disc remix on ULTIMATE BAMBOO combines elements of both versions into one « complete » mix. The version included here is the Bruce Johnston-produced version from the LIGHT ALBUM. Dennis handled all arranging duties on this song himself.
Commentaire : L'essentiel du contenu de ce bootleg est légalement disponible.

Pochette: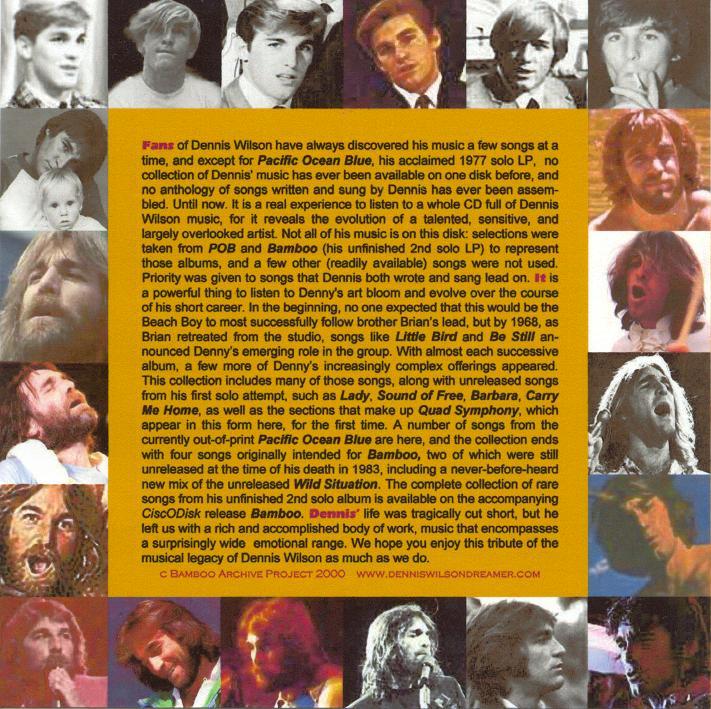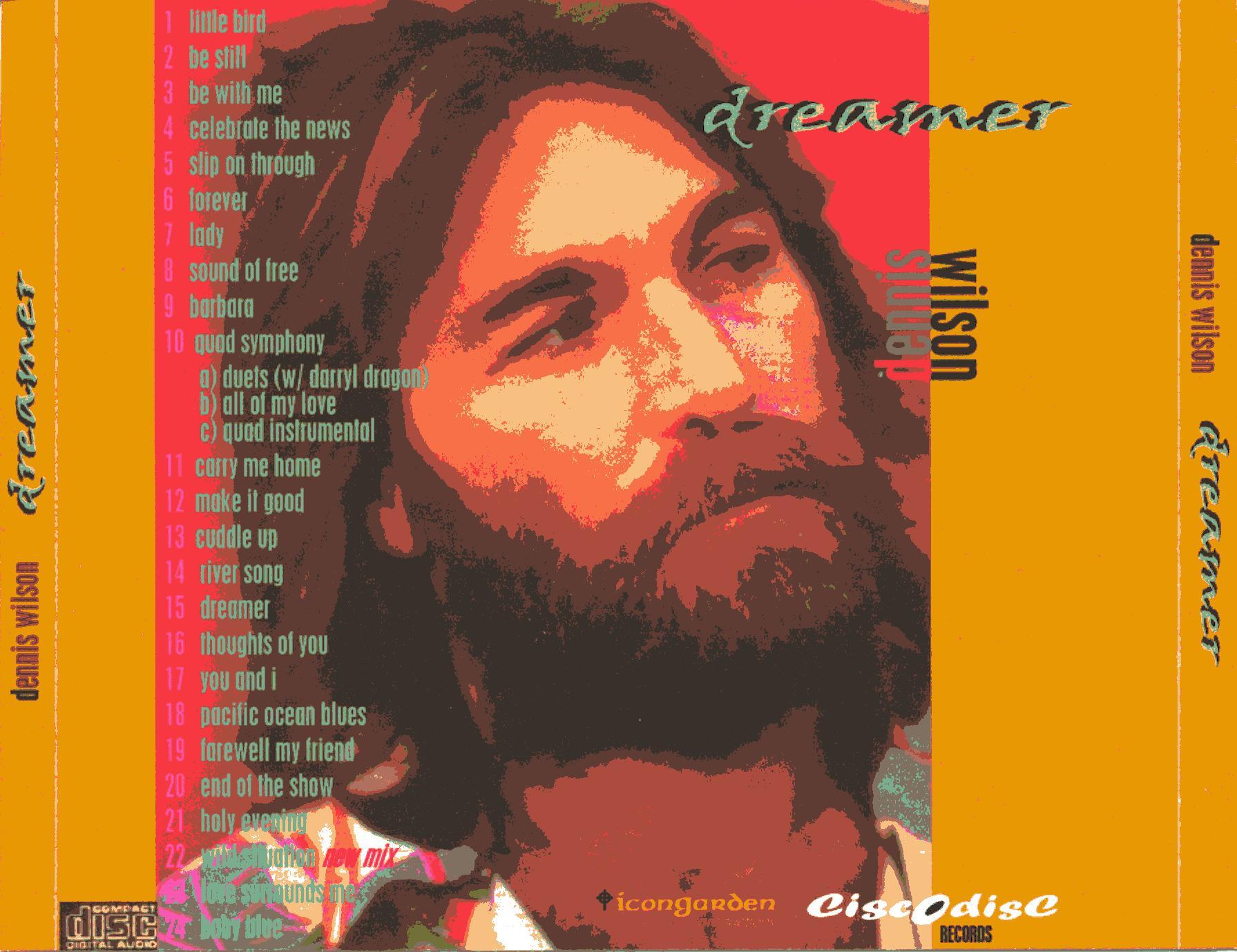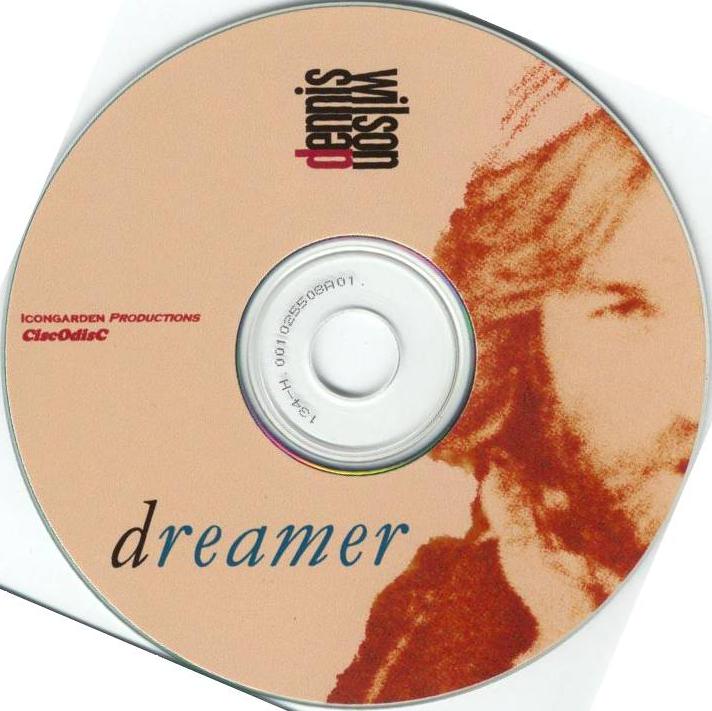 Bootleg n°2567