Si je voulais démolir cet album, voici ce que je pourrais écrire :
C'est le deuxième album du groupe, sorti à peine huit mois après son prédécesseur, auquel il ressemble furieusement. William Ruhlmann, critique de « All Music » (une revue dont je partage rarement le point de vue) a écrit de « Communiqué » qu'il n'est qu'une copie carbone  de l'album précédent mais avec des compositions moins réussies, et il a accordé une note de 2,5 sur 5 (contre 4 sur 5 pour le premier album). William Ruhlmann n'a pas tout à fait tort : les deux albums débutent presque de la même manière, avec quelques lignes de guitare, majestueuses, pleines de réverbération, qui débouchent soudain sur le premier titre. De même, le single de l'album « Communiqué » (« Lady Writer ») ressemble beaucoup à « Sultans of swing » mais il n'a pas connu la même réussite, n'atteignant que la 45ème place des charts. Enfin, même si le premier disque a été enregistré à Londres et le deuxième à Nassau, et qu'ils n'ont pas été produits par les mêmes personnes, leur sonorité est très proche.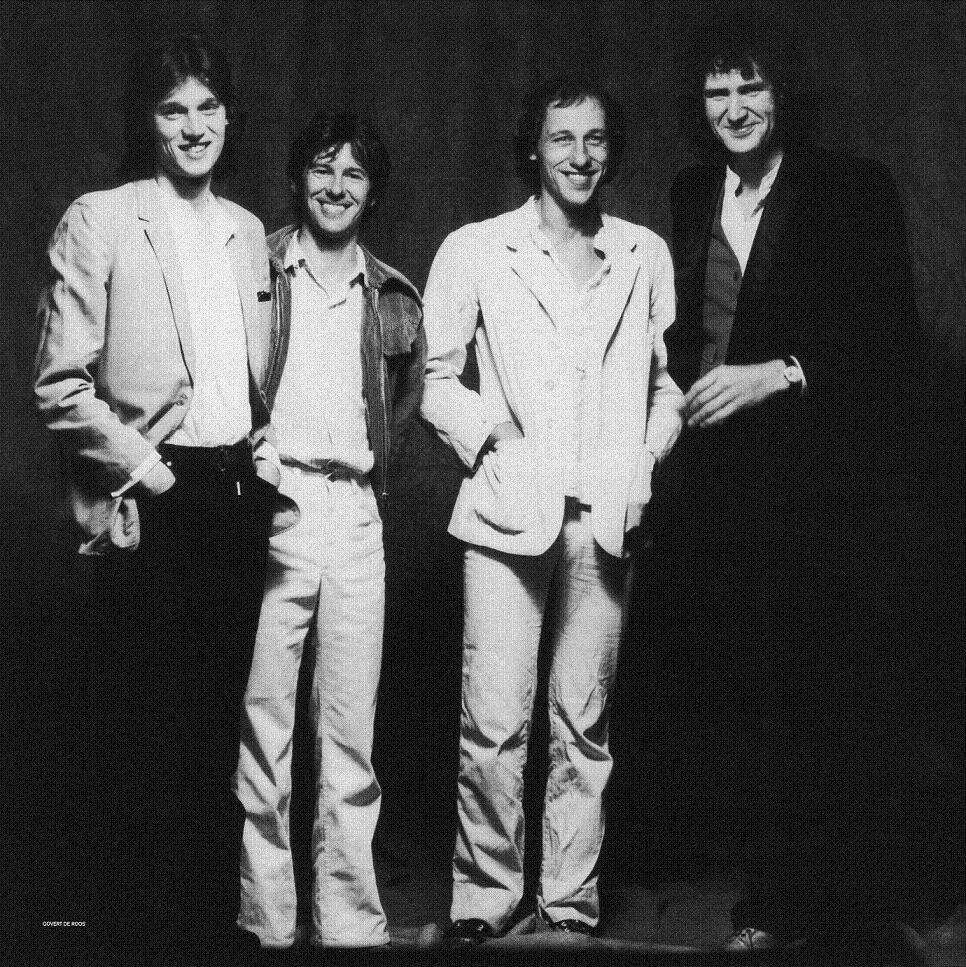 Alors pourquoi en faire mon album préféré de Dire Straits ? Les raisons à cela sont multiples et diverses. D'abord, c'est le premier album du groupe que j'aie connu, alors que j'avais treize ans, et cela compte beaucoup. Il faisait partie des cassettes qu'un copain de ma mère lui avait prété et qu'elle n'écoutait pas… mais moi si.
Ensuite, cet album est dans un style un peu plus laid back que le précédent, disons que l'influence de J.J. Cale y semble encore plus nette, ce qui fait que l'album ne s'impose pas à vous, comme le faisait par exemple la chanson « Sultans of Swing ». Il s'insinue progressivement et devient une sorte de compagnon que l'on se prend régulièrement à fredonner et que l'on a toujours plaisir à retrouver de temps en temps pour une écoute détendue. En fait, les deux chansons du premier album qui sont le plus proche de l'esprit du second sont « Water of love » et « Lions ». Des titres assez nonchalents, à la mélodie langoureuse, qui incitent à la rêverie.
« Communiqué » possède ses pépites cachées, que les chansons phares comme « Once upon a time in the west » ou « Lady writer » ont trop souvent contribué à eclipser. « News », « Where do you think you're going » ou « Single handed sailor » n'ont absolument rien à envier aux morceaux les plus réussis du premier album. Quant à « Lady writer », si elle n'est effectivement pas aussi réussie que « Sultans of swing » tout en lui ressemblant un peu trop, elle reste néanmoins une excellente chanson avec des super parties de guitare. « Follow me home », qui conclut l'album, est un titre absolument envoutant, avec son bruitage de vague et de grillons, cette chanson sent le monoï et l'odeur du sable chaud au crépuscule, son rythme lancinant s'accorde à la perfection au balancement du hamac dans lequel elle nous plonge à coup sûr.
Sur tous les albums de Dire Straits, il y a quelques chansons mineures, voir des ratés, que l'on oublie facilement car le reste est de haute facture. « Communiqué » est le seul album à faire exception à la règle. Même ses morceaux les moins réussis, « Angel of Mercy » et « Portobello Belle », restent tout à fait agréables à écouter quoique un peu répétitifs.
Je pourrais ajouter que la pochette de « Communiqué » est assez réussie. Peut-être pas aussi belle que celle du premier album, elle est néanmoins plus belle que celle de tous les albums suivants et a été désignée pochette de l'année 1979 par le magazine NME (ce qui, je dois l'avouer, est cependant excessif quand on songe que 1979 fut aussi l'année de publication de « The Wall », de « Highway to hell », de « Breakfast in America » de « Three imaginary boys » ou de « London Calling », pour ne citer que les plus belles pochettes de cette prolifique année).
Bref, « Communiqué » est un peu l'album emblématique de Dire Straits. Un album à contre courant de son époque (on est alors en pleine vague Punk, New Wave et Heavy Metal), qui ne prétend rien chambouler dans le monde musical mais s'offre comme un retour aux sources les plus pures du blues, du rock et de la cournty. Un album d'artisan qui, sans cesse, remet l'ouvrage sur l'établi pour le peaufiner, qui tente d'égaler les modèles consacrés, mais n'a aucune prétention à renouveler le genre.