LIVE IN SYDNEY 1986
aka THE FINAL OZ '86

Date : 26/04/1986
Lieu : Entertainment Center, Sydney, Australia
Label : DG-Tech Records (Ref. : 865-CD 67)
Support : 2 cd
Durée : 131:03 mn
Source : FM
Qualité sonore : 10/10

Liste des titres :
CD 1 : 62:00
1. Ride Across The River (10:41)
2. Expresso Love (6:49)
3. Industrial Disease (5:51)
4. So Far Away (7:15)
5. Romeo & Juliet (11:17)
6. Private Investigations (8:26)
7. Sultans Of Swing (11:41)
CD 2 : 69:03
1. Why Worry (7:29)
2. Your Latest Trick (5:01)
3. Walk Of Life (6:44)
4. Two Young Lovers (9:03)
5. Money For Nothing (8:02)
6. Tunnel Of Love (11:24)
7. Brothers In Arms (7:59)
8. Solid Rock (4:31)
9. Waltzing Matilda (2:10)
10. Knopfler Talk (1:50)
11. Going Home (4:50)
Commentaire : L'un des bootlegs les plus connus et les plus répandus de toute la carrière de Dire Straits. Il restitue l'intégralité du dernier concert de la tournée Brothers in Arms au cours de laquelle le groupe a donné pas moins de 248 concerts dans 117 villes, jouant à guichets fermés devant plus de 2,5 millions de spectateurs. L'apogée du groupe, quoi! D'autant que, pour se remettre du succès de l'album (30 millions d'exemplaires vendus, 10 semaines en tête des charts aux États-Unis et au Royaume Uni) ainsi que de cette éreintante tournée, le groupe est ensuite entré en hibernation jusqu'en 1992.
Ce concert existe sous au moins cinq ou six appellations de bootlegs différentes. Toutes proviennent de la même source, à savoir une diffusion du concert à la télévision. Ceux qui ont piraté l'émission devaient disposer d'un matériel d'encul… car la qualité sonore est absolument parfaite.
Au début de l'émission, il y a normalement une introduction par le speaker et une courte interview de Knopfler. Certains bootlegs incluent ces passages-là, d'autres non. Apparemment le meilleur bootleg du concert est celui qui s'intitule « The Final Oz '86 » et normalement il inclut l'introduction et l'interview. Le lien ci-dessous permet de télécharger l'intégralité du concert (très probablement reprise de ce bootleg) mais sans intro ni interview – que de la musique! Et pour ceux que ça gêneraient d'avoir une pochette qui ne coïncide pas à 100%, j'en ajoute une qui peut s'adapter à cette version-là.
Disponible ici* : http://depositfiles.com/files/aa6f4obq4
*Assurez-vous que le téléchargement de ces fichiers ne contrevienne pas à la législation en vigueur.
Pochette :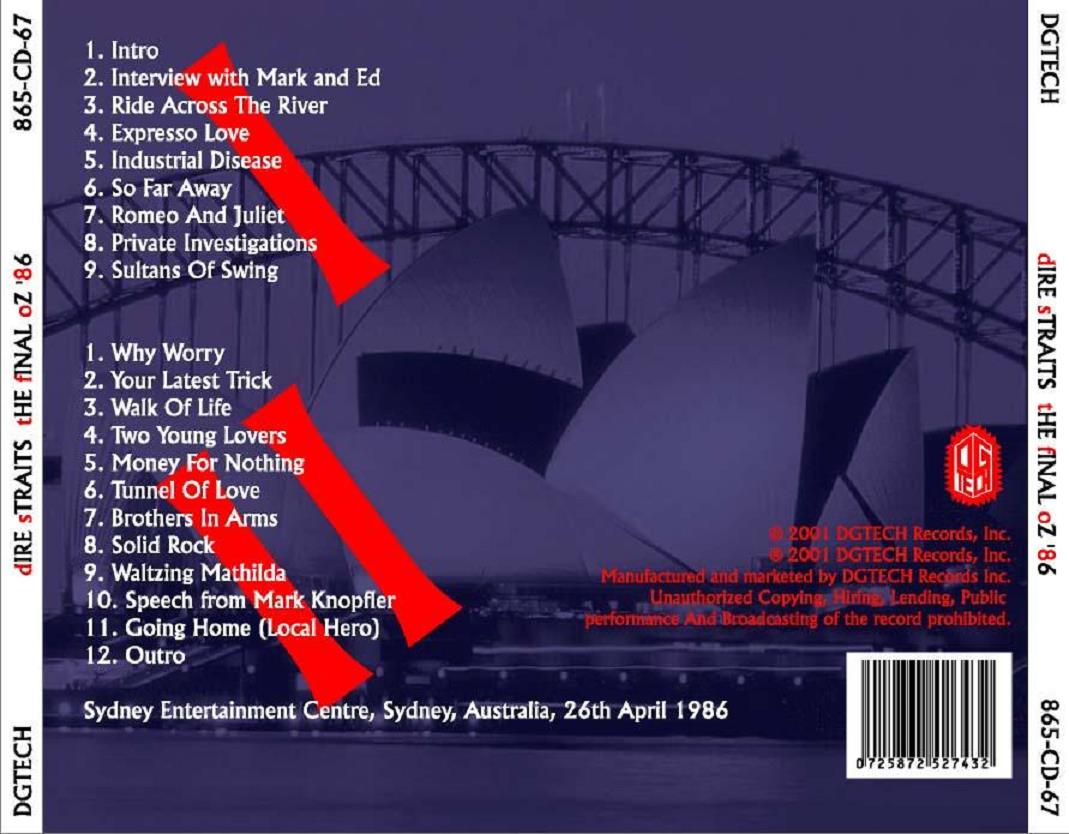 Pochette de secours (pour les maniaques) :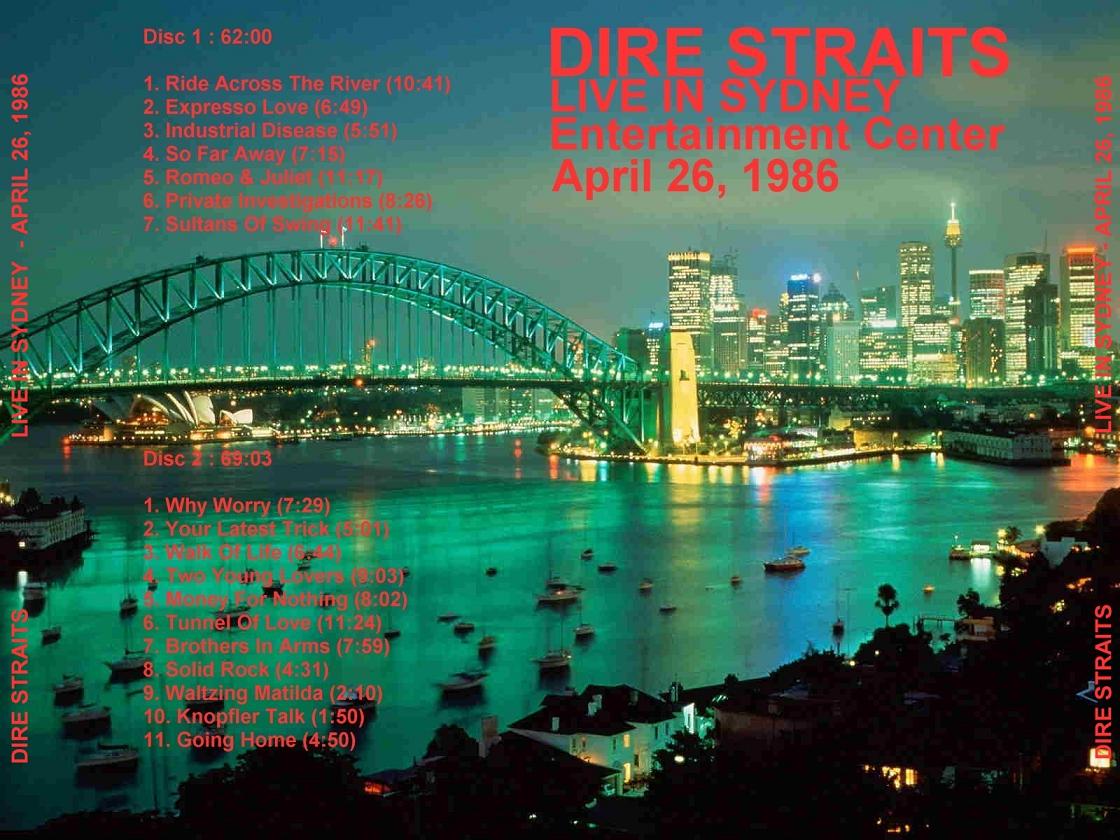 Bootleg n°579