BLESSED POISON

Date : 29/06/1993
Lieu : Lazer 103 Rock Stage, Summerfest, Henry Maier Festival Grounds, Milwaukee, WI USA
Label :  Inconnu
Support : 2 cd
Durée : 104:12 mn
Source : FM Soundboard
Qualité sonore : 9,5/10

Liste des titres :
CD 1 – 45:54
01. DJ intro (0:25)
02. Metropolis, Part 1 (10:02)
03. Under A Glass Moon (7:50)
04. A Fortune In Lies (5:34)
05. Wait For Sleep and Surrounded (9:09)
06. Puppies On Acid and Take The Time (12:54)
CD 2 – 58:18
01. To Live Forever and Drum Solo (18:36)
02. Status Seeker (4:44)
03. Another Day (5:14)
04. Pull Me Under (10:07)
05. Jam (4:54)
06. Learning To Live (13:11)
07. DJ outro (1:32)
Musiciens:
James LaBrie:  Vocals
Kevin Moore:  Keyboards
John Myung:  Bass
John Petrucci:  Guitars
Mike Portnoy:  Drums
Commentaire : Il ne s'agit pas exactement de la version du silver bootleg « Lords of sound » mais d'une version FM assez proche. 
This recording is NOT ripped from any « silver » CDs ; this is from my own personal FM recording collection. There are NO speed problems with this broadcast and all songs are complete except for about 15-20 seconds from track 12, UNLIKE several silver CD versions of this show which contain fairly serious edits of at least one song.
Lineage : Technics Quartz Synthesizer AM/FM Stereo Receiver SA-160 >
Pioneer cassette deck, model forgotten and JVC TD-W505 stereo double cassette deck >
Maxell XL II 90, XL II-S 90 and 2 XL II 60s cassette tapes, one lost to the ages >
JVC TD-W505 stereo double cassette deck >
ZOOM H2 Handy Digital Recorder >
San Disk 4GB Ultra SD card (tracking done here) >
(wav files onto HD here) >
Magix Audio Cleaning Lab 2013 (retracking and editing of tracks done here) >
Trader's Little Helper (encode level 8, aligned on sector boundaries)
Disponible ici* :  http://www.guitars101.com/forums/f145/dream-theater-1993-06-29-milwaukee-wi-fm-flac-203816.html

*Assurez-vous que le téléchargement de ces fichiers ne contrevienne pas à la législation en vigueur.  
Pochette :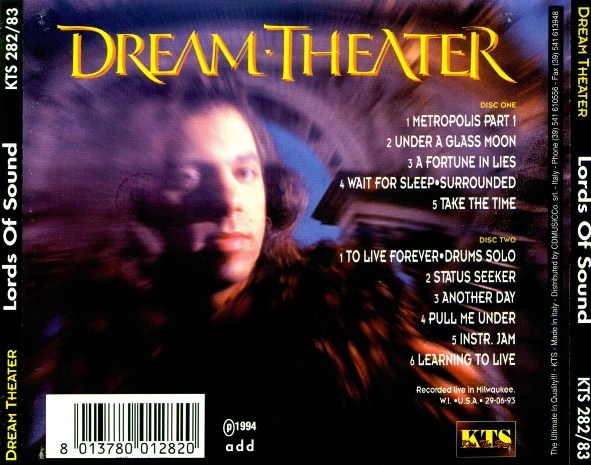 Bootleg n°2636