CAPITOL THEATER PORT CHESTER 27-4-1971

Bootleg transmis par John B.
Date : 27/04/1971
Lieu : Capitol Theater, Port Chester, NY, USA
Recorded by Ken & Judy Lee
Support : 2 cd
Durée : 89:14 mn
Source : audience
Qualité sonore : 8,5/10

Liste des titres :
CD 1 – 38:03
01. Tuning (1:33)
02. Nothing Is Easy (8:23)
03. Aqualung (7:50)
04. With You There To Help Me (14:33)
05. Sossity, You're A Woman – Reasons For Waiting (5:44)
CD2 – 51:11
01. My God – Flute Solo – Bouree (17:13)
02. Cross-Eyed Mary – Drum Solo (19:45)
03. Wind Up – Guitar Solo (9:21)
04. Locomotive Breath (4:52)
Commentaire :
Between the years 1970 and 1971, Ken worked security at The Capitol Theatre in Port Chester, New York, while his girlfriend Judy ran movie projections between sets. One of a few live music taping enthusiasts of the time, Ken was granted exclusive permission by club promoter Howard Stein to record the shows at the theatre for his own personal use. Judy was on hand to perform the tape flips while Ken was busy doing his job.
In 1968, the couple took Judy's brother Mark, who was nine years old to his first concert at « Cafe Wha? » in New York City. The Monkees were on tour and Jimi Hendrix was along for the ride as their opening act.
Several years later, Mark was introduced to the music of the Grateful Dead at the Nassau Coliseum on March 19th, 1973 in Uniondale, Long Island. This single event marked the beginning of a life long odyssey of musical experiences with the band that affected him most deeply. Along with his good friend, John Jay Hance, who Mark met at a Dead show in 1979, the two traveled around the United States with the band in search of the ultimate musical experience, attending over 350 shows together. The two also shared a common interest in seeing live music of a wide variety of genres, and during the 23 years that they knew each other attended more than 1000 total concerts together, until Mark's untimely death in November of 2002.
Mark knew of brother in-law Ken's recordings from the Capitol Theatre, and had a strong interest in having the shows circulated; however, being true to his word to Howard Stein, Ken kept the recordings under wraps and the tapes never saw the light of the trading domain (One noteworthy bending of this rule occurred when Ken agreed at Mark's request to circulate the late show that the Grateful Dead did on June 24th of 1970. This show is highly regarded as an all-time magical performance by the Dead during their 30 year history as a band).
It was not until John Jay, who also knew Ken Lee, and of the Port Chester tapes, ran into Ken at Mark's funeral in 2002 that the fateful discussion of having the recordings released occurred. At that time, Ken didn't think anyone would have any desire to listen to his tapes. They had been sitting up in the attic of his present home for over 20 years going through the early stages of decay.
Because such a great deal of time had elapsed since Ken made his agreement with Howard Stein, and the fact that John Jay was insisting that there was an overwhelming interest by music lovers to hear these recordings, Ken agreed to open the flood gates and the Port Chester Restoration Project began, which is ultimately a tribute to Mark Cohen's passion for live music.
By fortune and coincidence, John Jay Hance, a master at the art of recording and restoring live music himself had already developed his own method for preserving fragile, decaying audio tapes with a heating method commonly known as « baking. » The process of restoring Ken's recordings presents an even greater challenge, however. The cassette shells which encase the audio tapes first have to be removed and replaced because they are too fragile to be played. This is extremely difficult, being that these cassettes were glued together during manufacturing (as opposed to the use of screws, today). The halves of the shell must be carefully removed without doing damage to the tape inside.
Once the analog tape is restored and rebuilt, it must then be then played back one time through an analog to digital converter onto a cd, which is then cleaned of hiss and other extraneous noises. Then it can be replicated and introduced to the world of music trading. For the cleanup job, John Jay enlisted the help of « Sound Forge » software guru Peter G to help make what exists from the master tapes sound just exactly perfect. Having listened to the first installment of this project, Janis Joplin and Full Tilt Boogie from August 8, 1970 several times, I can tell you that the sound is brilliant!
Keep in mind that Ken and Judy recorded nearly EVERY show at the Capitol during '70 and '71, on an estimated 300-500 cassettes (one box of cassettes is believed to be missing). While many are labeled with correct dates and the music they contain, much of what exists is still a mystery. Several gems containing long forgotten performances and musical collaborations have already surfaced. Expect some nice surprises in the years to come.
Enjoy Ken and Judy's recordings from the Capitol Theatre and appreciate the great care and quality of craftsmanship that went into their creation and is currently going into their preservation.
Disponible* : sur demande (à adresser à ace.bootlegs@gmail.com)

*Assurez-vous que le téléchargement de ces fichiers ne contrevienne pas à la législation en vigueur.  
Pochette :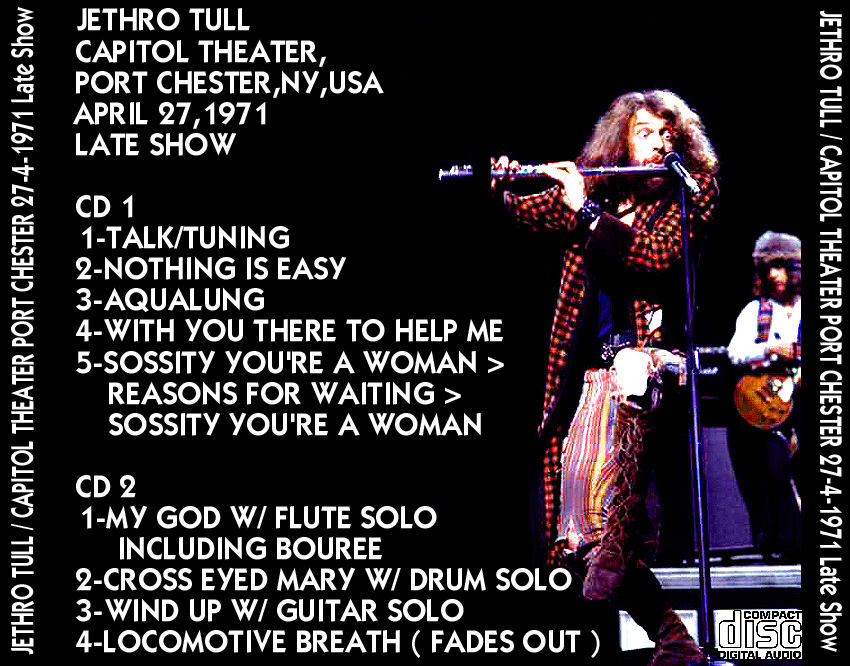 Bootleg n°3212