BURN LIKE A CANDLE

Date : 25/06/1972
Lieu : L.A. Forum, Los Angeles
Label : Tarantura / Empress Valley Supreme Disc
Support : 3 cd
Durée : 190:35 mn
Source : Audience
Qualité sonore : 8/10

Liste des titres :
CD1 – 69:19
01. LA Drone (1:55)
02. Immigrant Song (3:28)
03. Heartbreaker (8:45)
04. Over The Hills And Far Away (5:46)
05. Black Dog (6:12)
06. Since I've Been Loving You (8:39)
07. Stairway To Heaven (11:13)
08. Going To California (6:09)
09. That's The Way (7:20)
10. Tangerine (4:07)
11. Bron-Yr-Aur Stomp (5:45)
CD2 – 56:14
01. Dazed & Confused (includes Walter's Walk,The Crunge) (26:31)
02. What Is And What Should Never Be (5:10)
03. Dancing Days (4:07)
04. Moby Dick (20:26)
CD3 – 65/02
01. Whole Lotta Love (27:51)
02. Rock And Roll (5:36)
03. The Ocean (4:41)
04. Louie Louie/Every Day People/Organ Solo (4:07)
05. Thank You (8:24)
06. Communication Breakdown (4:47)
07. Bring It On Home (9:36)
Commentaire : Voici l'un des moins mauvais bootlegs de l'année 1972. Je ne sais pas pourquoi, mais cette année est maudite : tous les enregistrements sont de mauvaise qualité. Celui-ci est plutôt assez bon, voir même bon si l'on considère qu'il s'agit d'un enregistrement audience. En outre la pochette est géniale. Il faudra donc se contenter de ce bootleg. Sinon, il reste toujours l'excellent live officiel : « How the west was won », enregistré précisément lors de ce concert du Los Angeles Forum ainsi que lors du concert donné deux jours plus tard (le 27 juin) au Long Beach Arena, concert qui clôturait cette tournée estivale.
Burn Like a Candle a initialement été publié en CD en 1990 par le label « Smoking Pig ». Il a été ensuite été réédité par de nombreux autres labels, dont Tarantura ou Empress Valley. Le bootleg original comprend l'intégralité du concert à l'exception du dernier rappel : « Week end », qui figure par contre sur la version de Empress Valley.
Les rappels sont remarquables en raison de leur rareté, notamment « Louie Louie ». La pochette de William Stout est également remarquable. Il en a dessiné quelques unes pour des bootlegs de Led Zeppelin, mais celle-ci est à mon avis la plus belle.
Le titre du bootleg provient d'une intervention de Robert Plant, qui évoque leur futur cinquième album en avouant qu'ils n'a pas encore de titre, mais qu'il s'appellera « Led Zeppelin V », ou bien peut-être « Burn Like a Candle ». (Chacun sait qu'il est finalement sorti sous le nom de « Houses of the Holy »)
La sortie de « How the west was won » a certes retiré un peu d'intérêt à ce bootleg, unanimement considéré comme un must, mais le live officiel ne contient qu'une partie du concert. Il omet « Thank You », « Communication Breakdown », et l'intégralité du set accoustique. Quant à « Whole Lotta Love », la version officielle est amputée d'une partie du medley comprenant « Heartbreak Hotel » et « Slow Down ».
Le bootleg de « Smoking Pig » comportait trois disques. Celui de Tarantura en ajoute deux de plus : un pour gagner plus d'argent en divisant le concert en 4 parties, et un disque bonus contenant une interview de Robert Plant par Wolfman Jack enregistrée le lendemain du concert, ainsi que des répétitions du concert enregistrées l'après-midi du 25 juin.
Le label « Genuine master » a sorti récemment une version au son « nettoyé » publiée sur un support DVD audio.
Version Empress Valley disponible ici (sans le disque bonus)* : http://longliveledzeppelin.blogspot.fr/2015/11/19720625-led-zeppelin-burn-like-candle.html

*Assurez-vous que le téléchargement de ces fichiers ne contrevienne pas à la législation en vigueur.
Pochette :
version « Smoking Pig »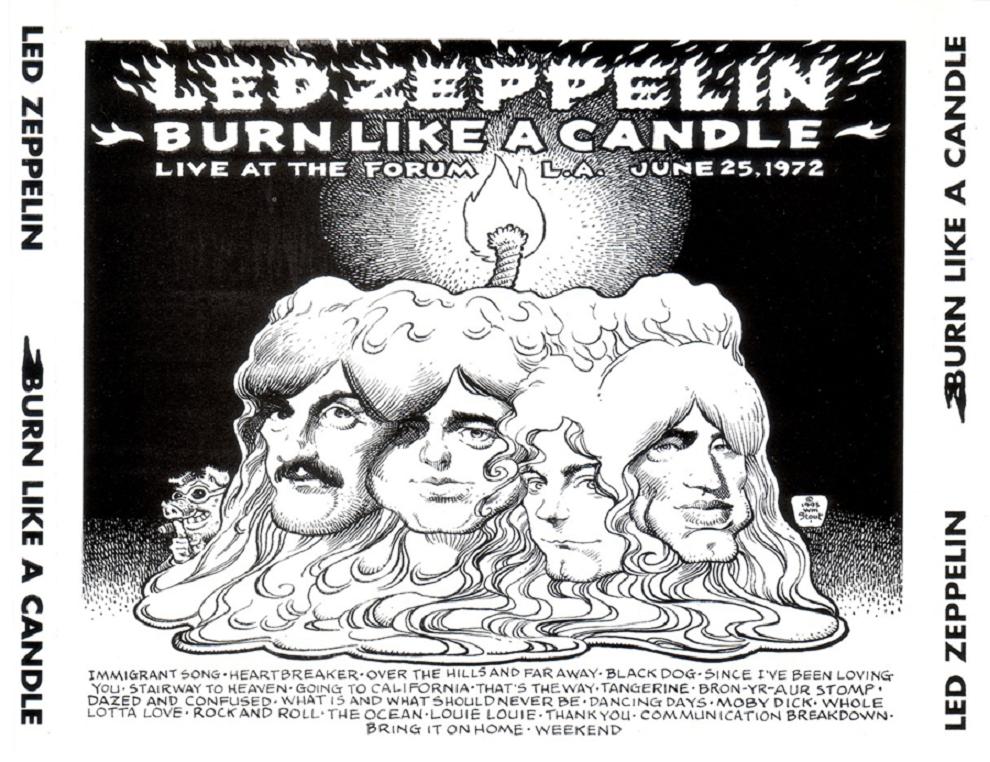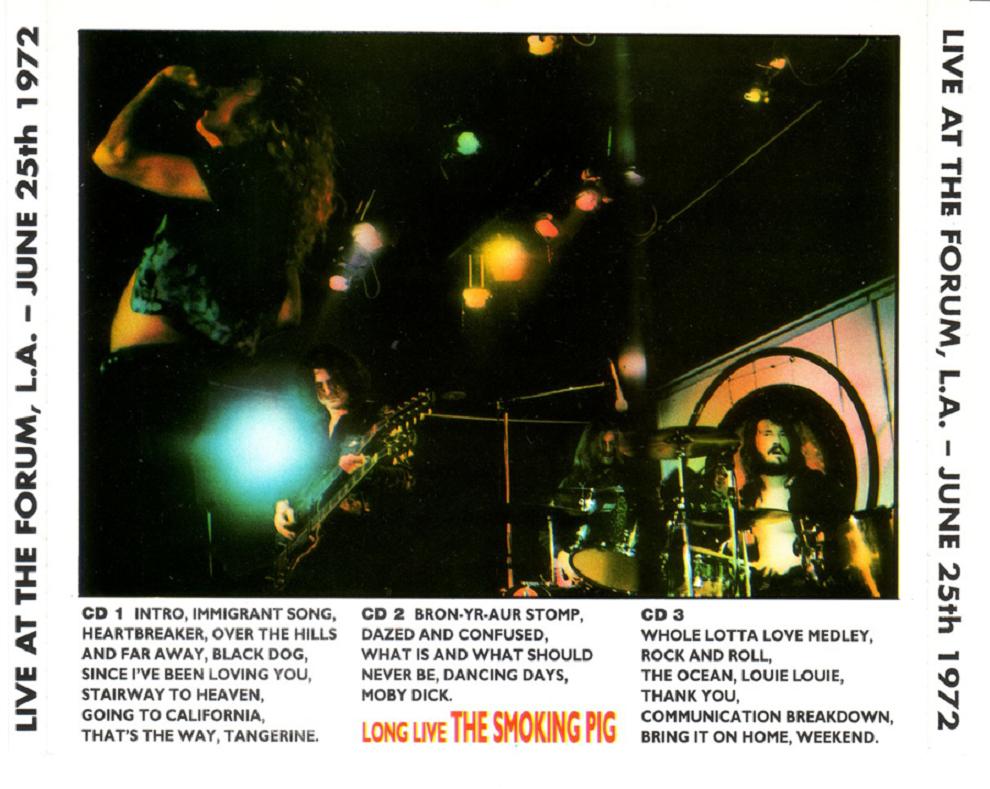 Version « Tarentura »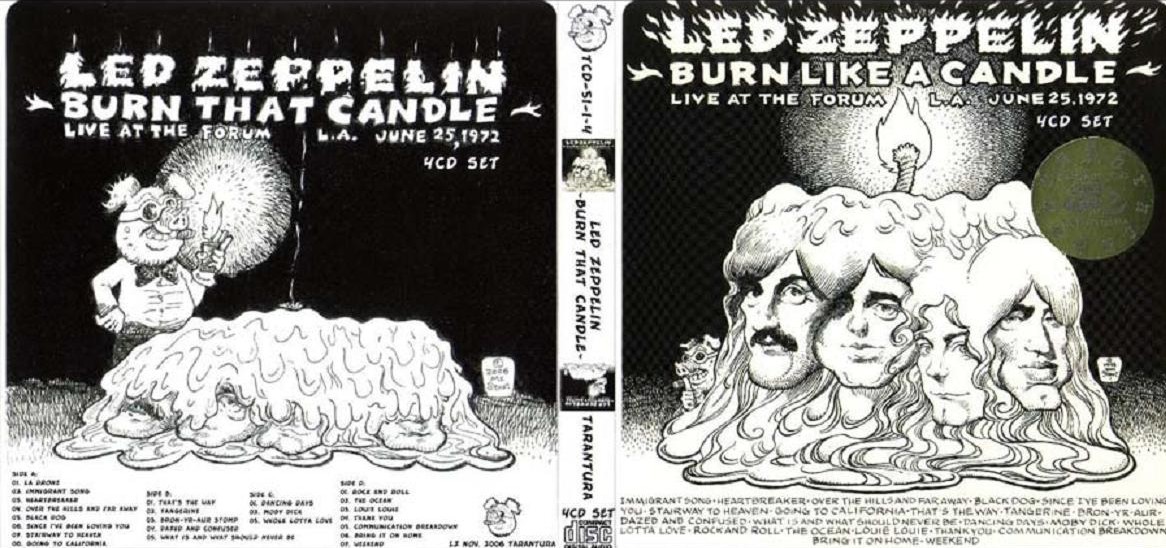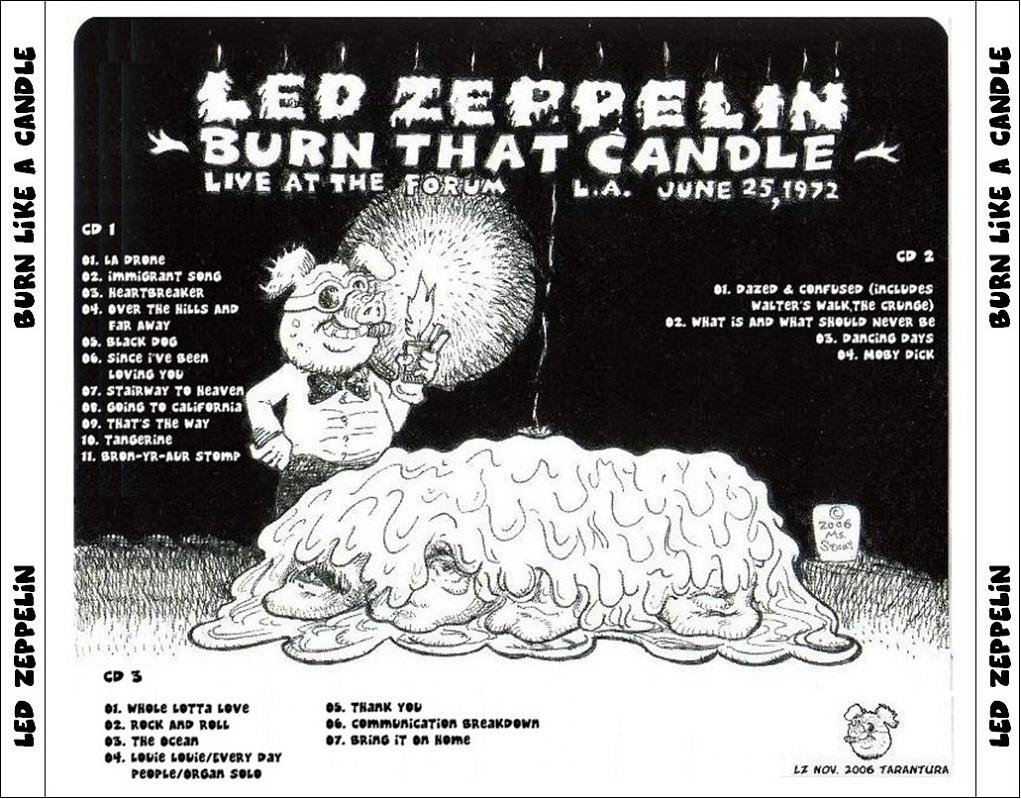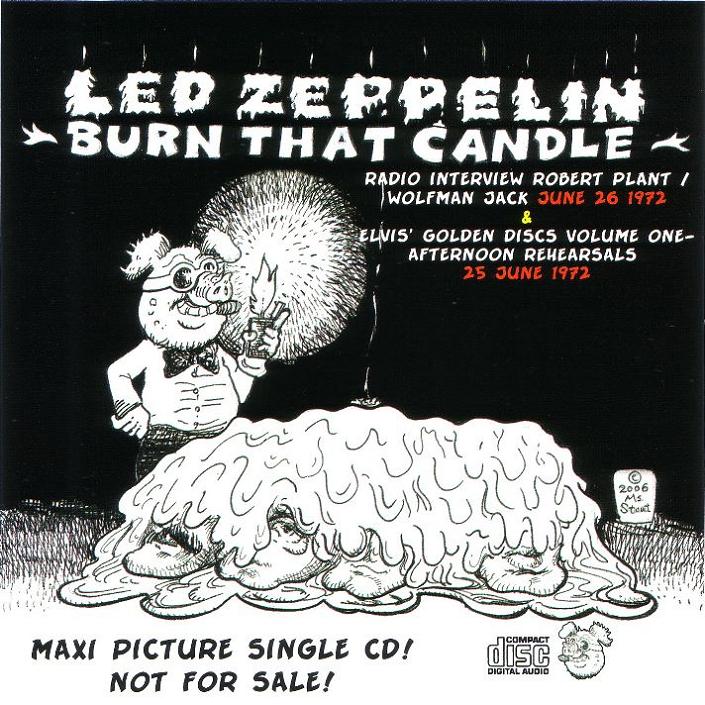 Bootleg n°2608