LED ZEPPELIN LIVE USA

Date : 04/03/1975
Lieu : Memorial Auditorium – Dallas Convention Center, Dallas, Texas
Label : Imtrat (Ref. : imt 900-012)
Support : 1 cd (original silver disc)
Durée : 64:43 mn
Source : Soundboard
Qualité sonore : 9/10

Liste des titres :
1. Rock'n'roll / Sick again (10:43)
2. Over the hills and far away (7:55)
3. In my time of dying (12:17)
4. The song remains the same (6:00)
5. The rain song (8:37)
6. Kashmir (10:29/8.49)
7. Trampled under foot (8:39)

Commentaire : « La tournée 75 pâtit des deux doigts fracturés de Jimmy Page et de l'opération des cordes vocales de Robert Plant […] Le son est très très bon, proche de la perfection mais la performance musicale n'est pas d'un niveau zeppelinien […]. (Patrice Justin)
Une version plus complète de ce concert est disponible ici, sous le titre de « Zapruder » (label Wendy)* : http://vivalesbootlegs.blogspot.fr/2011/08/led-zeppelin-zapruder-memorial.html
et l'autre sous le titre de « Chasing the dragon » (label Empress Valley)*

*Assurez-vous que le téléchargement de ces fichiers ne contrevienne pas à la législation en vigueur.  
Pochette :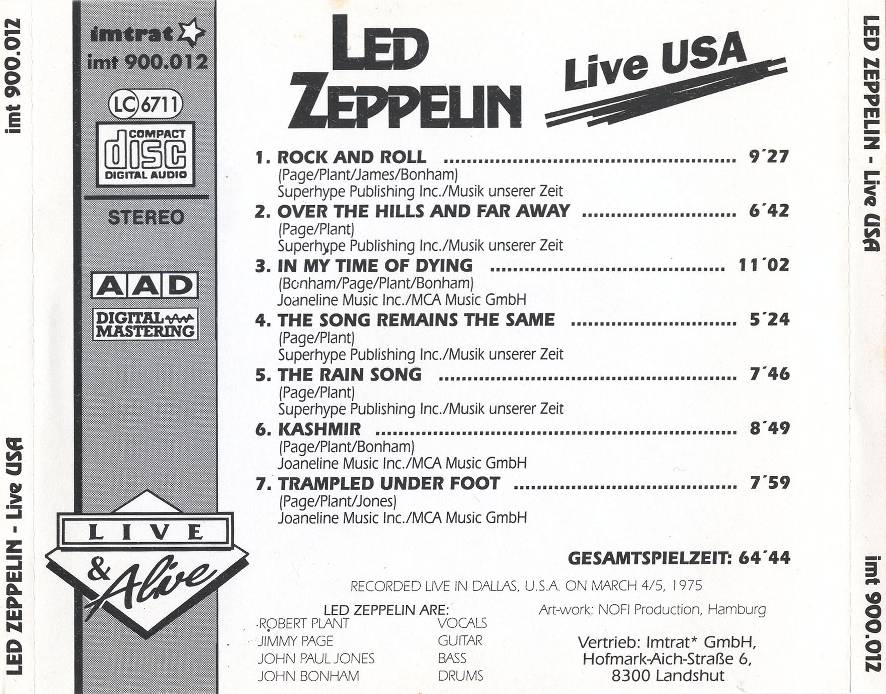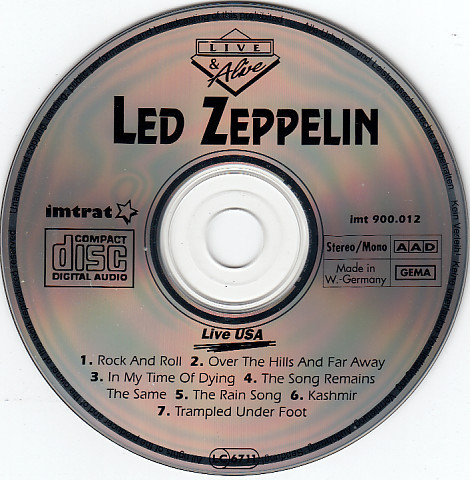 Bootleg n°2979