(LIVE ON) BLUEBERRY HILL

Date : 04/09/1970
Lieu : L.A. Forum, Los Angeles
Label : Triangle (Ref. : PYCD 035/036)
Support : 2 cd
Durée : 120:40 mn
Source : Audience
Qualité sonore : 7/10

Liste des titres :
Commentaire : Voici un bootleg mythique. L'un des premiers bootlegs de Led Zeppelin – il y en a eu un autre quelques mois auparavant, intitulé « Pure Blues » -, et l'un des premiers bootlegs TOUT COURT. Mais comme tous les mythes, la confrontation avec la réalité est parfois douloureuse. En ce début de 21ème siècle, il existe désormais tant d'excellents enregistrements de Led Zeppelin, y compris des plus anciens que celui-là, qu'on peut être déçu par sa qualité sonore. Bon, ce qui est sûr, c'est que l'enregistrement a été réalisé de très très près de la scène (ah, oui, je rappelle que c'est un enregistrement audience) et que le groupe est en pleine forme, gratifiant l'audience de quelques perles rares : le standard de Fats Domino « Blueberry Hill » (qui donne son titre au bootleg), « Out on the Tiles », titre du troisième album studio, très rarement joué live, et « Bron-Yr-Aur », qui ne sortirait en album que cinq ans plus tard.
Il y a eu au moins cinq bandes différentes réalisées par des spectateurs, mais une seule a servi de matrice à la plupart des bootlegs de ce concert – et ils sont nombreux – qui ont été réalisés depuis 1970. En fait, comme d'habitude, les bootleggers se sont piratés les uns les autres et de nombreuses versions sont en fait des copies de la version originale, due au label « Blimp Records-Rubber Dubber ». La version la plus vendue fut celle du label « Trade Mark of Quality » (TMK). Ils en écoulèrent tellement que les fans crurent un moment qu'il s'agissait d'un live officiel.
Aujourd'hui, d'autres versions circulent avec une qualité sonore nettement améliorée, comme celle intitulée « A sweeter Blueberry ».
Pour être complet, voici ce qu'en dit Patrick Justin sur son site : « Ce disque est sorti sur le marché un peu avant le III, il a profondément énervé Jimmy Page à l'époque. Peter Grant, manager colérique et physiquement impressionnant a même fait quelques descentes musclées chez les disquaires pour casser quelques bootlegs supervisé par Jimmy. Quand on sait qu'a l'heure actuelle et ce depuis quelques années, il les collectionne..! Un « Bring it on home » phénoménal et complet! Page et Plant ne faisaient que la partie rapide lors de leur tournées 95 et 98. Ça dure plus de neuf minutes. Et après un bon morceau, un autre comme souvent chez eux, un « Whole lotta love » groovy comme ils l'ont rarement refait depuis. Le seul défaut de ce disque outre l'ordre aléatoire des titres joués pourrait être le son, bien inférieur à un disque officiel, mais le groupe est tellement en forme que cela compense largement cette faiblesse technique. » (Patrice JUSTIN)
Sur les différentes versions existant, voici quelques commentaires en anglais :
« The very first Live On Blueberry Hill was a two record set on Blimp Records-Rubber Dubber Records,(plain white cover with rubber stamped: Live At The Los Angeles Forum 9-4-70) but only contained about half of the show, from Bring It On Home to the end of Communication Breakdown.
The tape source for this 2-record set was in excellent stereo audience fidelity, and the original master tapes have never surfaced.
It is by far, the most excellent source for this show and it is too bad the whole show and tape source hasn't yet surfaced.
Sound is SUPERB on this source, far better than all the other sources, and it is in Stereo having obviously been recorded on some very high-tech equipment.
This set above is a direct copy of the very first Live On Blueberry Hill that was released on Neutral Zone CD's.
The Neutral Zone CD's were the very first (1989) CD issues of this spectacular show.
Although the show is the complete performance that night, set order has been scrambled for this great set.
Not a real problem, as one can just program a CD player to track them in the correct sequence of the concert.
This tape source is from the master recording, or a first generation copy, as it is really crisp and clear.
It is an audience recording, but in superb mono fidelity.
This is the original Tmoq (Trade Mark Of Quality) source, and was recorded very close to the stage….probably within 5-6 rows from the front.
The Cobla Standard version is in excellent audience stereo fidelity, and is usually regarded as the best source for the complete show.
I would dispute that with this Triangle CD's and Neutral Zone CD's source, as this is a very nice recording.
In my opinion, the Cobla Standard version is nice in stereo, however it has been tweaked on a mixing board (as with all Cobla releases) so some of the fidelity is different and sounds a bit « raw » to my ears, along with some tinny sounds.
This Tmoq tape source has more ambience.
Conversely, the Cobla Standard source has the complete Moby Dick track, whereas on others Moby Dick has about 5-minutes of drums solo edited out to fit the entire show onto two CD's.
On the Cobla Standard version, you can hear a girl scream to great effect at the start of Heartbreaker.
In this Tmoq tape source, you can hear that same girl scream several rows away…very neat indeed.
However, when listening closely to the Triangle-Neutral Zone TMOQ tape source, just before the beginning of Immigrant Song, Robert Plant says: « Good Evening, Nice To Be Back » very clearly.
This is not evident on the Cobla Standard tape source, there are no words spoken from the end of the J.J. Jackson introduction until the band starts to play.
Yet they are exactly the same performances of Immigrant Song, identified by feedback at the first chorus.
Robert Plant's opening comments may have been edited out on the Cobla Standard source in order to fit all the tracks onto the first CD of the show, as there is some evidence of editing of between song banter.
Also, the Cobla Standard tape source has a guy saying: « They Groove, Man » just before the start of Immigrant Song, and the same fellow says: « Watch The Mic » during the last bars of Whole Lotta Love.
This guy is not evident on the Tmoq Neutral Zone-Triangle tape source, however the firecracker going off at the end of Whole Lotta Love is exactly the same on both.
Of note, the opening number: Immigrant Song is much better sound quality and very clear on this Tmoq source compared to the Cobla Standard source…all instruments and vocals are very clear and defined.
This is probably accounted for by the taper for the Cobla source adjusting the levels once the show gets going…a very common issue with audience recordings.
On the Cobla source tapes, the sound improves after the show starts, but on the Tmoq source tape, the show is great quality right from the beginning….very evident when comparing sources for Immigrant Song, ect.
When analyzed together, the Cobla source seems to have been taped a bit further back from the stage, and off to the right of the center slightly.
The extra distance gives the Cobla tape source a bit more of a « professional » sounding recording.
The Neutral Zone-Triangle CD version is a bit more to the center of the stage, maybe a bit to the left but not much.
It was recorded very, very close to the stage as you can hear footsteps by the band between songs, and other noises not evident on the Cobla version.
The tapers must have used some very high-tech equipment back in 1970 to tape this show, as the audio quality indicates it was not taped with some cheap cassette recorder.
But, the Tmoq tape source used for this set and the Neutral Zone set doesn't have the processed sound of the Cobla version, and sounds like a more true representation of the actual show.
Of note, there is more between song banter and introductions by the band on this set than on the Cobla Standard version, however the show introduction is missing.
The show begins with a few comments from Robert Plant and the band thunders into Immigrant Song.
After Whole Lotta Love, DJ J.J. Jackson makes a few comments, and these are captured here.
Finally, the most recent tape source to surface (around 2003-2005) is much more distant than all the others, and although the complete show, is considered the most inferior in audio fidelity….boomy, distant and obviously recorded a considerable distance from the stage unlike other sources.
This most recently surfaced source is also missing the show introduction by J.J. Jackson, and the first bars of Whole Lotta Love due to a tape change.
Performance wise, the band is utterly devastating and superb.
Zeppelin at the top of their game, Page is like lightning with his guitars and solo's.
Bonham plays to perfection and Jones does a very nice organ solo and fills out the band with superb bass work.
Listening to this tape source, and comparing it to the Cobla Standard version, it is no wonder this show has taken on legendary status with Zeppelin fans.
The LA Forum was a magical place for Zeppelin, and it sure shows on this fine recording.
My CD set has the famous 15th century painting from the Paris Louvre that was on the original vinyl records on the covers of both Vol's, with the only difference in red lettering and black lettering.
Printed on very hi-quality, thick stock with vintage 1970 photographs of the band with beards.
I would doubt the sources for the Lexington tracks noted above, in my opinion this is the whole concert from the LA Forum on 04th Sept.-'70.
Date above must be a mistake as Zeppelin was known to have played the Boston Gardens on 09th Sept.-'70, so where the location of Lexington Armoury comes from is unknown.
My Neutral Zone set also has indications that Bron-Y-Aur and That's The Way were recorded elsewhere….not so, as they are identical to the Cobla standard source known to be from the LA Forum show.
As indicated, there is a lot more of the between song introductions and words from the band than on any other versions of this show I have heard.
My CD set indicates made in Korea.
Factory pressed silver CD's on Neutral Zone, however this is the identical show and source here. »
Version du label Triangle (la mienne) disponible : sur demande
Pour les collectionneurs maniaques, un coffret 9 CD reprenant cinq versions différentes du bootleg original est disponible ici*  (infos et pochettes ici http://www.rambleonzep.com/dates/1970-09-04.htm) :
http://www.guitars101.com/forums/f145/led-zeppelin-1970-09-04-inglewood-ca-aud-flac-5-sources-213114.html
*Assurez-vous que le téléchargement de ces fichiers ne contrevienne pas à la législation en vigueur.  
Pochette :
Disque 1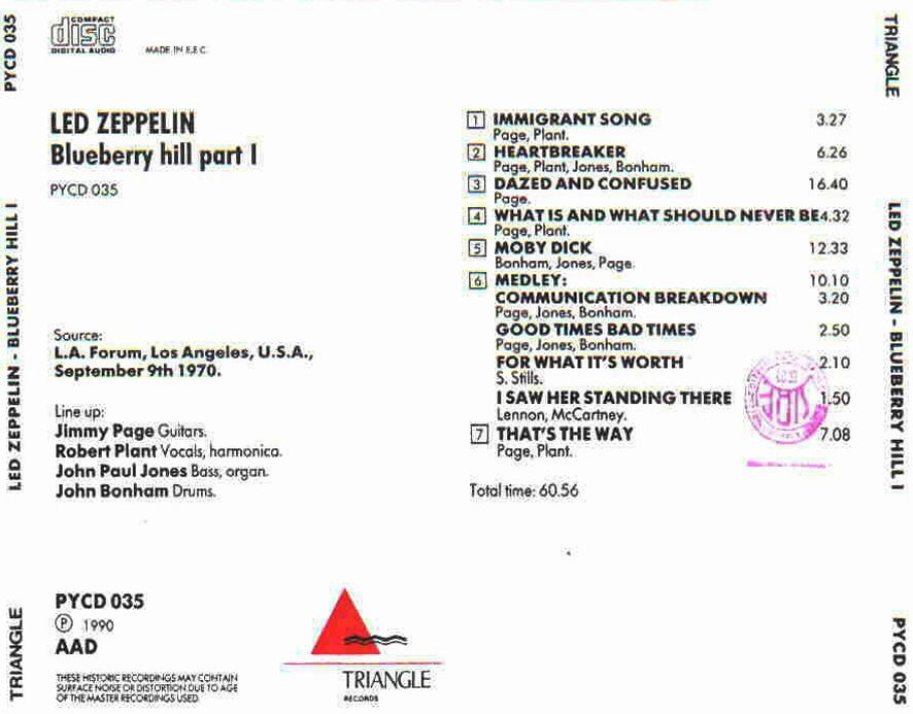 Disque 2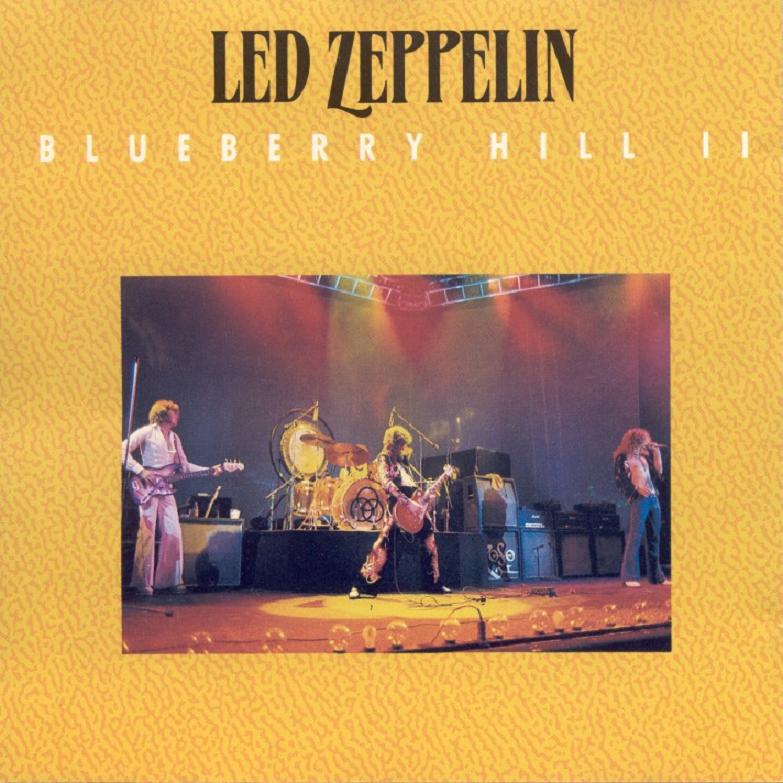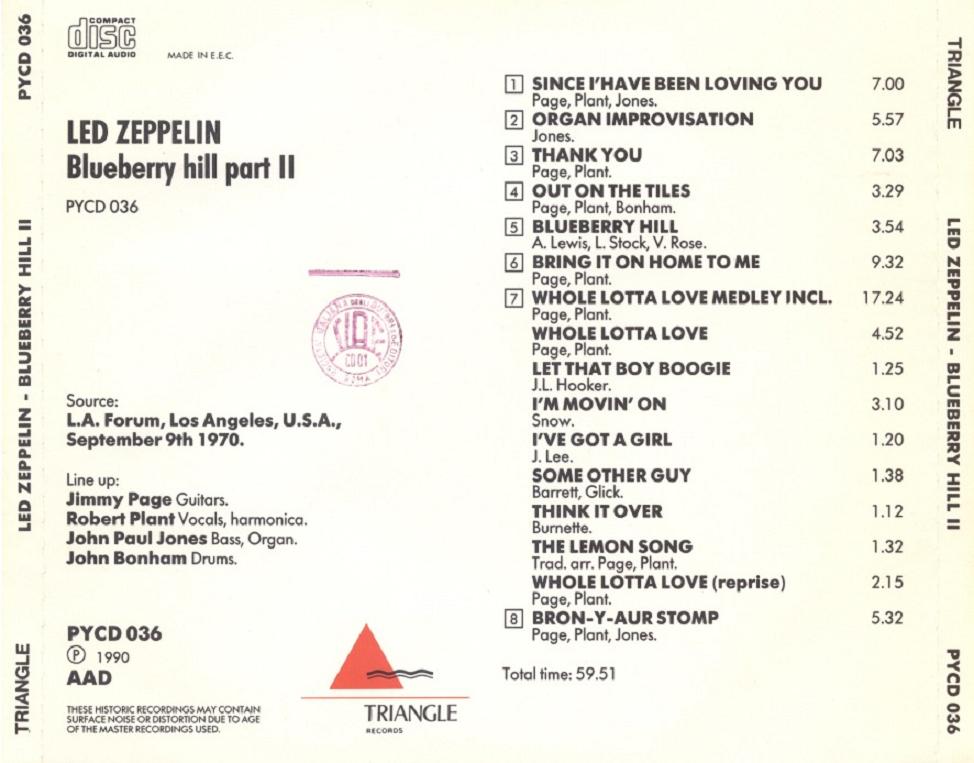 version originale (vinyle)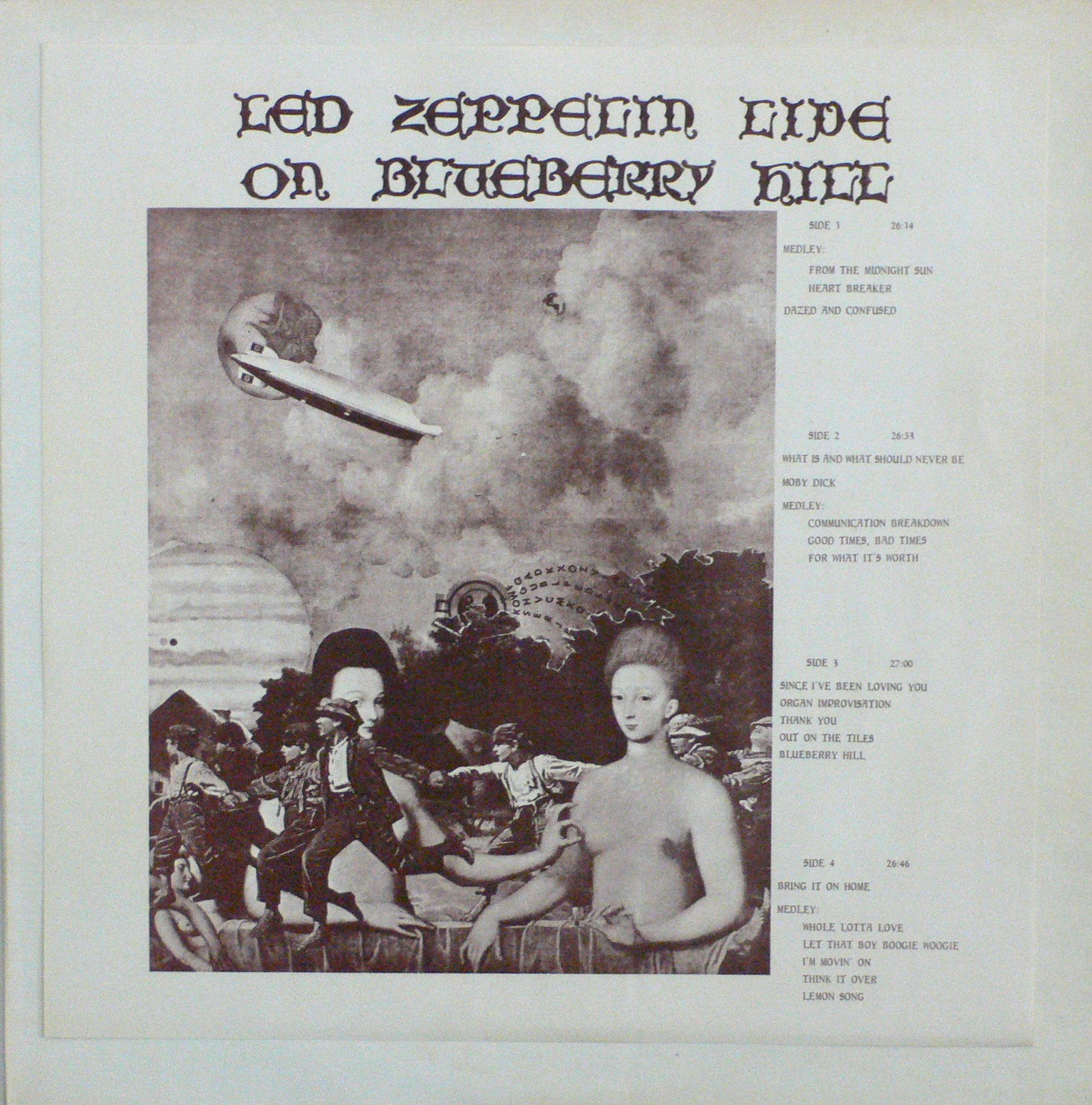 Bootleg n°2576