GARAGE INC. IN NYC

Date : 24/11/1998
Lieu : Roseland Ballroom : New York, NY, USA
Label : inconnu
Support : 2 cd
Durée : 97:57 mn
Source : Soundboard
Qualité sonore : 9,5/10

Liste des titres :
CD1 – 47:34
01. Die, Die My Darling (Misfits Cover) (3:50)
02. Blitzkrieg (Blitzkrieg Cover) (3:59)
03. The Small Hours (Holocaust Cover) (7:05)
04. The Prince (Diamond Head Cover) (5:44)
05. Sabbra Cadabra (Black Sabbath Cover) (6:10)
06. Whiskey In The Jar (Thin Lizzy Cover) (5:37)
07. Stone Cold Crazy (Queen Cover) (3:53)
08. Mercyful Fate Medley (Mercyful Fate Cover) (11:16)
CD2 – 50:23
01. Turn The Page (Bob Seger Cover) (7:59)
02. Am I Evil? (Diamond Head Cover) (9:24)
03. So What! (The Anti-Nowhere League Cover) (5:49)
04. Killing Time (Sweet Savage Cover) (3:25)
05. The Wait (Killing Joke Cover) (5:13)
06. Last Caress/Green Hell (Misfits Cover) (5:49)
07. Breadfan (Budgie Cover) (4:14)
08. Overkill (Motörhead Cover) (8:30)
Commentaire :  Un concert exclusivement composé de reprises, presque toutes étant de reprises de groupes de heavy metal (principalement issus de la NWOBHM) mais on trouve aussi une reprise de Killing Joke, groupe plus proche de la mouvance punk. Beaucoup de ces titres sont sortis (en version studio) sur les maxi 45 du groupe, sous le titre de Garage Band, ou Garage Band revisited. D'où le titre de ce bootleg.

Disponible ici* : https://www.guitars101.com/forums/f145/metallica-november-24-1998-roseland-ballroom-new-york-ny-usa-sbd-371825.html
*Assurez-vous que le téléchargement de ces fichiers ne contrevienne pas à la législation en vigueur.
Pochette:
version 1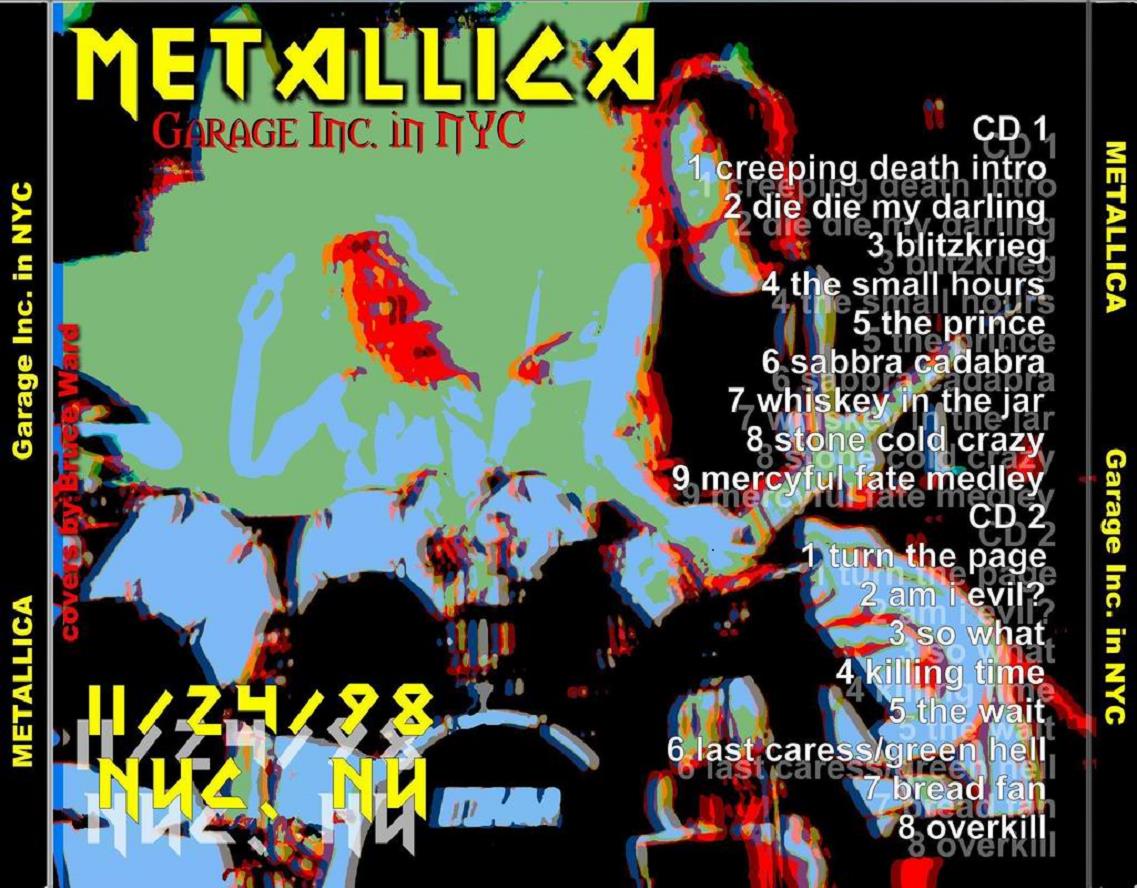 version 2 :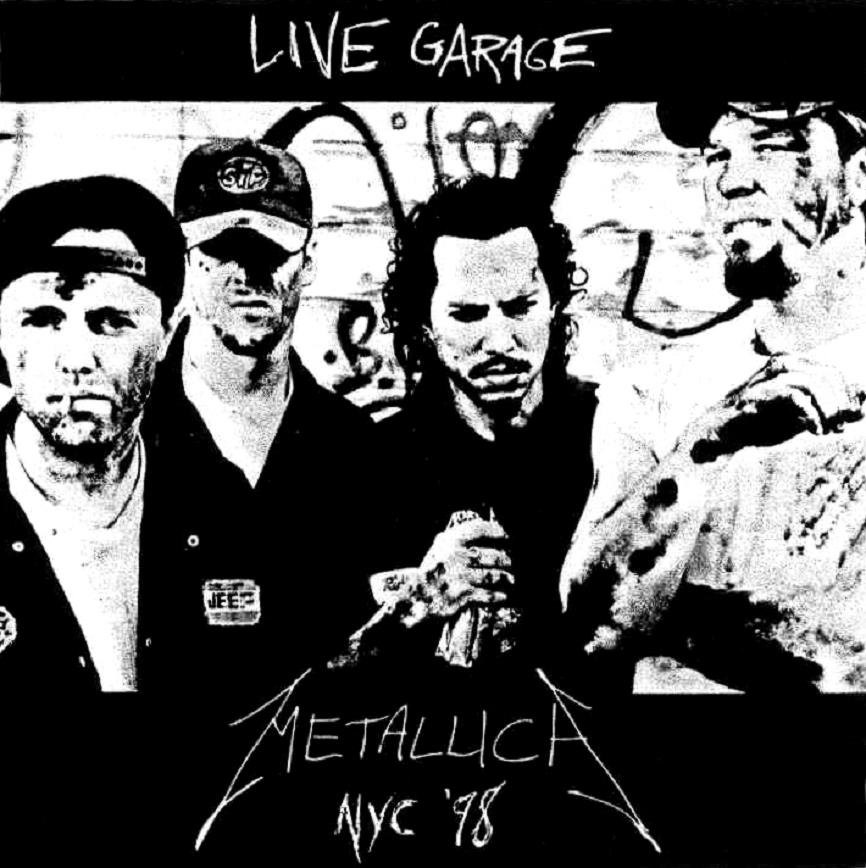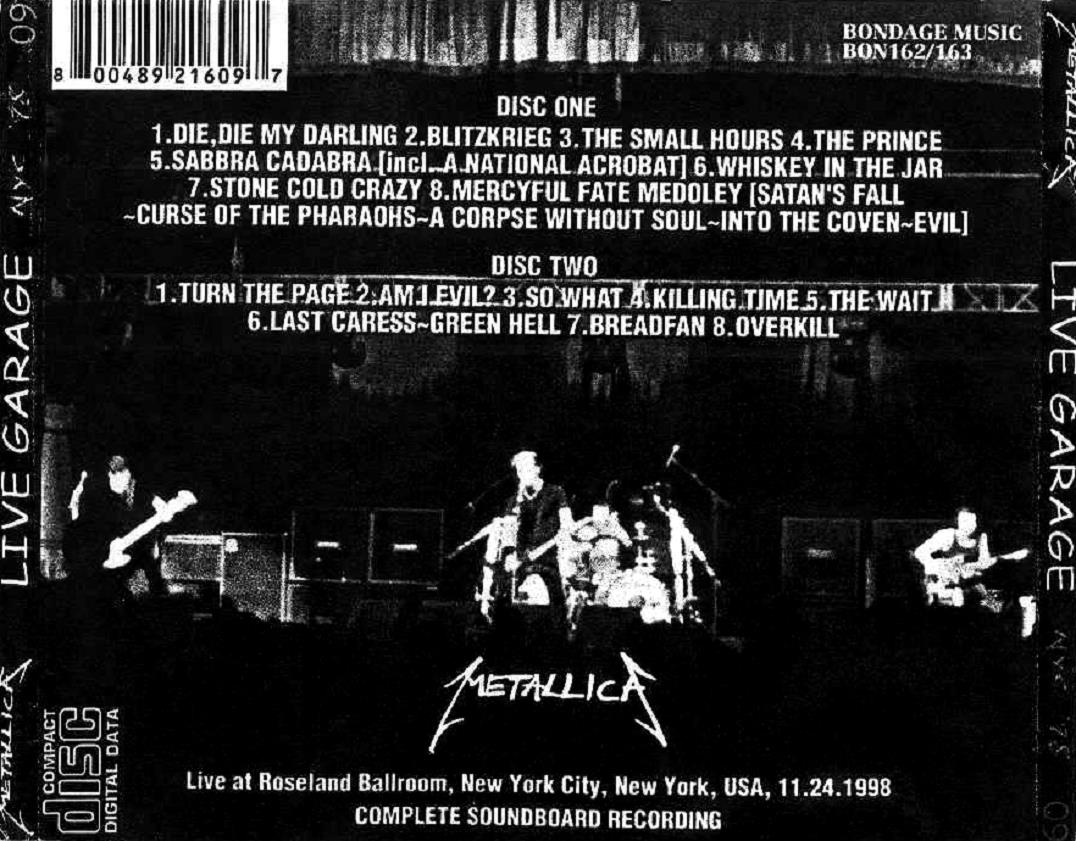 Bootleg n°3382