METAL UP YOUR ASS


Date : 29/11/1982
Lieu : Old Waldorf, San Francisco
Label : Metal Master Records
Support : 1 cd (mp3 -128 kbps)
Durée : 55:06 mn
Source : Audience
Qualité sonore : 5,5/10

Liste des titres :
1. Hit the Lights (3:00)
2. The Mechanix (5:05)
3. Phantom Lord (4:27)
4. Jump in the Fire (3:56)
5. Motorbreath (3:31)
6. No Remorse (5:31)
7. Seek and Destroy (8:49)
8. Whiplash (4:55)
9. Am I Evil (9:39)
10. Metal Militia (6:13)
Commentaire :
« Après quatre autres concerts à Los Angeles et ses environs, ils rejouent au Old Waldorf le 29 novembre. Ce concert fut important pour trois raisons : le groupe Exodus ouvrait pour eux et parmi eux se trouvait un jeune guitariste de 20 ans du nom de Kirk Hammett; le concert fut enregistré et donna matière à une nouvelle démo, que les fans surnommèrent « Live Metal Up Your Ass » – le son qui devait à l'origine être enregistré avec une table de mixage a été finalement enregistré sur un quatre pistes ; et le morceau Whiplash est joué pour la première fois en public. » (Wikipedia)
Disponible ici (mp3)* : http://www.filefactory.com/file/7dn9pb23dxi9/Metallica_-%20San%20Francisco,%20CA%20-%2011-29-82%20(Demo).rar

*Assurez-vous que le téléchargement de ces fichiers ne contrevienne pas à la législation en vigueur.
Pochette (version 1) :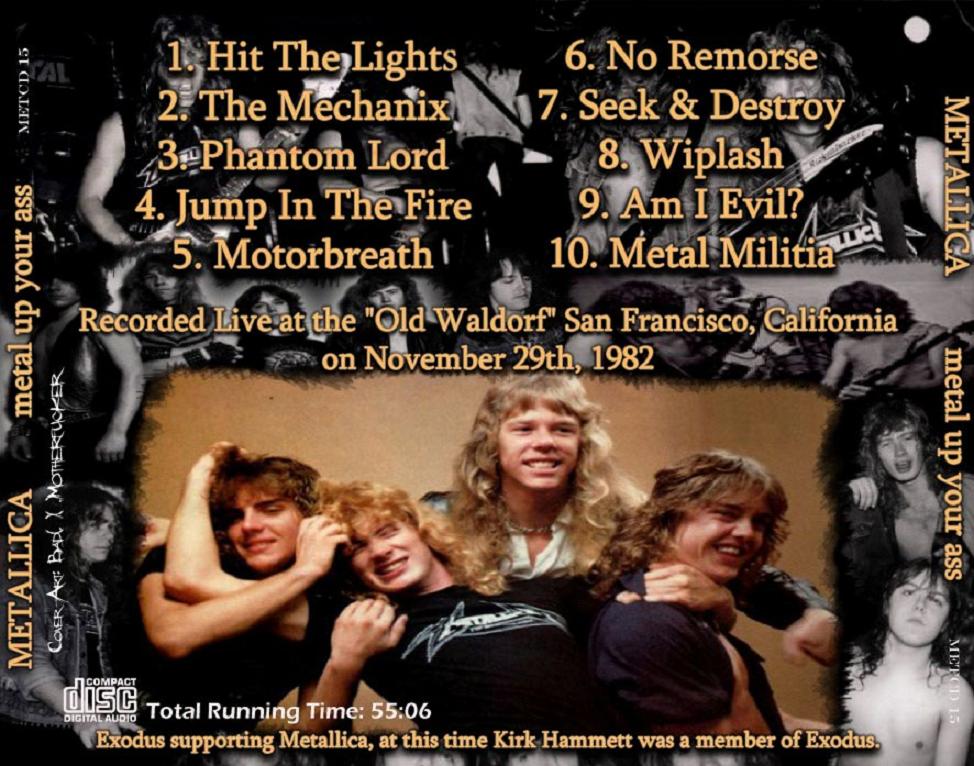 Pochette (version 2) :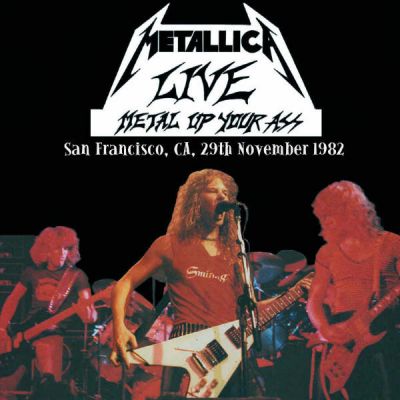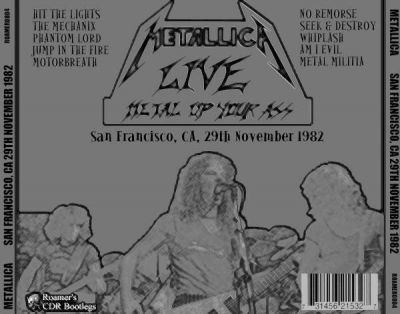 Bootleg n°492