RON'S GARAGE

Date : 14/03/1982
Lieu : Anaheim Radio City, Ca.
Label : Spawn of Cthulu.com
Support : 1 cd mp3 (128 kbps)
Durée : 26:27 mn
Source : Soundboard
Qualité sonore : 7/10
Liste des titres :
1. The Mechanix (4:28)
2. Killing Time (2:38)
3. Let it Loose (3:11)
4. Sucking My Love (6:46)
5. The Prince (5:00)
6. Jump in the Fire (4:24)
Commentaire :
Il s'agit du premier concert de Metallica.
« Metallica réussit à maîtriser une dizaine de chansons et est enfin prêt pour donner des concerts. Parmi ces chansons se trouvent deux compositions originales : « Hit the Lights » (généralement cette chanson ouvre le concert) et Jump in the Fire. Les autres chansons sont des reprises : quatre de Diamond Head, une de Savage, une de Sweet Savage et une de Blitzkrieg. Le groupe démarche les clubs de Los Angeles. Il monte sur la scène du Radio City Hall à Anaheim. Le concert, d'après certains témoins, est assez chaotique : Mustaine a des problèmes avec sa pédale de distorsion alors qu'il est le seul guitariste sur scène (Hetfield chante uniquement lors de ce concert). Il casse une corde, mais n'ayant pas pris une seconde guitare, il doit changer la corde sur la scène ». (Wikipedia)
Le « Ron » du titre de ce bootleg est Ron McGovern, le premier bassiste de Metallica, et le seul qui, à l'époque, disposait d'un local pour répéter. Il était aussi le seul à disposer d'une camionnette pour transporter le groupe et son matériel et le seul à disposer de contacts dans le show business, ce qui a permis au groupe d'enregistrer ses premières demos et de commencer à faire parler de lui.
La manière dont il fut remercié par le groupe pour tout son investissement est proprement ignoble. Encore un petit coup de Wikipedia pour s'en faire une idée : « Après plusieurs concerts, notamment à la Metal Massacre Night, les relations entre Ron McGovney et les autres membres du groupe se dégradent : comme il le dit lui-même, à propos d'un voyage pour aller faire un concert à San Francisco : « J'avais loué une remorque. On y a mis la batterie et tout notre matériel, on l'a accrochée à la camionnette de mon père et on est tous montés dans cette dernière. J'étais jamais allé à San Francisco avant ça. Je me souviens avoir fait le tour de Chinatown avec cette remorque, et ça commençait à me faire chier de chercher le club sans arriver à le trouver. Les autres étaient derrière, à boire et à s'amuser, et moi, j'en avais plein le cul […] Ça a commencé chez nous. […] Mes affaires disparaissaient. Le pire ç'a été quand on a joué avec Kaos, le groupe de mon copain Jim. […] Apparemment un ami de Dave en a profité pour voler ma seconde basse, une Ibanez. Mon blouson de cuir avait aussi disparu. J'en avais vraiment marre de tout ça » « Ensuite un de mes amis m'a dit qu'il avait vu Dave verser de la bière dans les capteurs de ma basse – une Washburn – en disant : 'Je déteste ce connard de Ron'. Le lendemain, ma basse marchait pas. Et ma copine de l'époque m'a confié qu'elle les avait entendus dire qu'ils prendraient Cliff dans le groupe. »
Disponible ici* : https://1fichier.com/?nomb913n7z

*
téléchargement contenant 4 enregistrements live de la période 1982-1983.
Pochette :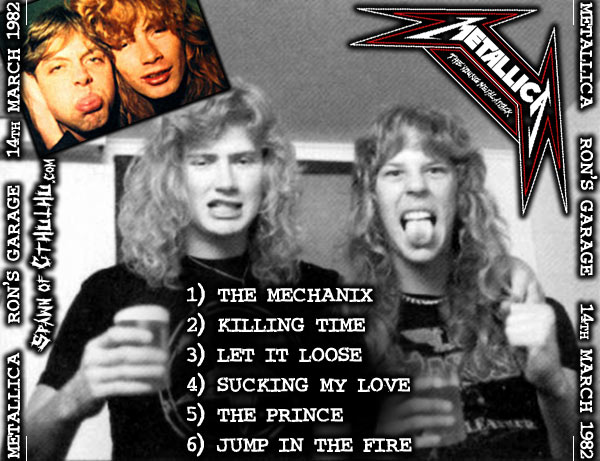 Bootleg n°292