ECHOES OF THE STAGE

Date : 18/06/1975
Lieu : Boston Gardens, Boston, Massachusetts
Label : Progressive Rock Remaster Project (Réf. : PRRP 038)
Support : 2 cd
Durée : 133:39 mn
Source : Audience
Qualité sonore : 8,5/10

Liste des titres :
CD1 – 55:05
1. Raving and Drooling (Sheep) (12:54)
2. You Gotta Be Crazy (Dogs) (13:35)
3. Shine On You Crazy Diamond (Part I-V) (12:13)
4. Have A Cigar (4:30)
5. Shine On You Crazy Diamond (VI-IX) (11:53)
CD2 – 78:34
1. Speak to Me (5:35)
2. Breathe (2:45)
3. On The Run (4:48)
4. Time (5:03)
5. Breathe (reprise) (1:01)
6. The Great Gig In The Sky (5:58)
7. Money (8:25)
8. Us And Them (7:01)
9. Any Colour You Like (8:18)
10. Brain Damage (3:48)
11. Eclipse (3:48)
12. Echoes (22:04)
Commentaire : Il existe trois sources pour ce concert. La première est assez ancienne et a donné divers bootlegs en vinyle, comme « Pigs Wishes And Moons » (Moonchild Records 0054 A/D). Sa qualité sonore est assez bonne mais elle comporte des lacunes : "Raving And Drooling" commence en fading, "Shine On You Crazy Diamond Parts 1-5″ a une coupure, "Shine On You Crazy Diamond Parts 6-9″ est incomplète (fading sur la fin) et il manque le début de "Us & Them".
Plus tard, deux autres sources sont apparues, toutes les deux complètes et excellentes. La première (chronologiquement parlant) est celle enregistrée par Stephen Hopkins et la seconde celle de Dan Lampinski. Beaucoup trouvent que cette dernière est la meilleure des deux ; j'ai une préférence pour celle de Steven Hopkins. On peut s'amuser à les comparer avec le bootleg « Twice around the Moon » qui regroupe les deux versions dans un coffret 4 CD. Sinon, voici la liste des différences entre les deux (en anglais) :
The Hopkins recording had tape flips during applause so there was no missing music. The Lampinski recording had tape flips during the music so the Hopkins recording could be used to restore the missing segments of Lampinski. As with most cassette tape recordings from the 1970's, there was a speed error identified in each recording.From the clarity of the two recordings it is assumed that both tapers used excellent equipment and were both in a good location for a good capture. When comparing the two tapes, similarities and differences were noted….
– Talking can be heard in Hopkins that is not in Lampinski at 22 seconds after last beat of You've Gotta Be Crazy.
– Fire crackers 6 seconds before Roger's introduction of Raving and Drooling has « Yea » in Hopkins but not Lampinski.
– Roger's introduction of Raving and Drooling sounds a bit more distant in Hopkins than Lampinski.
– During Speak to Me someone says « Jesus » and can be heard in Hopkins but not Lampinski.
– Talking can be heard in R channel of Hopkins but not Lampinski at 4:06 of Any Colour you like.
– Acoustics seem very similar so the two tapers were probably close to each other.
– Single claps at 10:54 of You Gotta Be Crazy are heard in both so both tapers were in a similar location.
– « nice and easy » heard in both recordings during slow guitar segment of Money at 5:14.
– Carrier signal at 15,700Hz in Hopkins source, but not in the Lampinski source so clearly different recordings.
Ce bootleg provient, comme de nombreux autres, de l'enregistrement réalisé par Steve Hopkins, mais l'équipe du label PRRP a réussi à se procurer une copie de basse génération de la bande master et, après un léger travail d'amélioration du son, a obtenu une version excellent de ce concert, mais pas la meilleure.. pour cela, il faut se reporter sur le bootleg « Twice around the moon ».
Disponible ici* : http://www.guitars101.com/forums/f145/prrp-038-pink-floyd-1975-06-18-echoes-from-the-stage-boston-ma-201100.html
*Assurez-vous que le téléchargement de ces fichiers ne contrevienne pas à la législation en vigueur.
Autres bootlegs du même concert dans ma collection :

Pochette :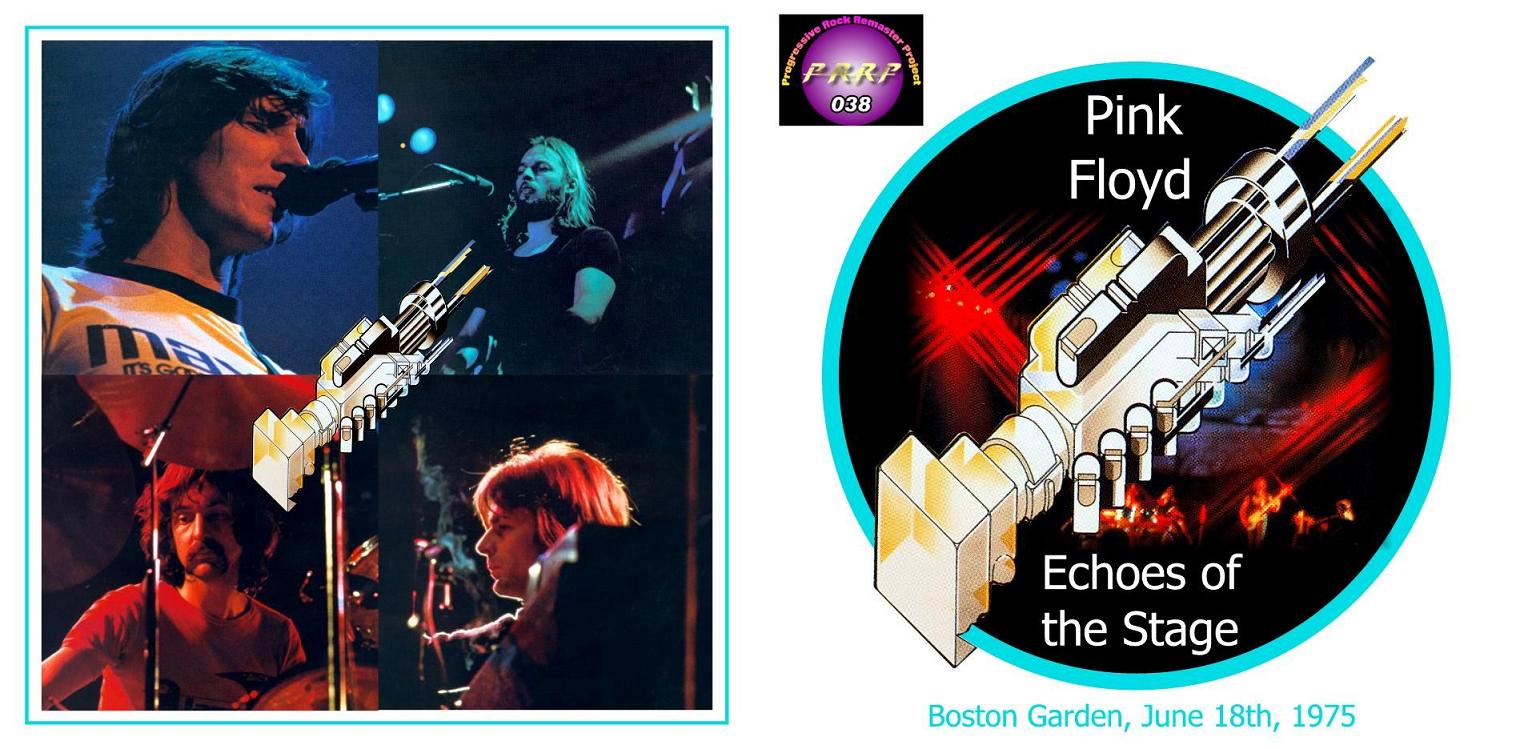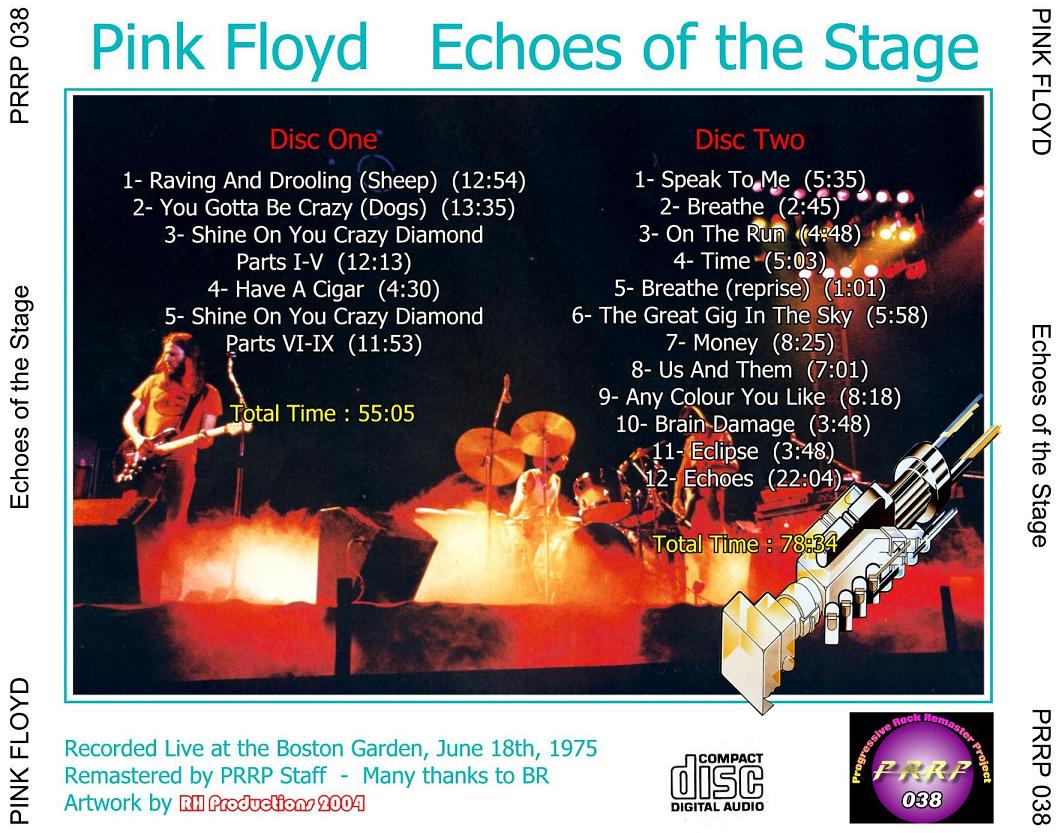 Bootleg n°1449