ICY WATERS UNDERGROUND
Date : 27/09/1970
Lieu : Fillmore East, N.Y.C. (early show)
Label : Ace Bootlegs Production
Support : 1 cd
Durée : 63:05 mn
Source : audience
Qualité sonore : 6/10

Liste des titres :
1. Astronomy Domine (11:01)
2. Green Is The Colour (3:37)
3. Careful With That Axe, Eugene (10:05)
4. One Of These Days* (9:09)
5. Atom Heart Mother* (5:28)
6. Set The Controls For The Heart Of The Sun (11:56)
7. Fat Old Sun (11:52)
8. Echoes** (23:28)
* Carnegie Hall, Nov. 15th 1971
** New Jersey, June 15th 1971 (Rec. 2)
Lineage :
cass[?] > Nakamichi ZX-7 > Tascam HD-P2 > WAV 24/48 > Peak 5.02
(Remove silences, fix tape flips, index) > xACT 1.62 > FLAC 8 (24/48)
Tape Source: Maxell UDXLII C90 Unknown Generation cassettes
Fillmore East concert taken from marbal's tape / transferred by Bechwoods on February 2008

Commentaire : Deux concerts ont été donné au Fillmore East ce jour-là mais seul le premier a refait surface. La qualité n'est pas franchement formidable et la bande comporte plusieurs coupures, d'où les « patchs » réalisés avec des extraits d'autres concerts. L'auteur de ce montage a eu le bon goût de choisir des concerts avec un son à peu près aussi médiocre pour que la continuité ne soit pas trop altérée.
Disponible ici* : http://quality3.blogspot.fr/2013/09/pink-floyd-new-york-1970-vg-aud-2448.html
*Assurez-vous que le téléchargement de ces fichiers ne contrevienne pas à la législation en vigueur.
Autre bootleg du même concert dans ma collection :
Pochette :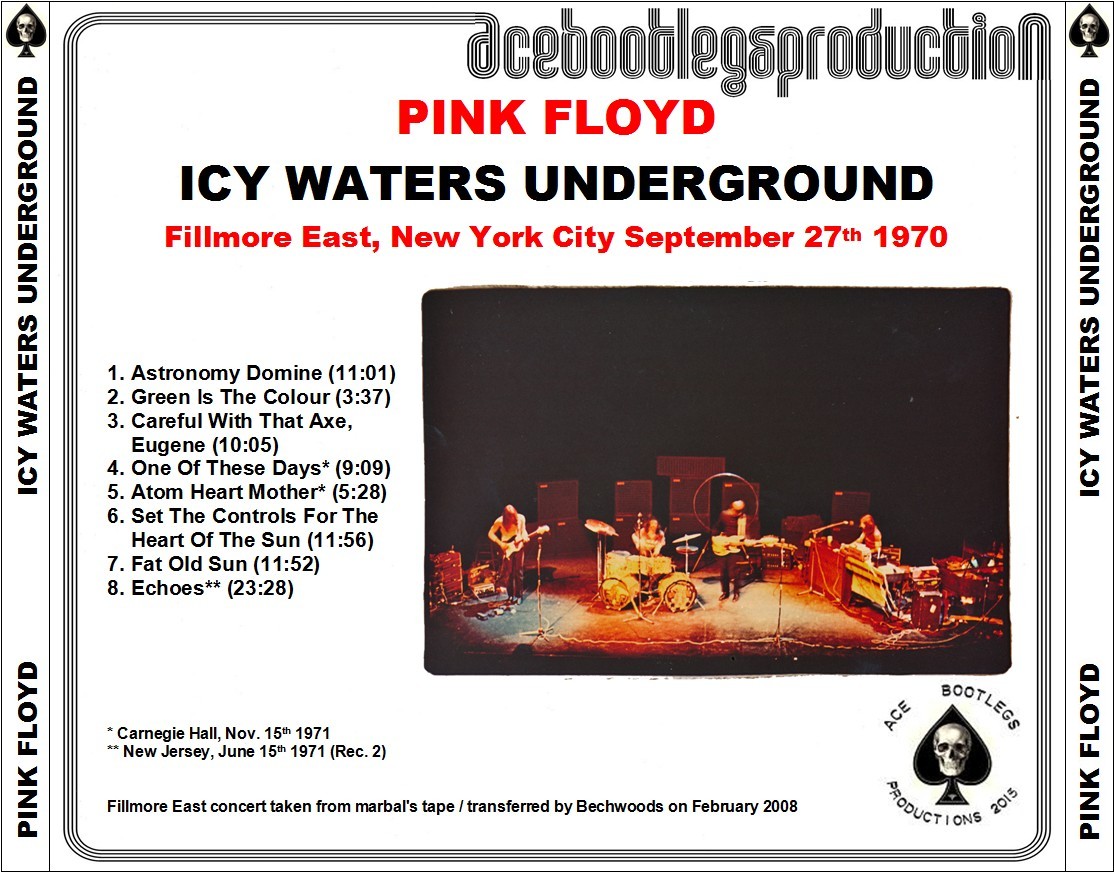 Bootleg n°1252