KQED

Date : 30/04/1970
Lieu : KQED TV Studios, San Francisco, California
Label : plusieurs, dont Harvested
Support : 1 cd ou 1 DVD
Durée : Version audio : 57:26 mn / version vidéo : 59:37 mn
Source : TV Broadcast
Qualité sonore : 9/10

Liste des titres :
Audio version : TPT : 57:26
1. Atom Heart Mother (16:42)
2. Cymbaline (8:50)
3. Grantchester Meadows (7:17)
4. Green Is The Colour (3:32)
5. Careful With That Axe, Eugene (9:15)
6. Set The Controls For The Heart Of The Sun (11:50)
video version : TPT : 59:37
1. Intro / Atom Heart Mother – part 1 (7:20)
2. Atom Heart Mother – part 2 (10:03)
3. Cymbaline (8:41)
4. Grantchester Meadows (7:35)
5. Green Is The Colour (3:35)
6. Careful With That Axe, Eugene (9:21)
7. Set The Controls For The Heart Of The Sun (11:42)
8. Credits (1:10)
Commentaire : Très souvent catalogué comme datant du même jour que le célèbre concert du Fillmore West, le concert KQED a en fait été enregistré le lendemain (30 avril) aux studios de télévision KQED. Il ne s'agit donc pas, comme on le voit parfois sur les notes de pochette des bootlegs, d'un « early show », c'est-à-dire ces concerts de l'après-midi que donnaient souvent les groupes dans les années soixante, à une époque où il était banal de se produire à deux reprises dans la même journée, mais d'une courte performance pour une émission de télévision, d'où l'intérêt de ce document, puisque les apparition de Pink Floyd en video sont extrêmement rares, qui plus est avec une bonne qualité sonore.
La version Harvested est actuellement la meilleure. Voici le commentaire qui l'accompagne :
« We had 2 sources to choose from: one source from a U-Matic TV station master, the other source from a mysterious FM broadcast. The FM source was said to be in stereo, but a quick analysis clearly shows there is absolutely no stereo separation on the instruments. Further analysis of the FM source reveals that the fake stereo effect is mainly due to multiple analog generations and fluctuations in the tape channels stretching. The fact is that the original recording was done in mono, and that there's no evidence of any true stereo mix of that performance. The FM source has also the typical alterations from FM processing (levelling and limiting), and is riddled with pops and crackles, not even mentioning a 1.7% deviation from the real speed.
On the other hand, the U-Matic source has the original mono recording with a very stable and correct speed, along with excellent spectral characteristics (as you could expect from a station master). A close comparison between the 2 sources shows some evidence of the « pureness » (in terms of sound fidelity) of the U-Matic tape compared with the multiple analog gens of the other source. It is not easy to describe it with words, let's just say that if you listen to the cymbals sound during some quiet parts, you hear « dziing » on the U-Matic source, while it's « tching » on the FM source… 😉
Therefore, the remastering work was performed on the U-Matic source. It consisted in the following main activities: adjust the levels and EQ in order to bring clarity to the raw recording, get rid of the annoying low frequency hum that is present most of the time, and manually clean all the little imperfections of the raw transfer (mainly pops and drop-outs).
It has to be noted that, while Atom Heart Mother, Cymbaline, Green Is The Colour and Careful With That Axe Eugene were rather well recorded by the KQED sound engineers, it was much more difficult to get a good sound for Grantchester Meadows and Set The Controls For The Heart Of The Sun. These two tracks seem to have been captured differently by the KQED engineers and there were some bad sounding sections difficult to correct or improve (on every source we heard, these two songs are always with inferior sound quality than the four others). A possible explanation could be the specific instruments settings: acoustic guitars and vocals for Grantchester Meadows, and a lot of middle frequencies (gong, toms, lack of bass) for Set The Controls. Too bad KQED staff was not able to do a better job when recording and mixing these two tracks. (Ed: Perhaps these to tracks were recorded 1st and then adjustments/corrections were made?).
RonToon (October 2008) »
Version vidéo disponible ici* : http://www.guitars101.com/forums/f146/dvdfull-pink-floyd-1970-04-30-san-francisco-ca-pro-shot-144579.html#post1021176
Ou bien ici* : http://www.guitars101.com/forums/f146/dvdfull-pink-floyd-1970-04-29-san-francisco-ca-pro-shot-95395.html#post809799

Voire ici* :  http://quality3.blogspot.fr/2013/07/pink-floyd-san-francisco-1970-station.html
*Assurez-vous que le téléchargement de ces fichiers ne contrevienne pas à la législation en vigueur.
Pochette :
(quelques unes parmi une multitude de versions)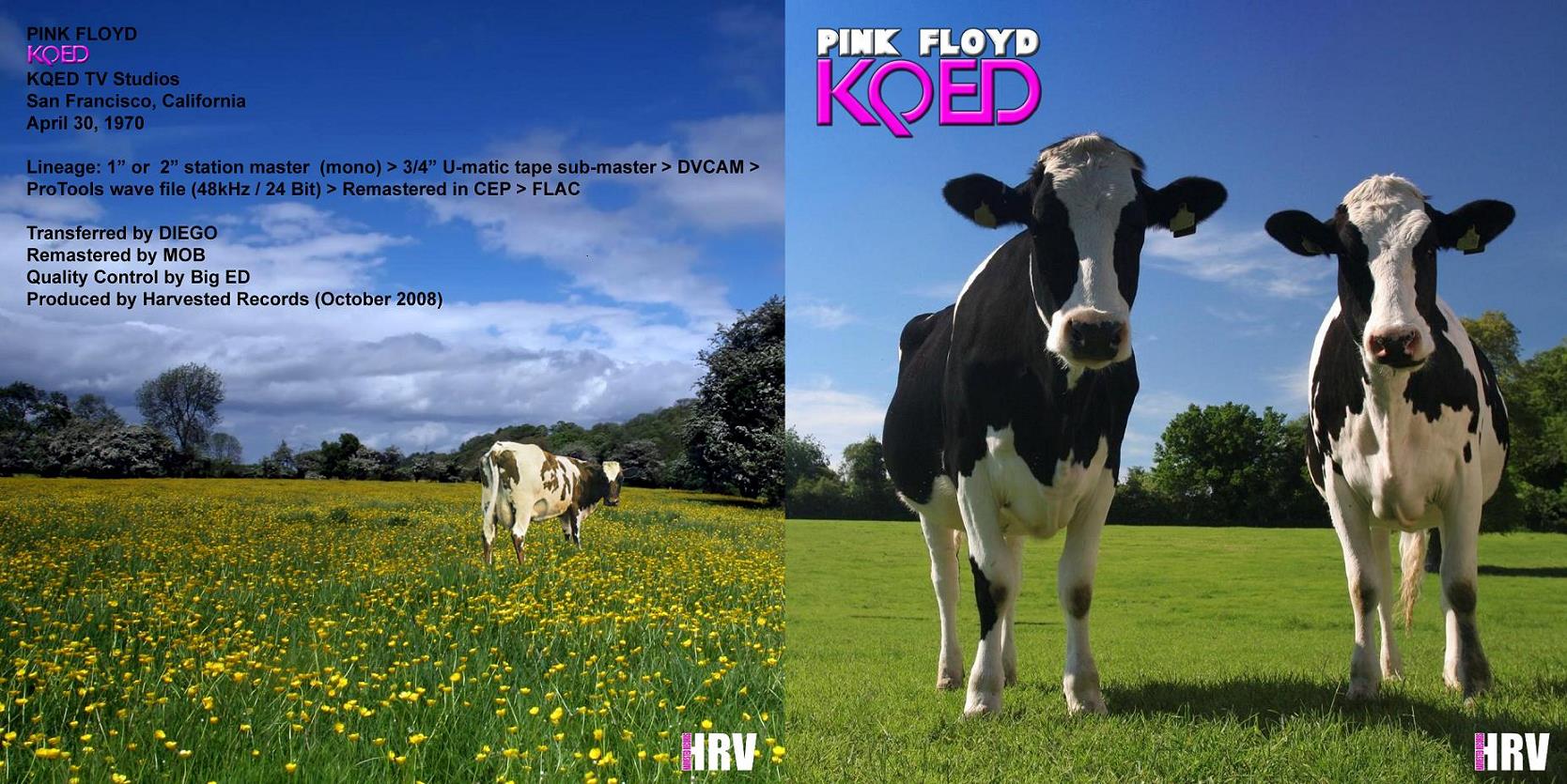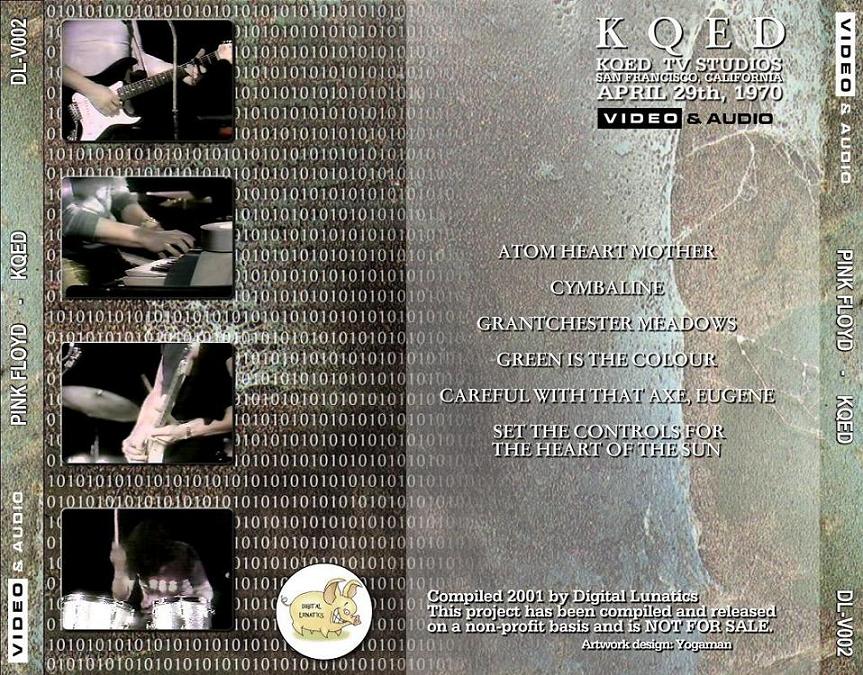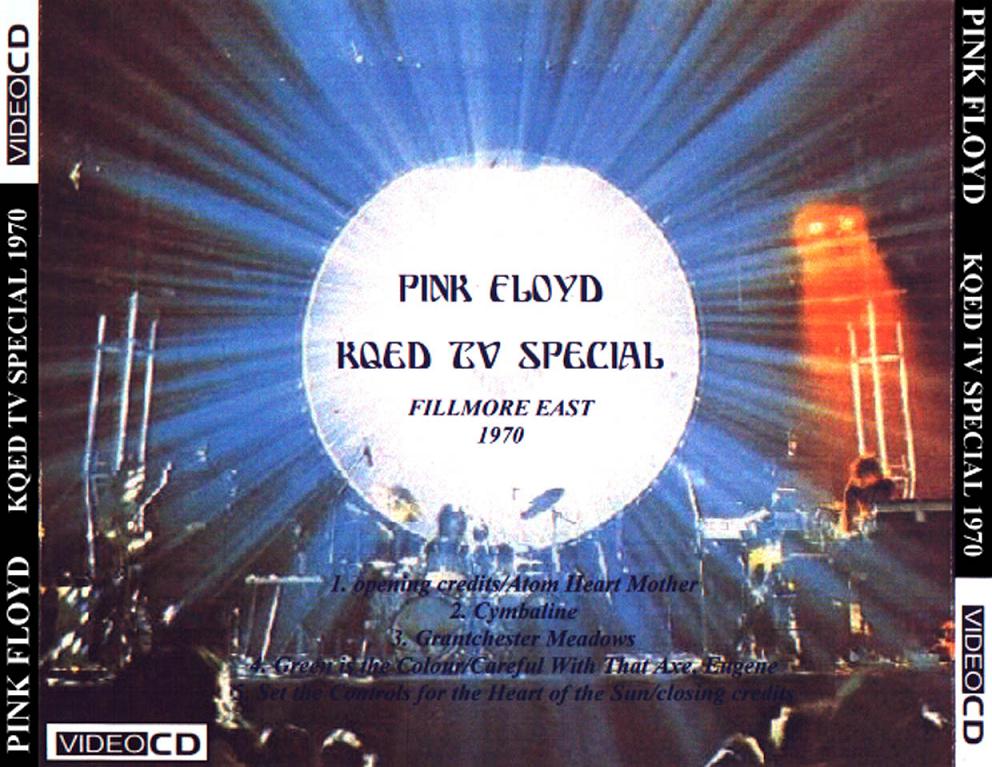 Bootleg n°1497