RACIAL VIOLENCE

Date : 01/02/1977
Lieu : Stadthalle, Vienna, Austria
Label : Sirene (Ref. : Sirene 024)
Support : 2 cd
Durée : 123:16 mn
Source : Audience
Qualité sonore : 8,5/10

Liste des titres :
CD1 – 53:44
01-Sheep (12:32)
02-Pigs On The Wings, part 1 (1:38)
03-Dogs (19:17)
04-Pigs On The Wings, part 2 (2:32)
05-Pigs (Three Different Ones) (17:45)
CD2 – 69:32
01-Shine On You Crazy Diamon, part 1-5 (14:06)
02-Welcome To The Machine (8:24)
03-Have A Cigar (6:06)
04-Wish You Were Here (5:42)
05-Shine On You Crazy Diamon, part 6-9 (17:25)
06-Money (9:05)
07-Us And Them (8:44)
Commentaire : Une très bonne version du concert de Vienne, tirée de lamême source, et de qualité à peu près équivalente au bootleg « Reeling in Vienna ». La différence principale, par rapport à cette dernière, tient au DVD bonus, mais la qualité d'image est médiocre et la durée n'est que de 20 minutes (aucune chanson entière). De toute façon, le DVD bonus n'est pas inclus dans le téléchargement proposé ci-dessous.
Disponible ici* : http://www.guitars101.com/forums/f145/pink-floyd-1977-02-01-vienna-at-aud-flac-173214.html#post1143940
*Assurez-vous que le téléchargement de ces fichiers ne contrevienne pas à la législation en vigueur.
Pochette :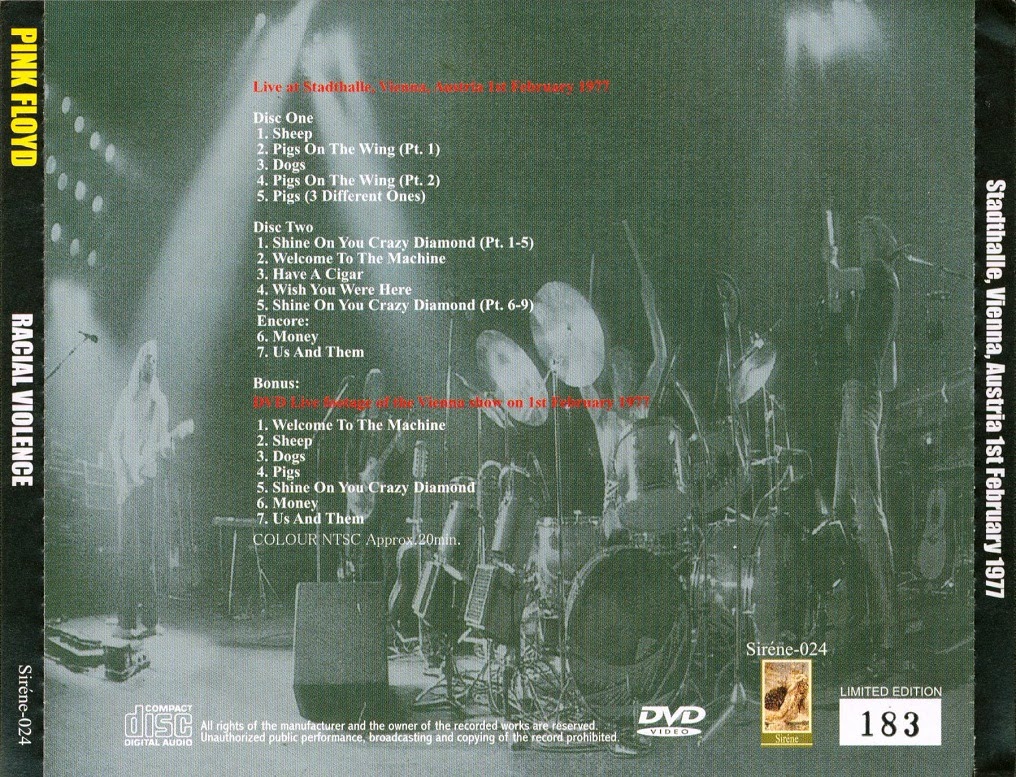 Bootleg n°1045