RIVERS OF STEEL

Date : 20/06/1975
Lieu : Three Rivers Stadium, Pittsburgh, Pennsylvania
Label : Marooned (MCD 021)
Support : 1 cd
Durée : 35:42 mn
Source : Audience
Qualité sonore : 6/10

Liste des titres :
1. Raving And Drooling (11:07)
2. You've Got To Be Crazy (13:48)
3. Speak To Me / Breathe (5:46)
4. On The Run (3:55)
5. Shine On You Crazy Diamond – fragment (1:04)

Commentaire :  Contrairement au concert donné deux jours plus tard à Milwaukee, qui fut interrompu par un déluge, celui-ci est allé jusqu'à son terme mais n'a pas été enregistré dans sa totalité (en tout cas aucun enregistrement complet n'a fait surface à ce jour), ce qui explique que le seul bootleg en circulation n'ait une durée que de 35 minutes. Qui plus est, la qualité sonore est assez faible. On conseillera donc ce concert aux seuls collectionneurs acharnés ou aux fans de la tournée 1975.
Plus d'information et de photos sur ce show ici: http://www.pinkfloydz.com/concerts-tours/pink-floyd-pittsburgh-20-june-1975/
Concert disponible ici* : https://1fichier.com/?uohp6n777w

*Assurez-vous que le téléchargement de ces fichiers ne contrevienne pas à la législation en vigueur.
Pochette: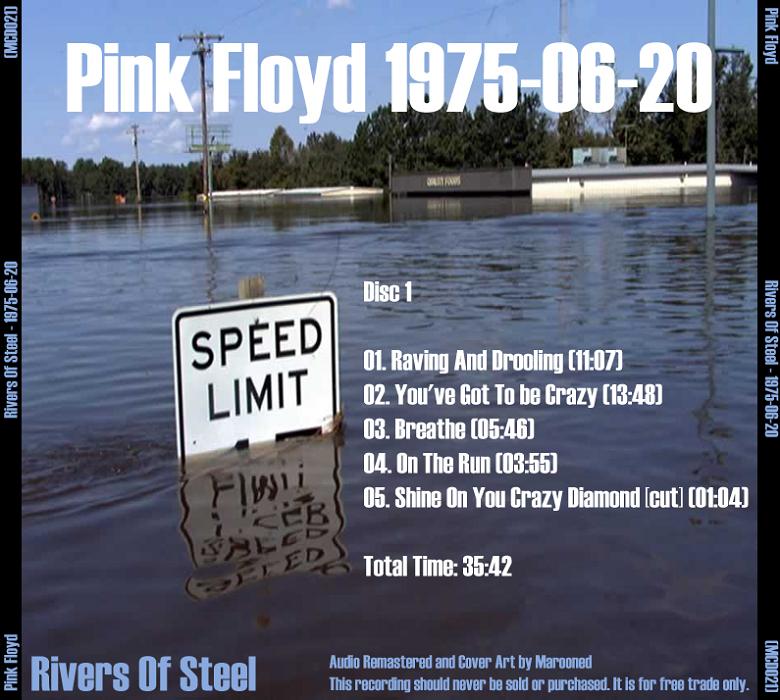 Bootleg n°2762