Bootleg n°3333
THE DALLAS TAPE
Date : 10/09/1972
Lieu : McFarlin Auditorium, Dallas, Texas
Label : Ace Bootlegs Production
Transferred by Furry_Animal from M.B. tapes
Support : 2 cd
Durée : 87:20 mn
Source : Audience
Qualité sonore : 8/10

Liste des titres :
CD1 – 37:50
01. The Great Gig in the Sky (4:25)
02. Money (6:06)
03. Us and Them (7:34)
04. Any Colour You Like (5:15)
05. Brain Damage (3:01)
06. Eclipse (1:49)
07. Tuning (0:36)
08. One of These Days (9:04)
CD2 – 49:30
01. Careful With That Axe, Eugene (uncut) (12:40)
02. Set The Controls for the Heart of the Sun (12:14)
03. Echoes (24:36)
Commentaire :  A l'origine une simple cassette. Une Maxell UDXLII C90 copiée sur une bande de deuxième génération le 5 mai 1983.  Après, je ne sais pas qui a fait le boulot de nettoyage mais le résultat final est vraiment appréciable. Le son n'est pas forcément plus clair que sur le bootleg « McFarlin Auditorium« , et le concert n'est pas plus complet (il manque tout le début de Dark Side of the Moon), mais toutes les distorsions et les turbulences ont été éliminées. La meilleure version du concert de Dallas à ma connaissance.

Notez que sur la cassette, les titres ne sont pas indexés. La tracklist est la suivante :
Side A (44:19m): TGGitS (missing intro) / Money / Us & Them / Any Colour You
Like / Brain Damage / Eclipse / OoTD / CwtAE (cut)
Side B (43:13m): CwtAE (continued) / Set The Controls / Echoes
Comme « Careful With That Axe, Eugene » était coupée en deux parties, je me suis permis de recoller les deux morceaux en essayant de masquer le chainon manquant (il manque une dizaine de secondes, le temps que le gars qui a enregistré le concert retourne sa cassette). Le résultat me paraît assez soigné. A moins d'être très attentif on n'entend pas la coupure. Mais pour les puristes qui préfèrent la version coupée en deux, elle est offerte en bonus dans le téléchargement ci-dessous (version « indexée »). Quant aux puristes extrémistes, qui préféreraient la version pas indexée du tout, on peut la trouver grâce au second lien de téléchargement ci-dessous.
Disponible ici (version indexée)* : https://1fichier.com/?gj47cntpwm0gtn0wwbd1
Ou bien ici (version non indexée)* :  https://thewitchwoodrecords.blogspot.com/2015/05/pink-floyd-dallas-1972.html
*Assurez-vous que le téléchargement de ces fichiers ne contrevienne pas à la législation en vigueur.
Pochette: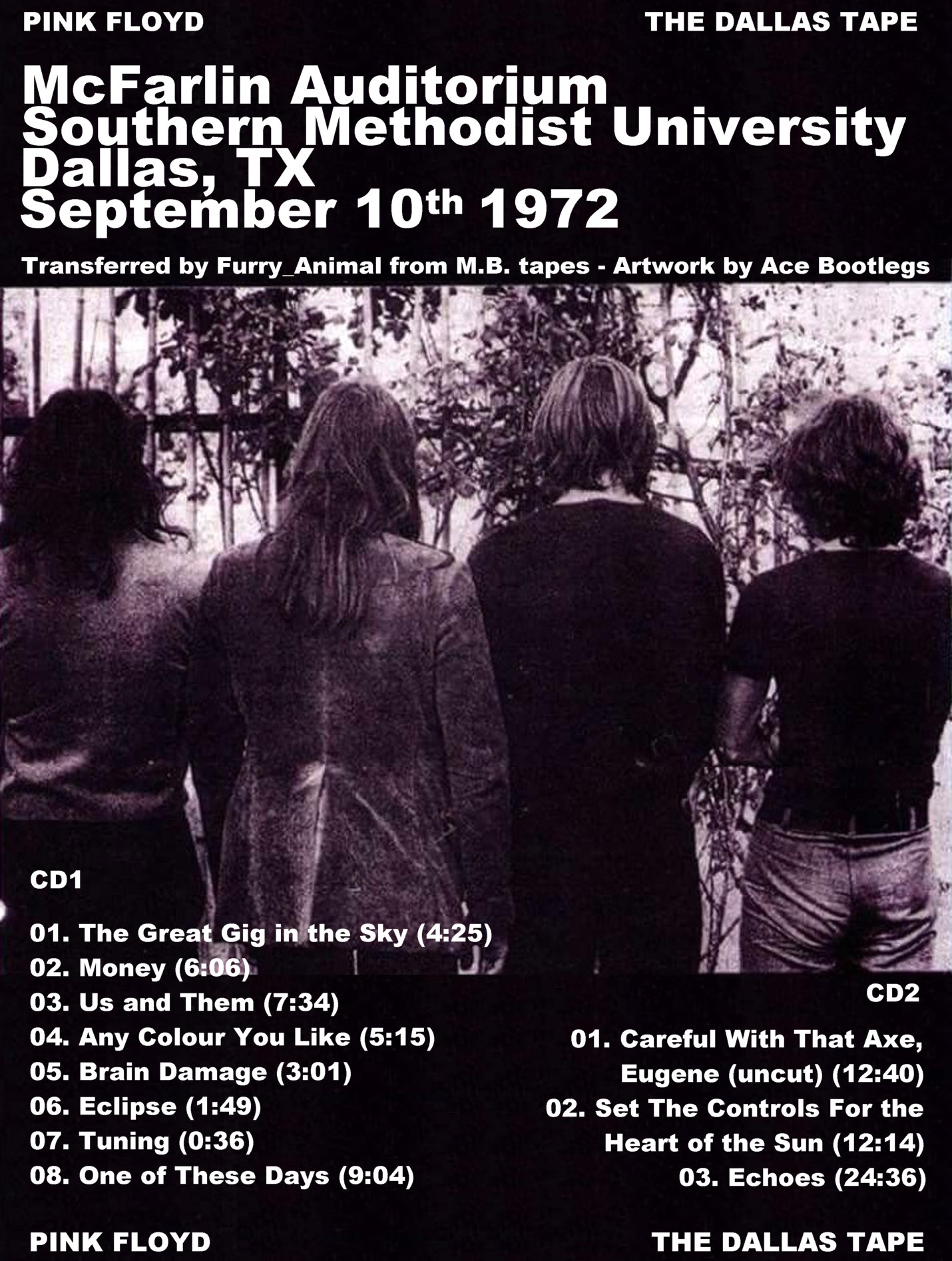 Bootleg n°3333