ZÜRICH 1972

Date : 09/12/1972
Lieu : Hallenstadion, Zurich, Switzerland
Label : Siréne (Ref. : Siréne
Support :2 cd
Durée :105:01 mn
Source : Audience
Qualité sonore : 8/10

Liste des titres :
CD 1
1. Speak To Me (1:58)
2. Breathe (2:41)
3. Travel Sequence (6:58)
4. Time (6:34)
5. Mortality Sequence (4:34)
6. Money (5:57)
7. Us And Them (7:28)
8. Scat (6:28)
9. The Lunatic Song (3:42)
10. Eclipse (1:54)
Total Time: 48:27
CD 2
1. One Of These Days (8:48)
2. Careful With That Axe, Eugene (13:17)
3. Echoes (23:59)
4. Childhood's End (11:18)
Commentaire : C'est l'avant-dernier concert de la tournée d'hiver 1972. Il existe deux sources pour ce concert. La première a donné lieu à des bootlegs depuis les années 1970. Le son est de qualité moyenne et l'enregistrement est incomplet (le rappel, avec Childhood's End, est manquant). La seconde source a fait son apparition dans les années 1990. C'est le label Ayanami qui l'a exploitée le premier, en publiant le bootleg « Zurich 1972 » (Ayanami-228). La version publiée par Siréne dispose d'une qualité sonore légèrement améliorée par rapport à celle d'Ayanami, mais encore inférieure à celle du bootleg « In a Neutral Land », publié par Man of Leisure Music (MoLM) en 2003.
Il y a encore quelques années, on pouvait donner sa préférence au bootleg du label Siréne car il comportait la totalité du concert alors que sur « In a Neutral Land », la version de « Childhood's End » était un filler provenant d'un autre concert. Mais dans ses rééditions ultérieures, « In a neutral Land » a incorporé la vraie version de « Childhood's » et a bénéficié d'un nettoyage du son qui, à mon humble avis, le rend supérieur à tous les autres bootlegs existants pour ce concert.
Il est à noter que la version de « Childhood's End » interprétée ce soit-là est l'une des meilleures versions live (du point de vue de la qualité sonore) de cette chanson assez rarement jouée en concert. Ce soir là, c'était la deuxième fois que le groupe interprétait cette chanson. La première avait eu lieu une semaine plus tôt à Saint-Ouen (le 1er décembre). Pas très satisfait du résultat, le groupe ne l'avait pas jouée à Bruxelles (le 5 décembre) ni à Lille (le 7 décembre).

Autre particularité du concert de Zurich, « On the Run » et « The Great Gig in the Sky » y sont jouées dans leur version primitive pour l'une des dernières fois. Quant à « Careful… », Waters y incorpore, comme il le faisait de temps en temps, quelques paroles psalmodiées parmi lesquelles on peut distinguer les mots suivants : "dark as night…speak to me, speak to me".
Dans sa version originale, ce bootleg s'accompagne d'un CD-R bonus qui propose la version de ce concert enregistrée par le « Recorder 1 ». On peut trouver ce bootleg bonus ici.
Disponible ici* :  http://thinkfloyd61.blogspot.fr/2017/12/pink-floyd-zurich-1972-sirene-170-flac.html
*Assurez-vous que le téléchargement de ces fichiers ne contrevienne pas à la législation en vigueur.
Pochette: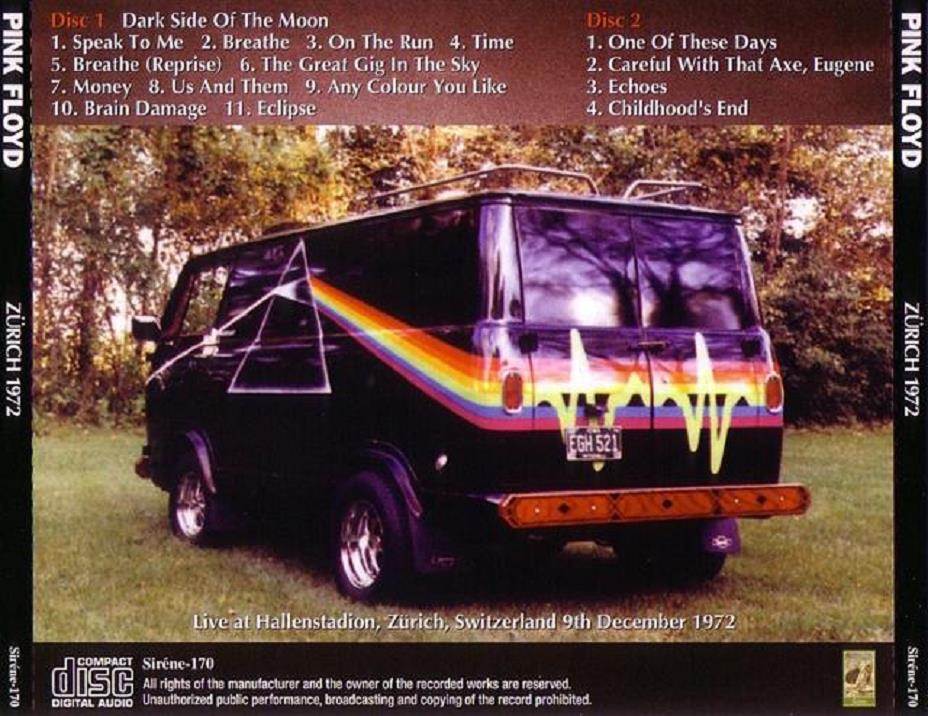 Bootleg n°3109