SMALL CLUB

Date : 18/08/1988
Lieu : Paard van Troye club, Rotterdam, Netherland
Label : il en existe plusieurs (voir les pochettes ci-dessous)
Support : 2 cd
Durée : 105:46 mn
Source : Soundboard
Qualité sonore : 10/10

Liste des titres :
CD 1 – 53:09
1. Instrumental Jam (12:54)
2. D.M.S.R. (8:46)
3. Just My Imagination (7:44)
4. People Without (10:28)
5. Housequake (4:31)
6. Down Home Blues (8:46)
CD 2 – 52:37
1. Cold Sweat (9:34)
2. Forever in my life (11:28)
3. Still would stand all time (10:47)
4. I'll take you there (15:57)
5. It's gonna be a beautiful night (2:40)
6. Rave to the joy fantastic (2:11)
Commentaire :
La critique de Titoulien* :
« Small Club, second show that night…
Ah, le Small Club… 'LE' bootleg Princier par lequel tout a commencé pour beaucoup de fans, 'LA' pierre philosophale Minneapolitaine, 'LE' graal du fan Princier, bon j'arrête là les formules pompeuses sinon vous allez dire que je ne suis pas objectif et que mon amour pour le son de Minneapolis m'aveugle, ma foi c'est peut être vrai, mais je l'écoute pour la énième fois en écrivant ces lignes et j'en ai la chair de poule… »
« Retour vers le futur… Là je vous parle d'un temps que les moins de vingt cinq ans ne peuvent pas connaître…car nous sommes en août 1988, en plein milieu du leg européen du Lovesexy Tour… A cette époque, Prince «soigne» ses fans européens régulièrement depuis 1986 déjà et le Lovesexy Tour est 'LA' tournée de tous les superlatifs. Prince et la Warner ont mis le paquet et les petits plats dans les grands : 87 dates en tout (en Europe, aux U.S.A. et au Japon), une scène centrale grandiose qui a coûté un bras, un line up (post The Revolution) de folie ne comprenant que du beau monde (Sheila E., Miko Weaver, Levy Seacer JR, Matt Fink, Boni Boyer etc…) et une set list variée et équilibrée, bref un cocktail Princier comme on les aime, cette tournée est d'ailleurs celle qui voit la troisième vague de fans européens arriver sur le marché Princier (après le Syracuse 85 et le Détroit 86) grâce à la diffusion du concert de Dortmund sur beaucoup de télévisions européennes en septembre…mais là je me disperse, revenons à nos moutons… »
« Nous sommes donc dans la nuit du 18 au 19 août à La Haye aux Pays Bas au cœur de la tournée européenne qui a débuté le 8 juillet à Paris et qui est un succès sans précédent, sold out partout y compris et surtout en Hollande où les fans constituent une base fidèle et solide, bref Prince est en terrain conquis et il ne se montrera pas ingrat : après avoir donné un concert de près de deux heures dans la soirée du 18 au stade Feijenoord (De Kuip) de Rotterdam, il donnera dans la nuit l'Aftershow du siècle avec un grand 'A' (objectivité sort de ce corps !!!) qui nous occupe ici et qui reste à ce jour jour le must du must en matière de bootleg Princier… »
« Alors pourquoi tant de succès pour ce bootleg ? Comme dans tous les succès il y a plusieurs explications que je vais essayer de vous donner rapidement ici, mais de façon générale tous les ingrédients sont réunis ici pour que la réussite soit au rendez-vous, tout y est rien ne manque ; jugez plutôt : le Small Club est le premier bootleg de Prince en aftershow de cette qualité ayant «surfacé» (et certainement l'unique à ce jour d'un tel niveau), la tournée Lovesexy est un véritable succès, la salle est petite, le son et le mixage sont excellents, les titres et les jams inédits joués ce soir là sont magnifiques, Prince et le groupe sont en pleine forme (sauf Eric Leeds qui préfèrera rester à l'hôtel, dommage…), bref presque deux heures de show où tout est fait pour que l'alchimie se fasse et que ce bootleg entre dans l'histoire du rock par la grande porte… Si vous êtes fan de musique en général et que vous ne devez posséder qu'un seul bootleg de Prince choisissez celui-là vous ne serez pas déçus… T. »
La version en silver à posséder : « Moonraker » ou « Thunderball »
*Docteur ès Prince à Princeton
Les autres prescriptions de bootlegs du Docteur Titoulien pour le Lovesexy Tour :
00/04/1988 PAISLEY PARK, CHANHASSEN, MN, U.S.A. (REHEARSAL) EX soundboard
00/06/1988 PAISLEY PARK, CHANHASSEN, MN, U.S.A. (REHEARSAL) EX soundboard
18/08/1988 ROTTERDAM, le regular show avant l'aftershow en EX- audience
09/09/1988 DORTMUND, audio rip du concert diffusé sur les chaînes européennes EX soundboard
28/10/1988 CIVIC ARENA, PITTSBURGH, PA, U.S.A. EX- soundboard (audio rip de la video)
07/11/1988 THE PALACE, RESEDA, CA, U.S.A. (AFTERSHOW) EX- audience
10/11/1988 WARFIELD THEATRE, SAN FRANCISCO, CA, U.S.A. (AFTERSHOW) SOURCE #1 EX- audience
10/11/1988 WARFIELD THEATRE, SAN FRANCISCO, CA, U.S.A. (AFTERSHOW) SOURCE #2 EX- audience
01/02/1989 GYM, SENDAI, JAPAN EX soundboard
07/02/1989 RAINBOW HALL, NAGOYA, JAPAN EX soundboard
12/02/1989 OSAKA-JO HALL, OSAKA, JAPAN (SOUNDCHECK) EX soundboard
12/02/1989 OSAKA-JO HALL, OSAKA, JAPAN EX soundboard
Le lien Wikipédia en Français du Lovesexy Tour : http://fr.wikipedia.org/wiki/Lovesexy_Tour
Une autre critique du Small Club : http://tonio.lagoule.free.fr/prince_chroniques_bootlegs.html
Bootleg « Small Club » disponible ici* : http://100greatestbootlegs.blogspot.fr/2014/07/flac-prince-small-club-1988.html
*Assurez-vous que le téléchargement de ces fichiers ne contrevienne pas à la législation en vigueur.  
Pochette (il en existe une dizaine de versions, en voici trois) :
Version 1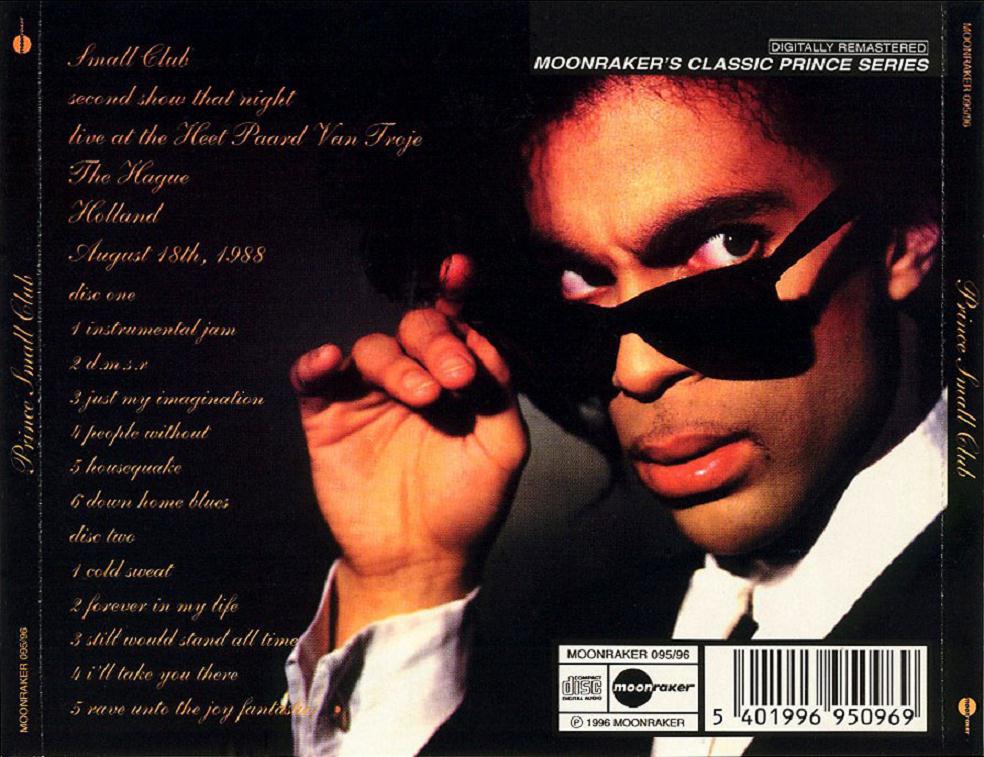 Version 2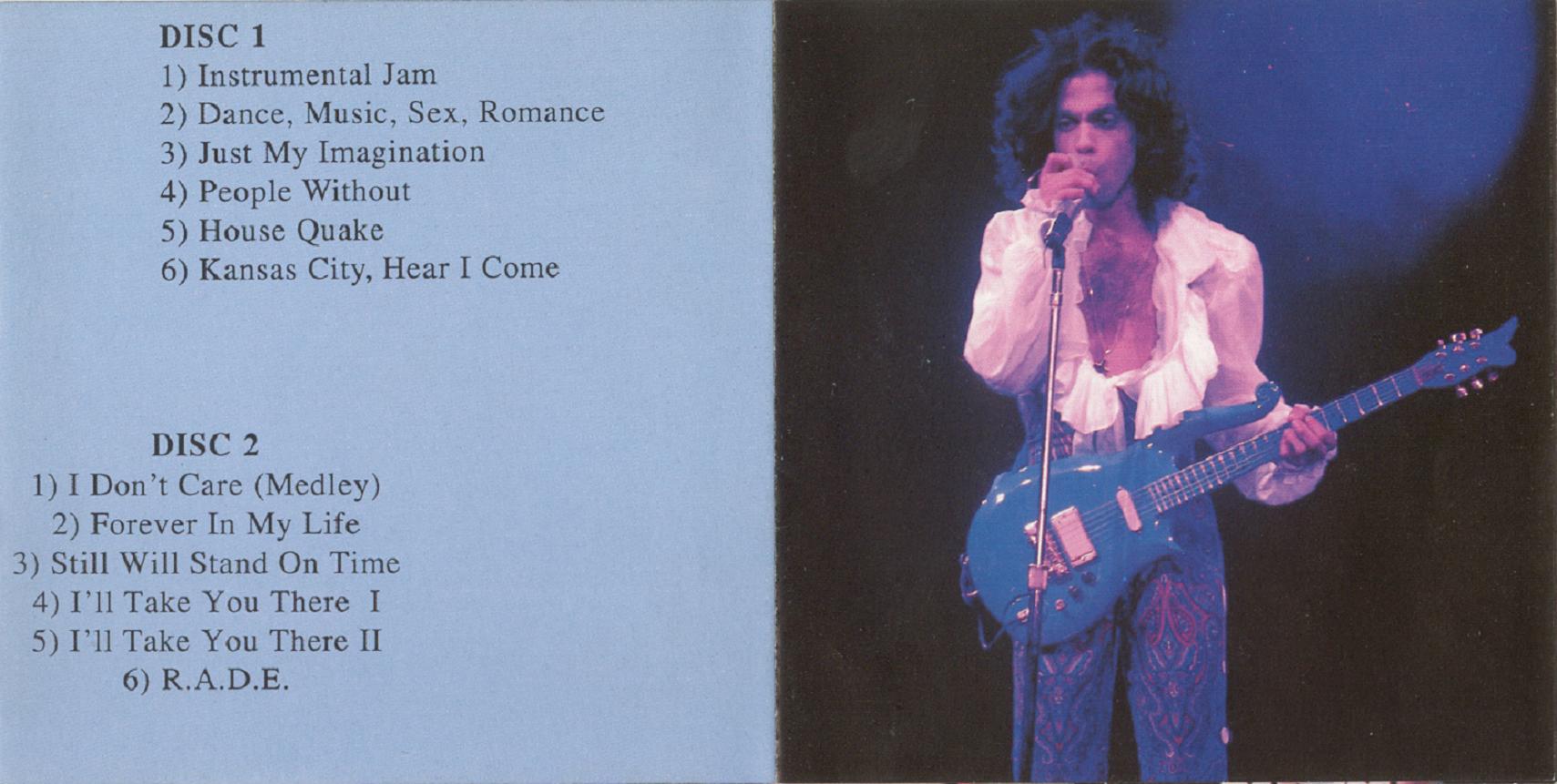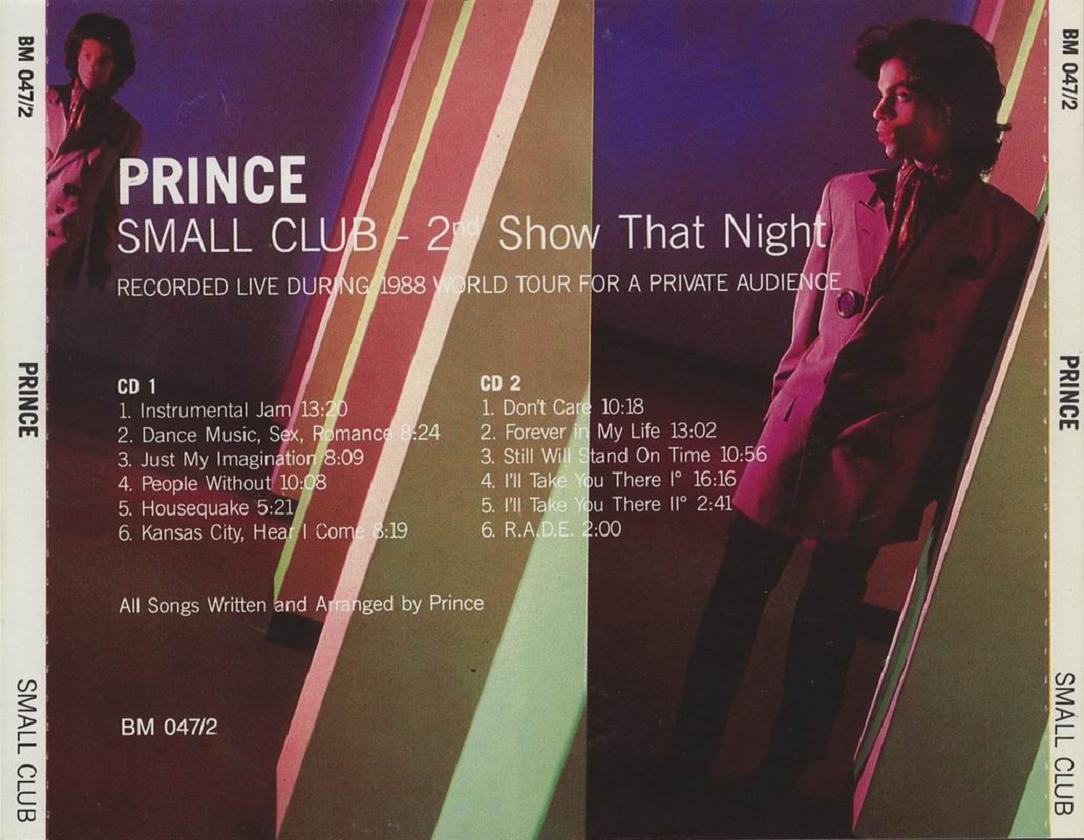 Version 3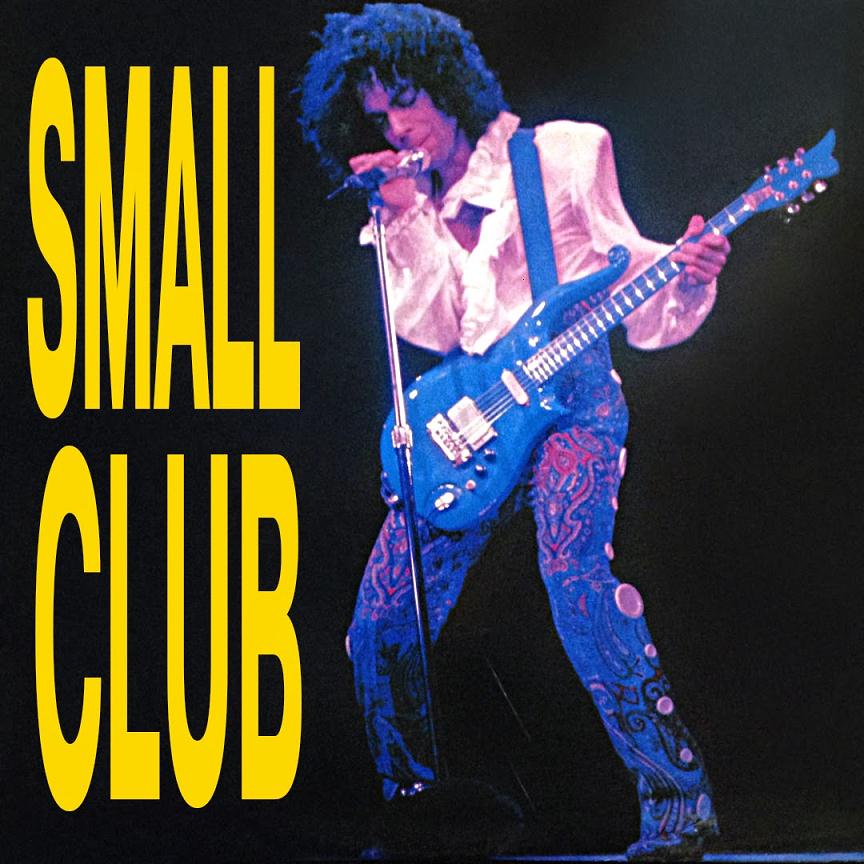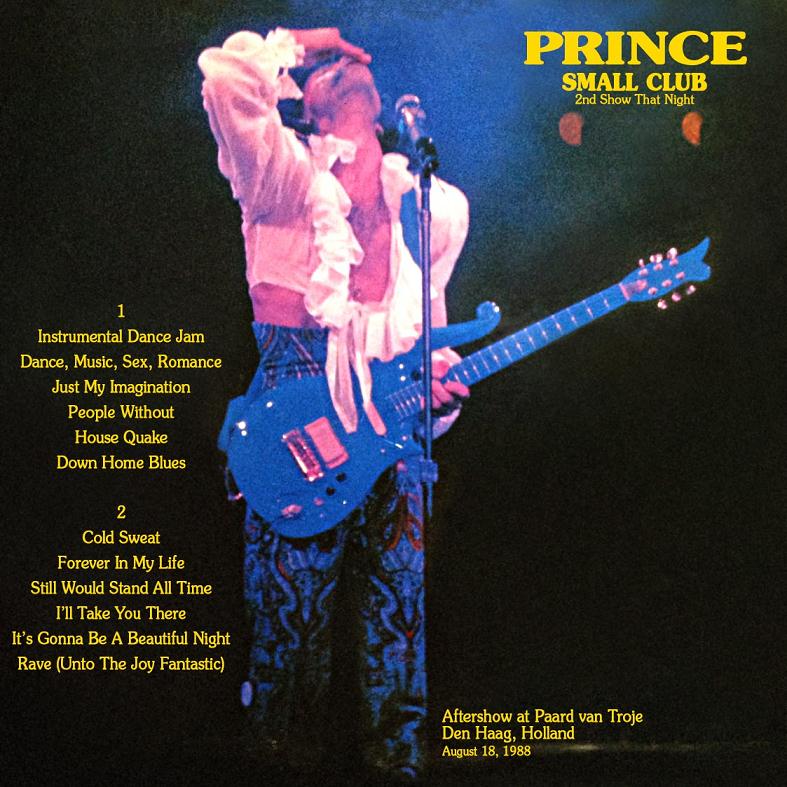 Bootleg n°940