ATLANTIC CITY POP FESTIVAL
Date : 01/08/1969
Lieu : Atlantic City Pop Festival
Label : Regal Zonophone (Réf : rz 080169)
Support : 1 cd
Durée : 44:15 mn
Source : Audience
Qualité sonore : 7/10

Liste des titres :
1. Wish Me Well (4:33)
2. Shine On Brightly (4:05)
3. Quite Rightly So (4:13)
4. Cerdes (Outside the Gates of) (5:27)
5. Skip Softly (My Moonbeams) (3:59)
6. A Salty Dog (5:33)
7. Juicy John Pink (3:23)
8. A Whiter Shade Of Pale (5:51)
9. Repent Walpurgis (7:11)

Line up :
Gary Brooker- voice & piano
Matthew Fisher- Hammond organ
Robin Trower- guitars
David Knights- bass
BJ Wilson- drums
Commentaire : Ce concert est parfois présenté comme provenant de l'"Atlanta Pop Festival" au lieu de "Atlantic City". Or s'il est avéré que Procol Harum a joué au festival d'Atlantic City cette année-là, il n'y a en revanche aucune preuve qu'ils aient joué à Atlanta.
Pochette :
Livret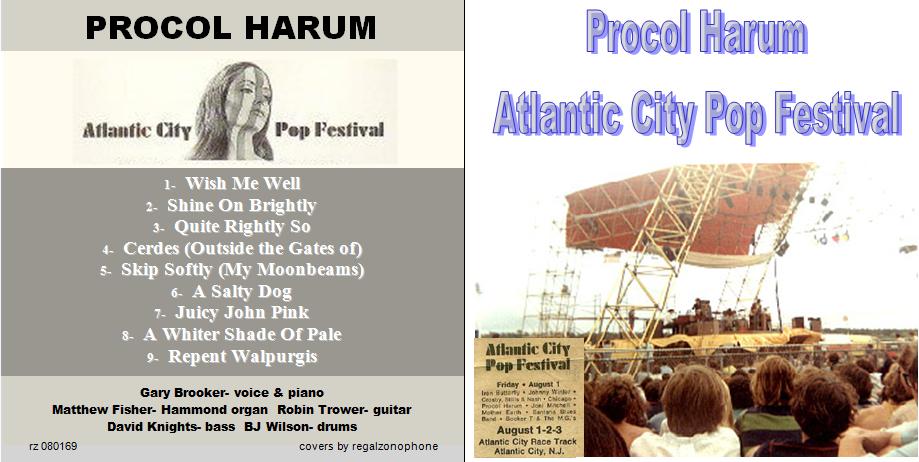 Dos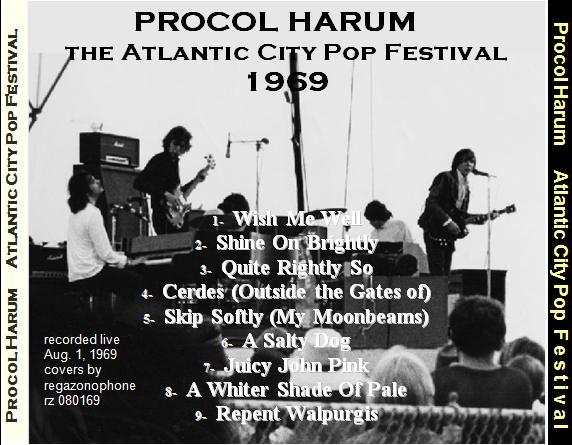 Bootleg n°336