EN VIVO EN LA CIUDAD DE MEXICO

Date : 28/09/2016
Lieu : Foro Sol, Ciudad de Mexico, Mexico
Enregistrement :  Luis Peñaflor
Pochette: Ace Bootlegs Production
Support : 2 cd
Durée : 156:01 mn
Source : Audience
Qualité sonore : 9/10

Liste des titres :
CD1 – 79:30
01. Intro (0:52)
02. Speak To Me (1:52)
03. Breathe (2:55)
04. Set The Controls For The Heart Of The Sun (6:24)
05. One Of These Days (5:46)
06. Time (5:47)
07. Breathe (Reprise) (1:07)
08. The Great Gig In The Sky (4:49)
09. Money (6:24)
10. Us And Them (7:57)
11. Fearless (5:05)
12. You'll Never Walk Alone (0:44)
13. Roger speech (1:35)
14. Shine On You Crazy Diamond (Parts I-V) (10:20)
15. Welcome To The Machine (7:19)
16. Have A Cigar (5:06)
17. Wish You Were Here (5:22)
CD2 – 76:37
01. Interlude (1:35)
02. Pigs On The Wing Part 1 (1:28)
03. Dogs (17:07)
04. Pigs (Three Different Ones) (11:30)
05. The Happiest Days Of Our Lives (1:53)
06. Another Brick In The Wall Part 2 (5:08)
07. Mother (6:52)
08. Run Like Hell (6:37)
09. Brain Damage (4:02)
10. Eclipse (4:17)
11. Roger speech (4:33)
12. Vera (1:07)
13. Bring The Boys Back Home (2:35)
14. Comfortably Numb (7:53)
Commentaire (français) : Concert gratuit au centre de Mexico où Waters s'est fait remarqué en allumant Donald Trump à plusieurs reprises et en critiquant violemment le président mexicain Enrique Peña Nieto.
Alors qu'il chantait la chanson « Pigs », extraite de l'album Animals, des images du candidat républicain agitant une arme devant la Maison-Blanche, faisant le salut nazi, ou entouré de membres du Ku Klux Klan sont apparues sur l'écran géant installé sur scène. Les mots « Trump, tu es un connard » ont également été affichés en espagnol. Alors qu'un groupe d'enfants mexicains le rejoignait sur scène vêtus de T-shirts portant l'inscription « Abattez le mur », le chanteur a harangué la foule :
« Nous ne voulons pas d'un mur qui nous séparera les uns des autres, nous séparera de nos sœurs, de notre terre. »
Il a ensuite clos son set en partageant un message de solidarité avec le peuple mexicain en s'adressant au président Enrique Peña Nieto.
« Monsieur le président, plus de 28 000 hommes, femmes et enfants ont disparu. La plupart depuis 2012, pendant votre mandat. Où sont-ils ? Que leur est-il arrivé ? Cette incertitude est cruelle. »
Alors que les mots « Démission, maintenant » clignotaient derrière lui, Roger Waters a fait scander « Peña dehors ! » à la foule.
Ecoutez votre peuple Monsieur le président. Les yeux du monde sont tournés vers vous
Commentaire (english) :  Ahead of Roger Waters' October shows at the all-star Desert Trip, the Pink Floyd rocker staged a pair of warm-up gigs at Mexico City's Foro Sol where he ripped into Donald Trump.
The Wall singer slammed the wannabe wall builder and « Mexicans are rapists » spouter throughout the performance of Animals' « Pigs (Three Different Ones), » a song that points a damning portrait of the ultra-wealthy like Trump. During the song, Waters' large video screens showed artist-made images of Trump toting a machine gun outside the White House, giving the Nazi salute and surrounding himself with KKK members.
Waters also projected several of Trump's more controversial quotes in Spanish on the large video screens, including the mogul's assertions that he saw people celebrating 9/11 and his memorable 2011 quote, « I have a great relationship with the blacks. I've always had a great relationship with the blacks. »
The Pink Floyd rocker closed out his savaging of Trump by coopting a phrase that's gone viral in Mexico: « Trump Eres Un Pendejo. » Translation: « Trump, you're an asshole. »
During « Another Brick in the Wall (Part II), » Waters took another jab at the Republican candidate whose platform revolves around building a wall that would separate the United States and Mexico. « We don't want a wall that separates us from our sister, our mother earth, or from each other, » Waters told the crowd. The rocker was joined onstage by a group of Mexican children wearing shirts that read « Tear Down the Wall, » NME reports.
Disponible ici* :  http://www.guitars101.com/forums/f145/roger-waters-2016-09-28-mexico-city-mexico-flac-aud-rdwm-remaster-16bit-44khz-293298.html
*Assurez-vous que le téléchargement de ces fichiers ne contrevienne pas à la législation en vigueur.  
Pochette :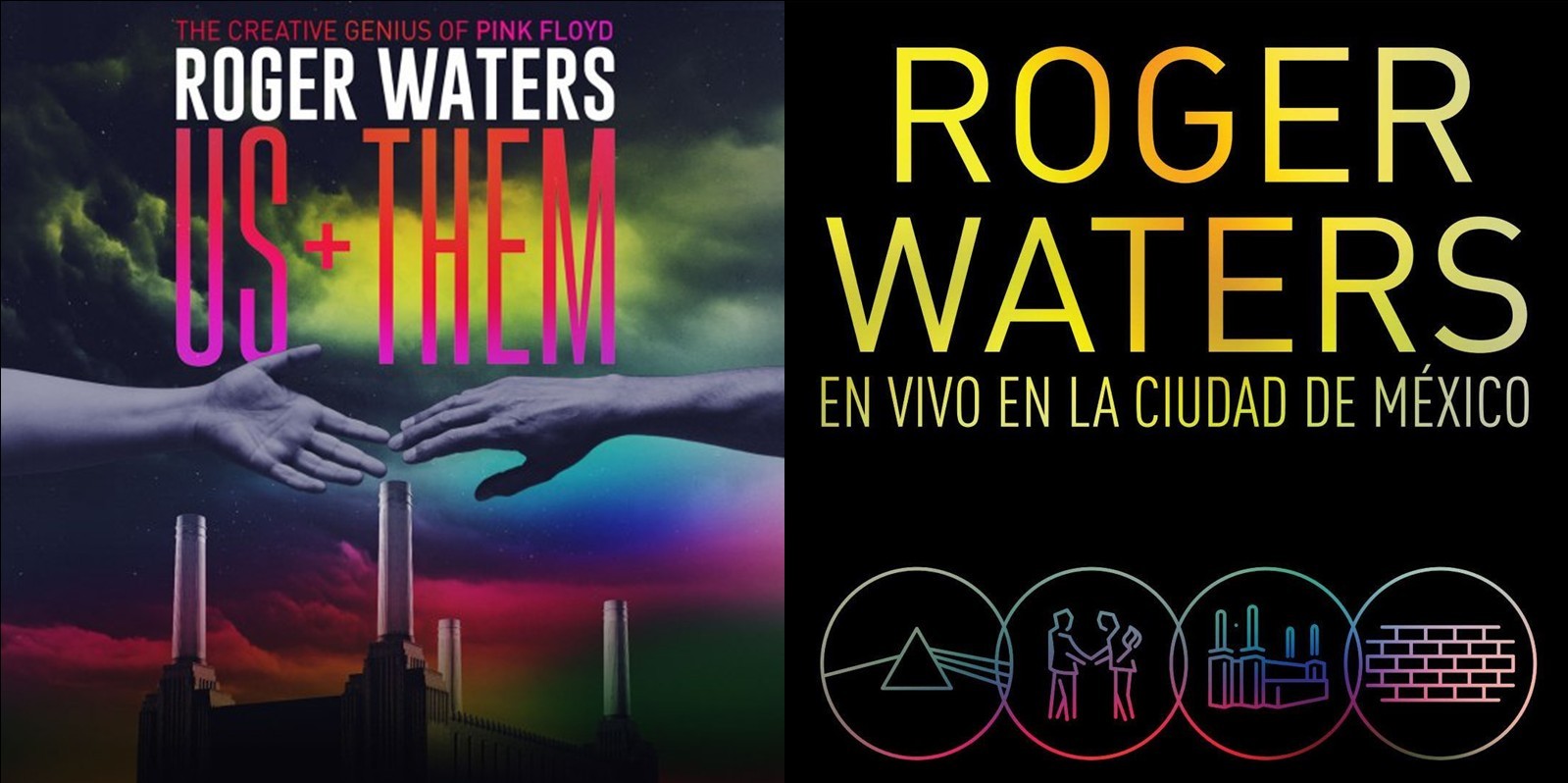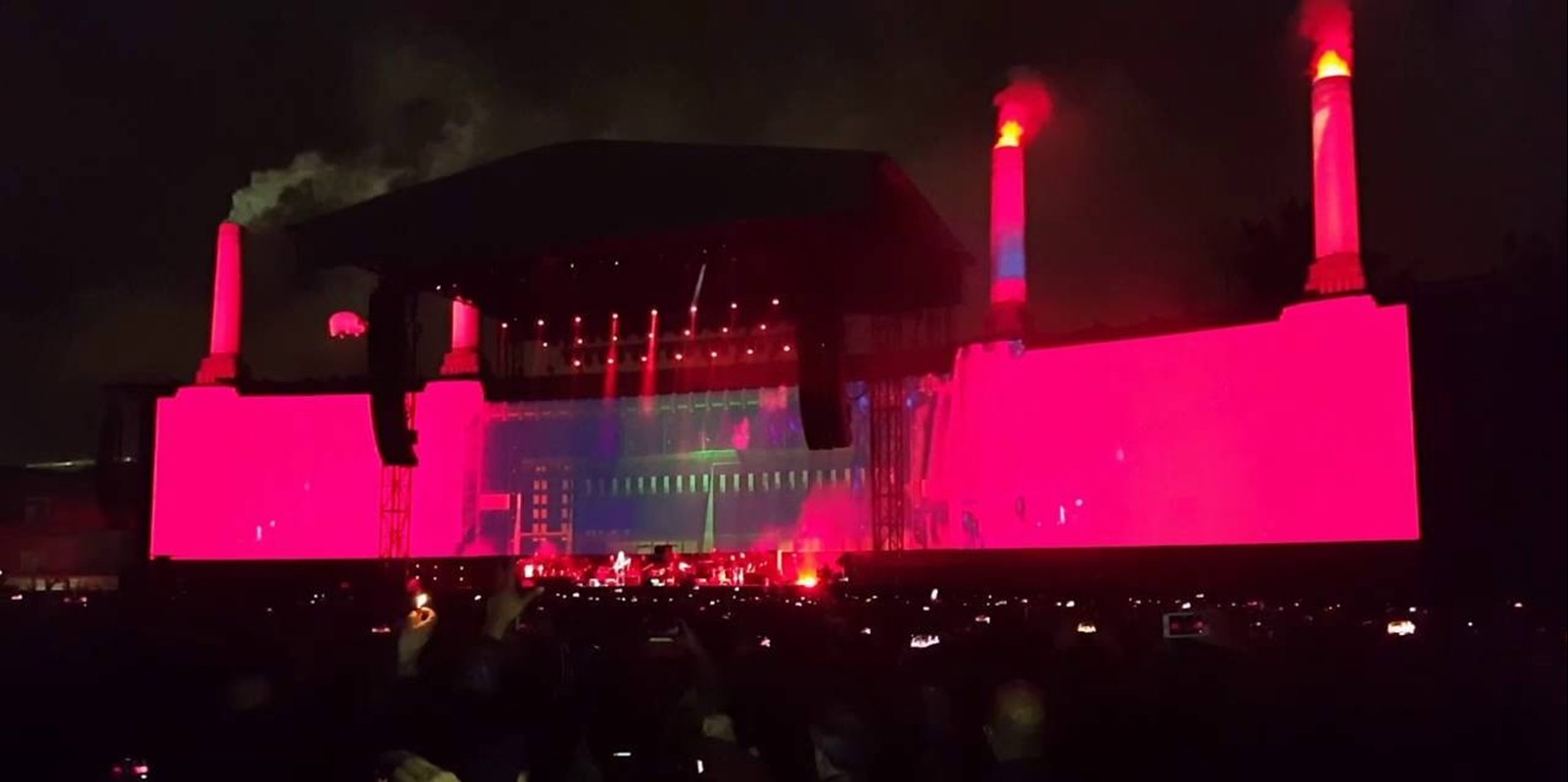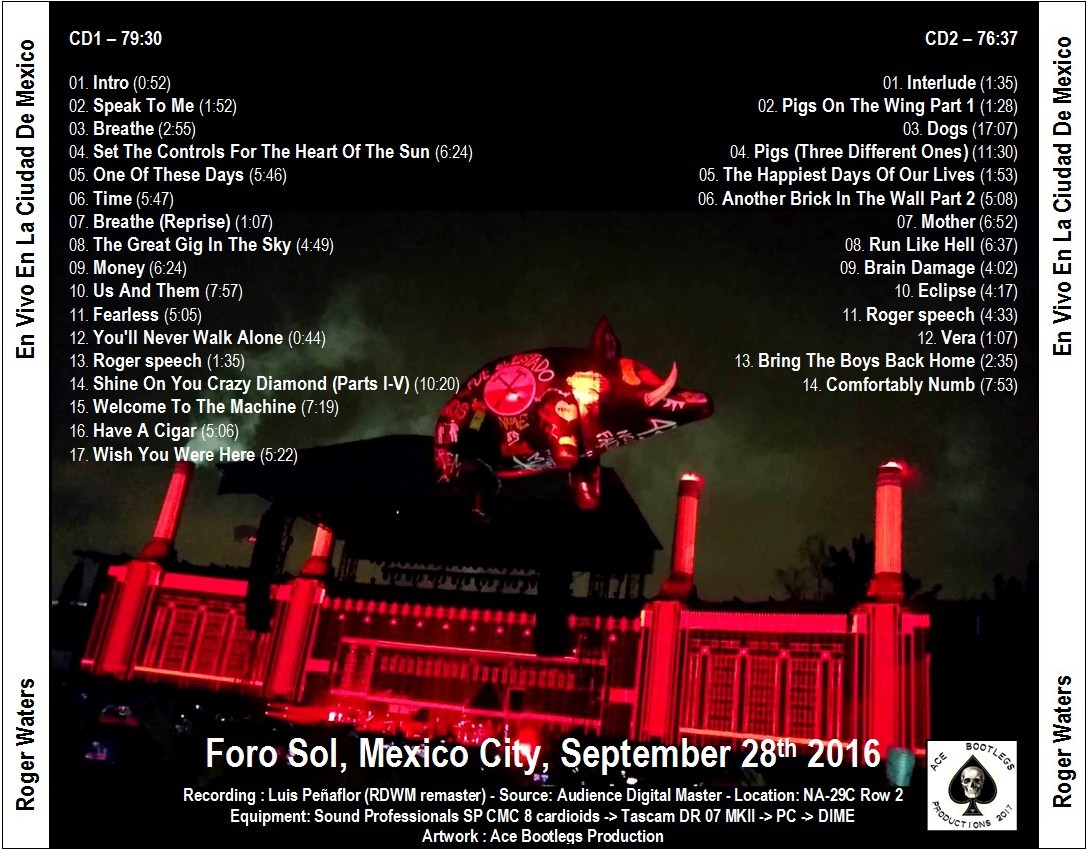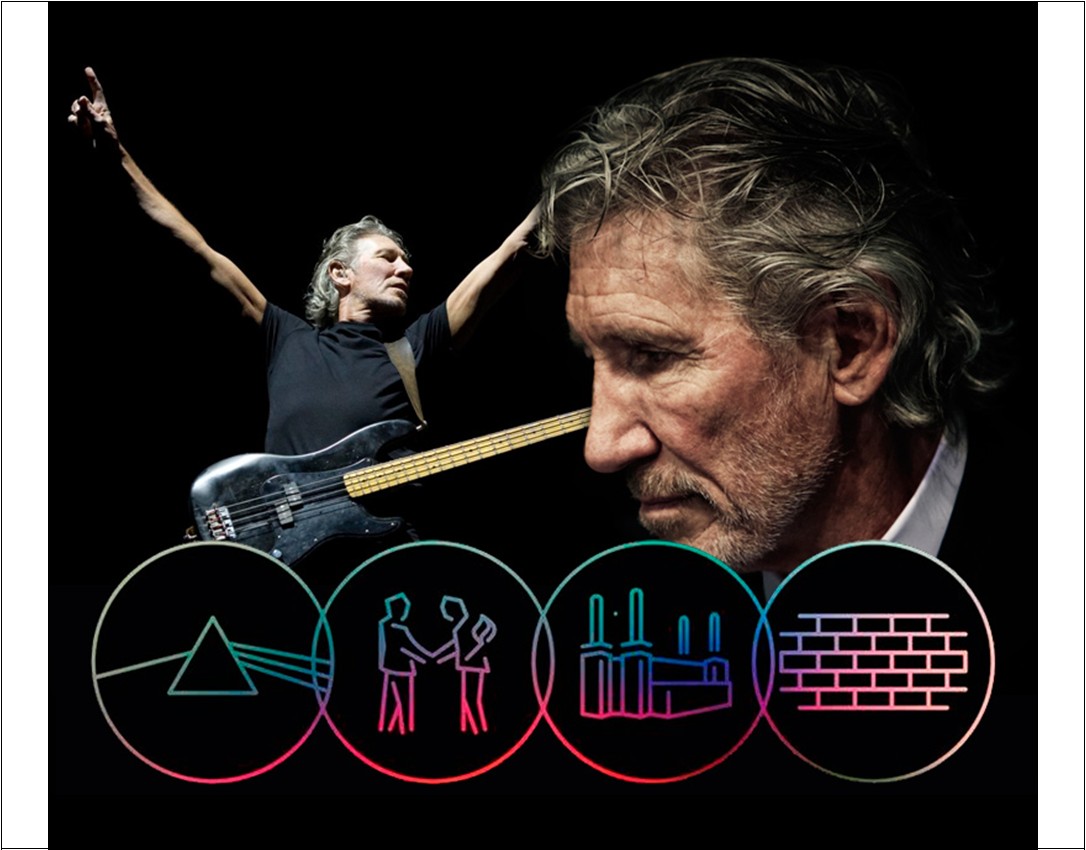 Bootleg n°2906