THE CHAOS THEORY

Date : 26/08/1987
Lieu : Madison Square Garden, New York City, New York, USA
Label : Digital Reproductions (Ref. : DR 82687-5)
Support : 2 cd
Durée : 146:46 mn
Source : Audience
Qualité sonore : 9/10

Liste des titres :
CD1 – 69:18
01. Introduction / Radio Waves
02. Welcome To The Machine
03. Who Needs Information
04. Money
05. In The Flesh?
06. Have A Cigar
07. Pigs (Three Different Ones)
08. Wish You Were Here
09. Mother
10. Molly's Song
11. Me Or Him
12. Powers That Be
13. Shredding Alternative / Going To Live In L.A.
CD2 – 77:28
01. Sunset Strip
02. Fish Report With A Beat / 5:01 AM (The Pros And Cons Of Hitch Hiking)
03. Arnold Layne
04. If
05. 5:06 AM (Every Strangers Eyes)
06. Not Now John
07. Another Brick In The Wall (part 1)
08. The Happiest Days Of Our Lives / Another Brick In The Wall (part 2)
09. Nobody Home
10. Home
11. Four Minutes
12. The Tide Is Turning
13. Band Introduction
14. Breathe
15. The Great Gig In The Sky
16. Brain Damage
17. Eclipse
Commentaire : Roger Waters dans le creux de la vague (« wave » en anglais, ah, ah !)… Album (Radio Kaos) descendu par la critique et boudé par le public, salles de concert à moitié vide. Et pendant ce temps, les trois autres Floyd se remplissent les poches avec leur album de merde (« A momentary Lapse of Reason »). Il y a de quoi enrager et les poursuivre en justice pour usurpation d'identité.
Pourtant, personnellement, je le trouve assez bon cet album. En tout cas 100 fois meilleur que l'insipide « Amused to Death ». Ce ne sont certes pas les bootlegs de l'année 1987 qui permettront une réévaluation, sauf ceux qui sont tirés du concert du 7 novembre, diffusé à la radio, et qui offrent donc un enregistrement de tout première qualité… ainsi que celui-ci, bien qu'il s'agisse d'une bande d'origine « audience », sa qualité est remarquable.
Disponible ici (en format shn) : http://www.guitars101.com/forums/f145/roger-waters-1987-08-26-new-york-city-ny-aud-flac-176847.html#post1160361

Pochette :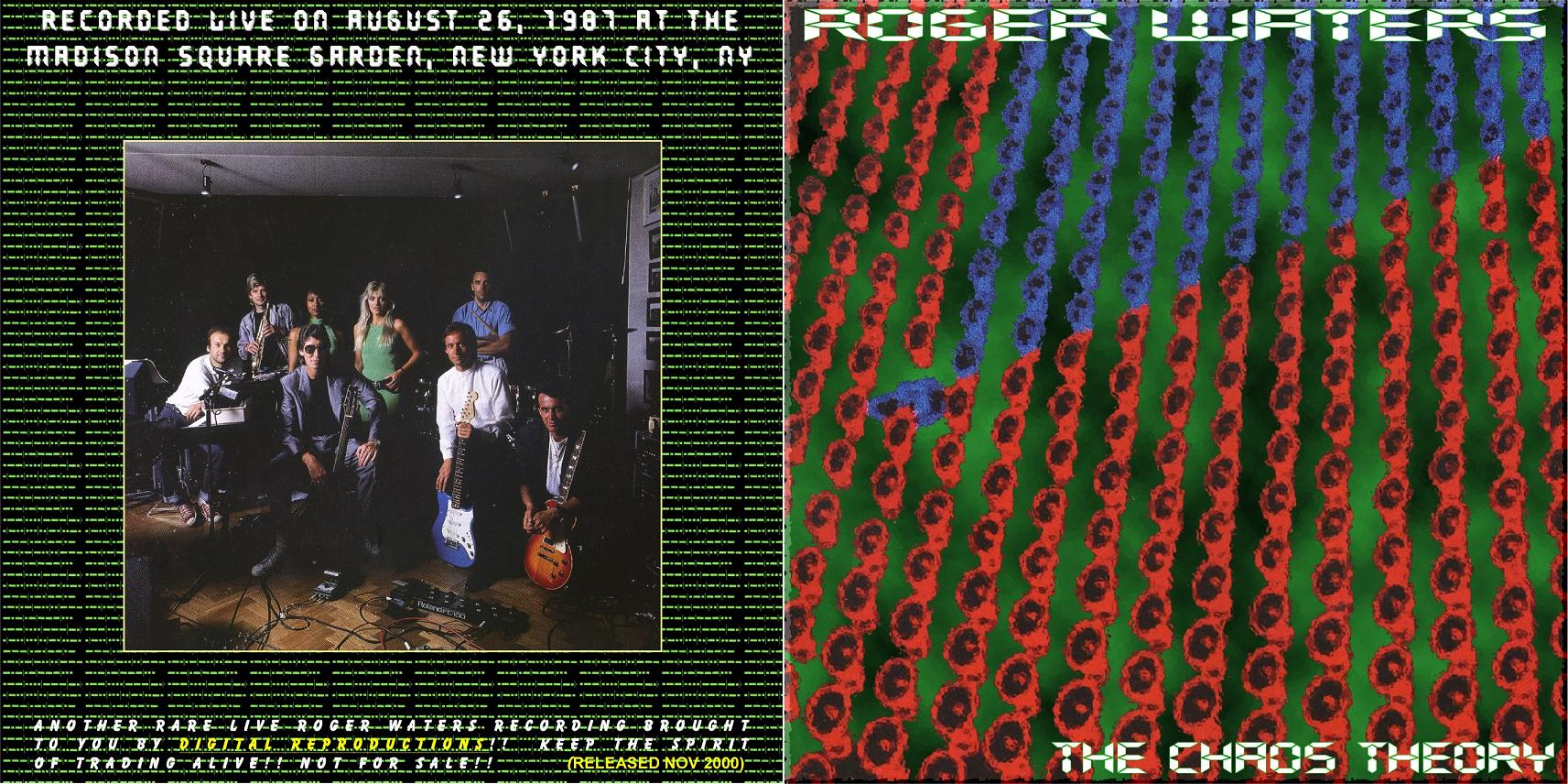 Bootleg n°1153