LAST SESSION / IN PERUGIA
Encore un bootleg tiré de l'obscure caverne d'Ali Thierry D. Baba
Date : 11/07/1987
Lieu : Perugia Jazz Festival, Perugia, Italy
Musiciens :
Sting – guitar, vocals
Gil Evans – keyboards
Miles Evans – trumpet
Delmar Brown – synthezisers
Gil Goldstein – DX7 synthezisers
John Surman – baritone saxophone, syntheziser
George Adams – tenor saxophone, vocals
Branford Marsalis – tenor saxophone
Chris Hunter – alto saxophone
John Clark – electric french horn
David Bargeron – tuba, trombone
Lew Soloff – lead trumpet
Shunzo Ono – trumpet, flugelhorn
Mark Egan – bass
Danny Gottlieb – drums
Urzula Dudziak – back-up vocals
Emily Mitchell – harp
Anita E. – percussion
Tom Malone – tenor trombone, bass trombone
George Lewis – tenor trombone
Label : Jazz Door (Ref. : JD 12156)
Support : 2 cd
Durée : 98:45 mn
Source : Soundboard
Qualité sonore : 10/10
Liste des titres :
CD1 – 53:06
01. Up From The Skies (9:57)
02. Strange Fruit (7:19)
03. Shadows In The Rain (6:09)
04. Little Wing (9:48)
05. There Comes A Time (11:02)
06. Band Intro By Miles Evans (2:29)
07. Consider Me Gone (6:22)
CD2 – 45:39
01. Synchronicity 1 (6:20)
02. Roxanne (6:36)
03. Tea In The Sahara/Walkin On The Moon (11:42)
04. Instrumental (14:52)
05. Message In The Bottle (6:09)
Label : Planet Music series (Ref. : 022/M3-97)
Support : 1 cd
Durée : 66:01 mn
Source : Soundboard
Qualité sonore : 10/10
Liste des titres :
01. Up From The Skies* (9:30)
02. Strange Fruit (7:11)
03. Shadows In The Rain (5:55)
04. Little Wing (9:44)
05. There Comes A Time (4:38)
06. introduction of the band by Miles Evans (2:13)
07. Consider Me Gone (6:28)
08. Synchronicity I** (6:25)
09. Roxanne (5:16)
10. Tea In The Sahara – Walking On The Moon (8:41)
*mentioned as: Exp
**mentioned as: Murder by Numbers
Commentaire : La version « In Perugia » est nettement plus complète (22 minutes de plus)
(texte tiré de la revue Musician, Dec. 1987, p.62+64 – version originale ET traduction française assurée par Thierry D.)

Sting: « I met Gil Evans one night in Ronnie Scott's club in London.
He'd been a hero of mine since I was fifteen. He reminded me of one of those wise elders
from Star Trek who are the only survivors of a planet after some holocaust,
the sole guardians of all the knowledge of their race.
I went backstage after the show and introduce myself and was amazed and flattered that he ever heard of me.
He told me he liked the bass line of Walking On The Moon. I went home on cloud nine.
I sang with his band a couple of years later in a little club in Greenwich Village called Sweet Basil.
His fifteen-piece band was crammed onto the tiny stage so there was no room for me. So, I sang on the floor,
squashed between two tables. One day I aspire to the stage. Anyway, we did three songs together.
One by Tony Williams, called There Comes A Time, and two songs by Jimi Hendrix that Gil has performed for years,
Little Wing and Up From The Skies »
(lyric-book Nothing Like The Sun).
Sting: « We had a great time, so I said, 'Why don't you come down to Montserrat and we'll work out a set?'
He came down to Montserrat where we were recording, and sat in on a session and gave me a few hints about arranging.
It was really cool, and we got a set together of an hour's worth of material. […] He arranged five of my songs.
We did Little Wing. He's just a great guy to have around. I was having a problem with one song,
I was concentrating on one note that I didn't think was right, and he said, 'Come outside.'
He said, 'It's not the note you think it is, it's the note before. If you get that one right, then this one will carry on.'
'I don't think so, Gil.' 'Try it.' He was right. Of course, he knows his shit. He was encouraging, and soopen for a man of his age. »
____________________________________________________
Sting : »J'ai rencontré Gil Evans un soir au club de Ronnie Scott à Londres.
Il était un de mes héros depuis l'âge de quinze ans. Il m'a rappelé un de ces anciens sages de Star Trek qui sont les seuls survivants d'une planète après un holocauste, les seuls gardiens de toute la connaissance de leur race. Je suis allé dans les coulisses après le spectacle pour me présenter, il a été étonné et flatté car il avait entendu parler de moi.
Il m'a dit qu'il aimait la ligne de basse de »Walking On The Moon ». Je suis rentré à la maison sur un nuage.
J'ai chanté avec son groupe quelques années plus tard dans un petit club de Greenwich Village appelé Sweet Basil.
Son groupe de quinze musiciens était entassé sur une minuscule scène, du coup il n'y avait plus de place pour moi. Donc, j'ai chanté à même le sol, logé entre deux tables. Un jour peut-être, je serai sur scène. Quoi qu'il en soit, nous avons fait trois chansons ensemble.
Une de Tony Williams, appelé »There Comes A Time », et deux chansons de Jimi Hendrix que Gil a joué pendant des années, »Little Wing » et »Up From The Skies »
(Parole du livre »Nothing Like The Sun »).
Sting : »Nous avons passé un bon moment », alors j'ai dit : »Pourquoi ne descendriez-vous pas à Montserrat ou nous pourrions travailler ensemble ? »
Il y est finalement descendu, nous étions en train d'enregistrer, il a assisté à une séance et m'a donné quelques conseils sur l'organisation.
C'était vraiment cool, et nous avons pu travailler ensemble pendant une heure. […] Il a arrangé cinq de mes chansons.
Nous avons fait »Little Wing ». c'est juste formidable d'avoir autour de soi ce type. J'avais un problème avec une chanson, Je me concentrais sur une note que je ne pensais pas correcte, et il m'a dit : »Viens dehors ».
Il a dit : »Ce n'est pas la note que vous pensez que c'est, c'est la note avant. Si vous obtenez celle là, alors l'autre suivra.
– Je ne pense pas, Gil.
– Essayez-la ! », il avait raison bien sûr, il maîtrisait son sujet. Il était encourageant, et si ouvert pour un homme de son âge ».
Version « In Perugia » disponible* : ici

Version « Last Session » disponible* : ici
*Assurez-vous que le téléchargement de ces fichiers ne contrevienne pas à la législation en vigueur.    
Pochette version « In Perugia » :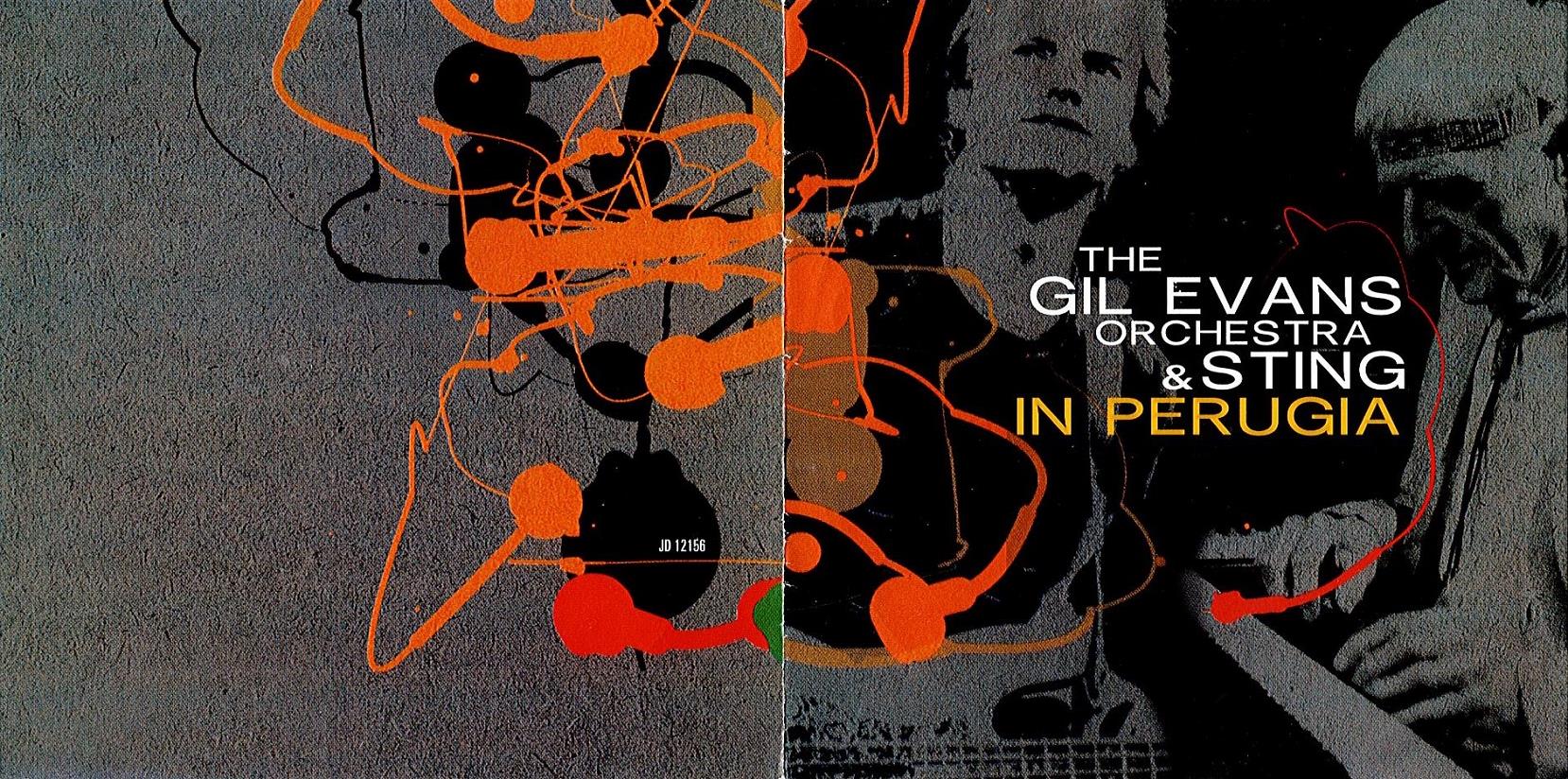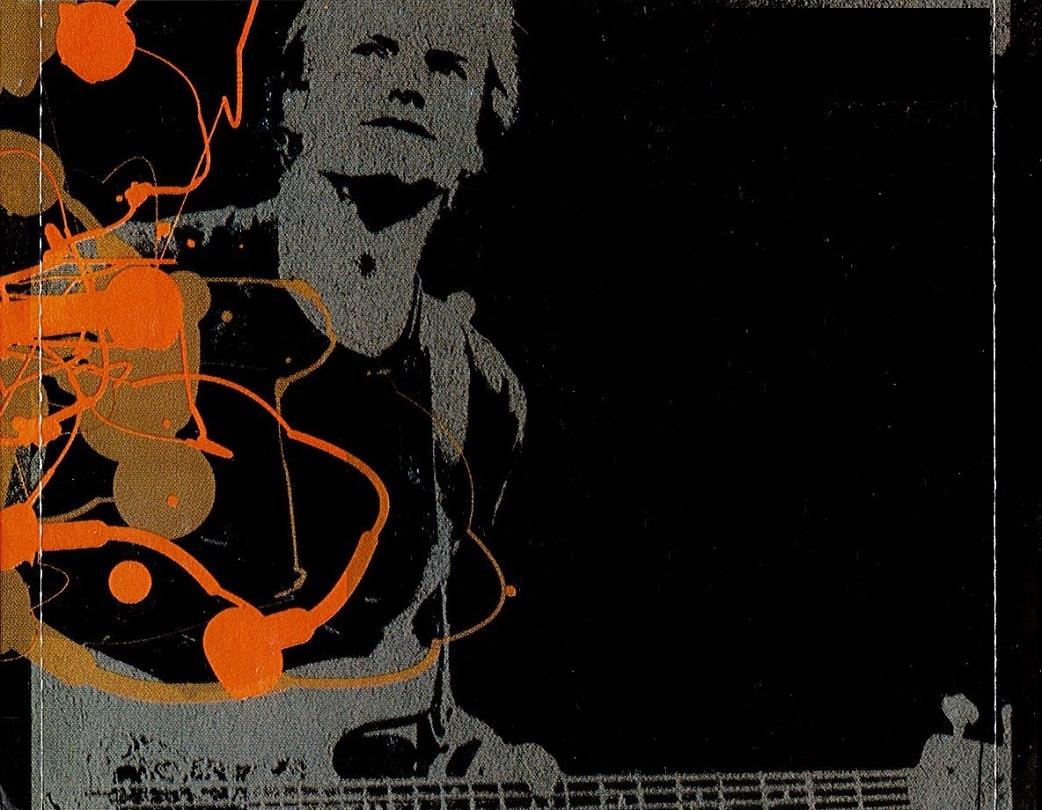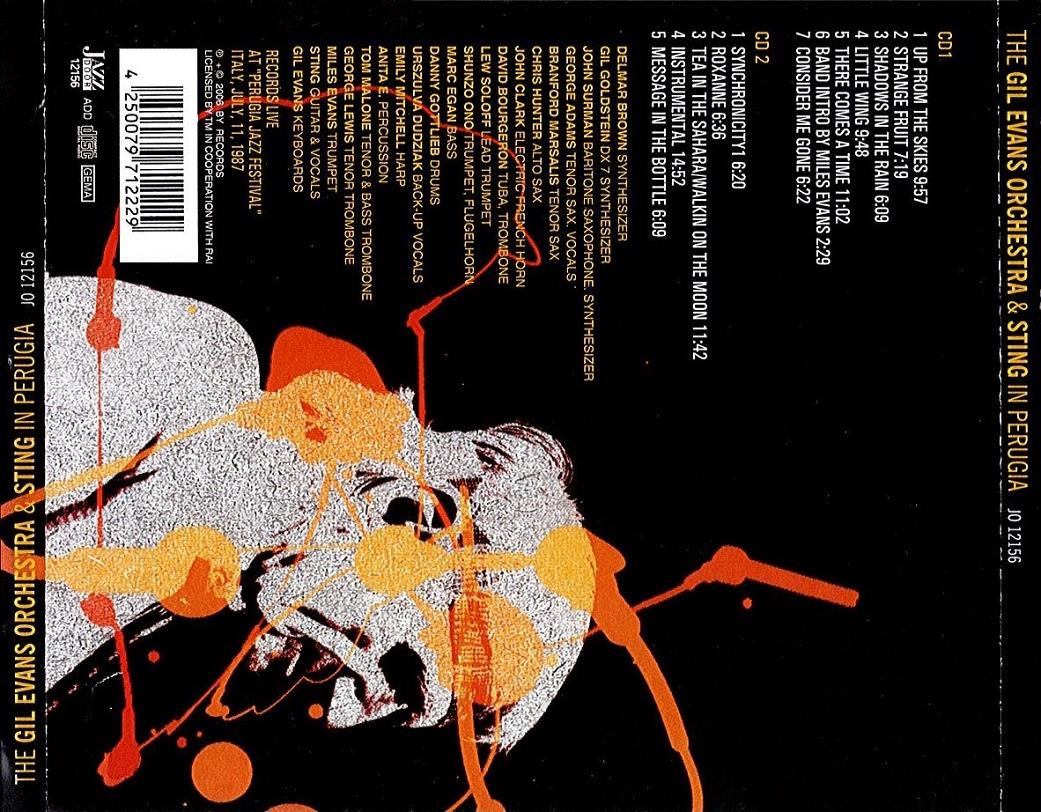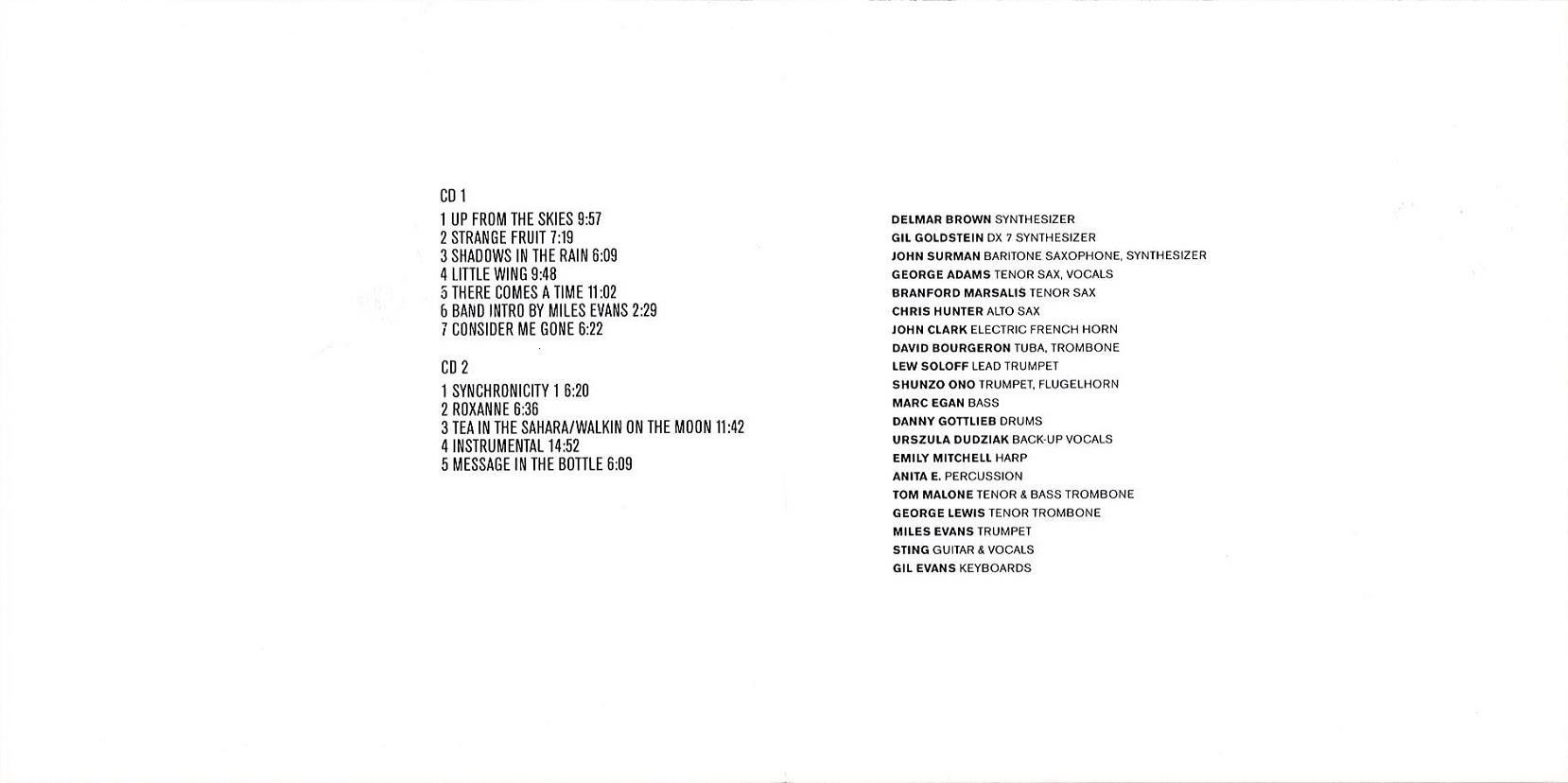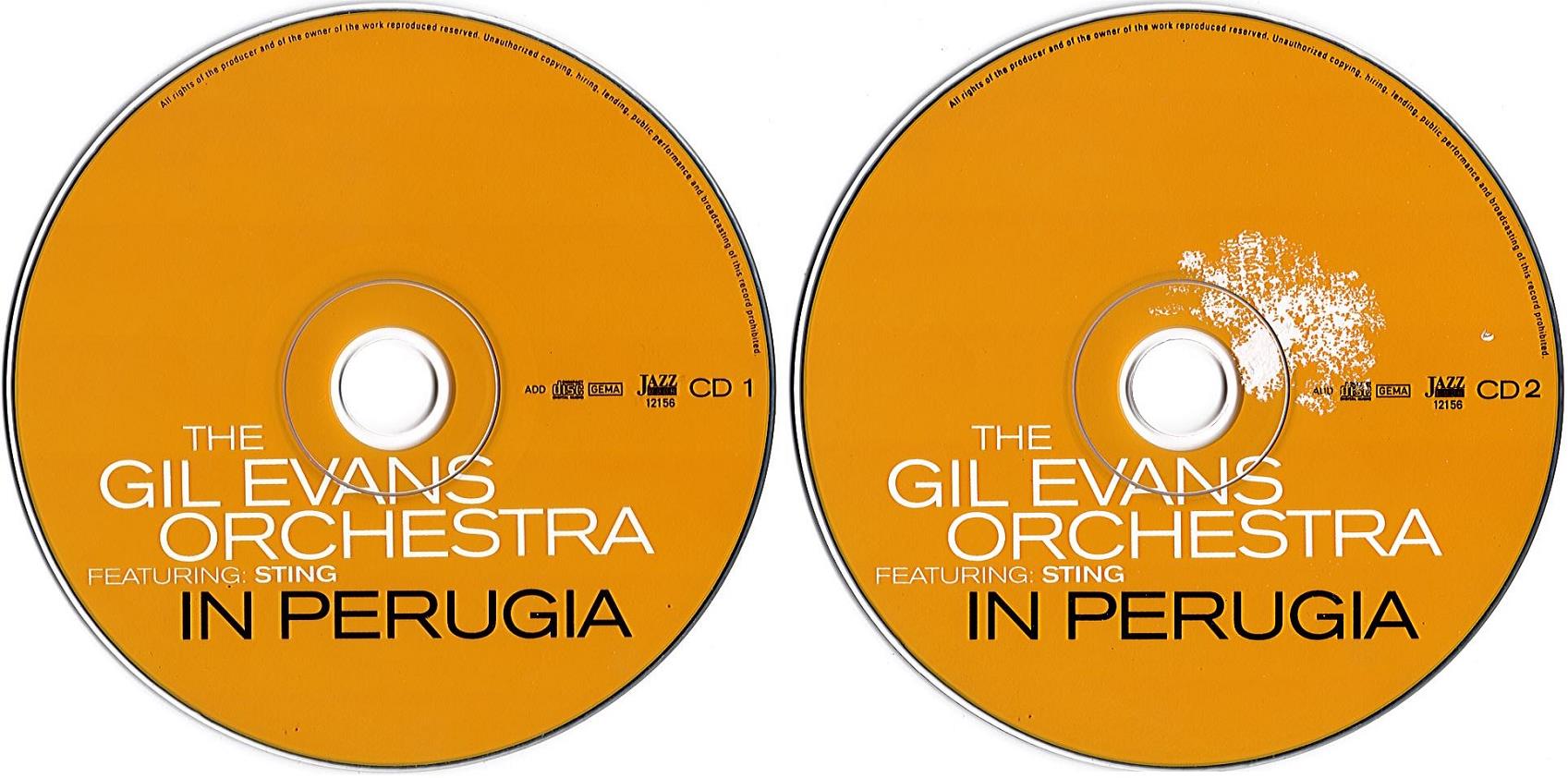 Pochette version « Last Session » :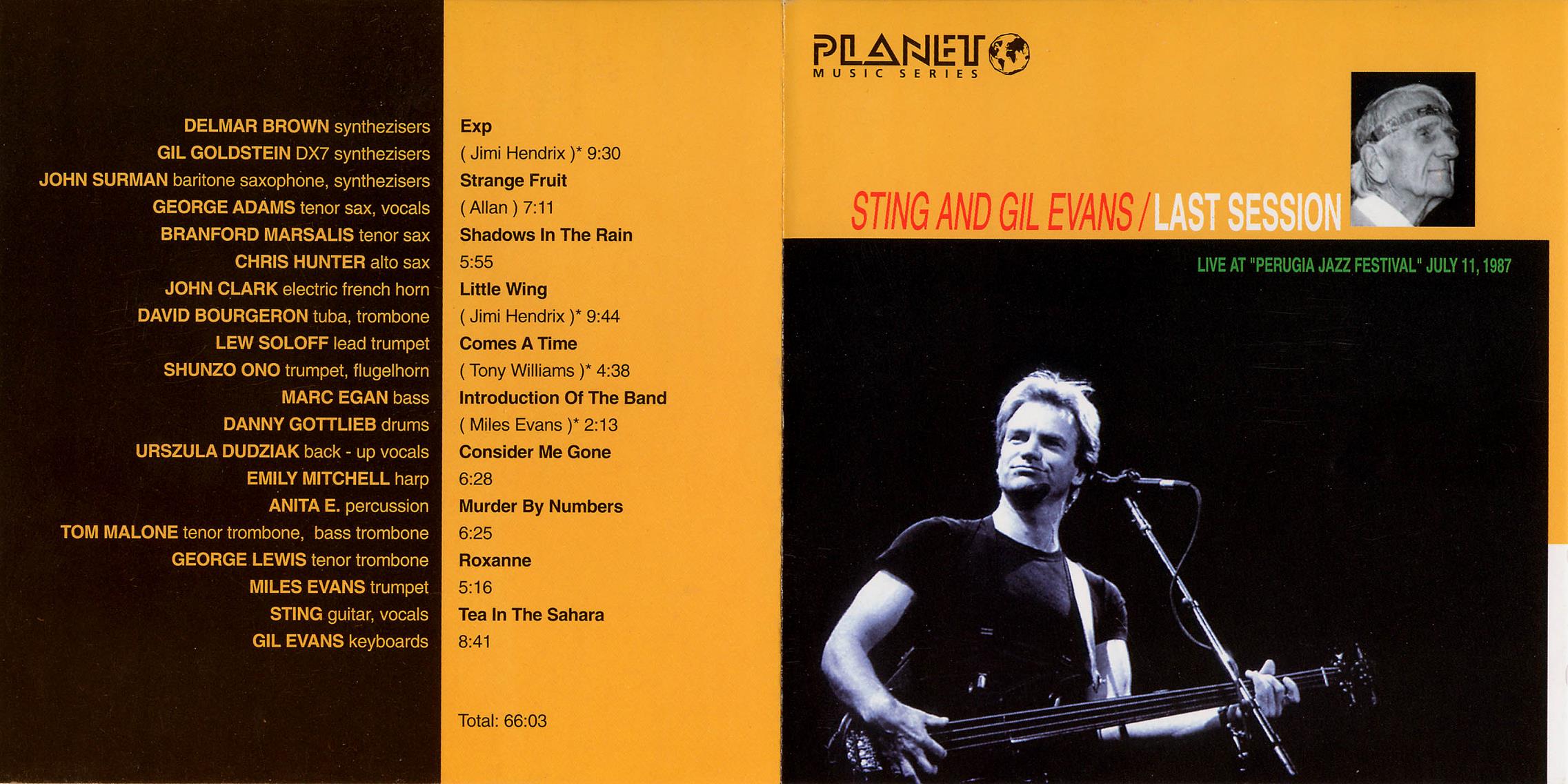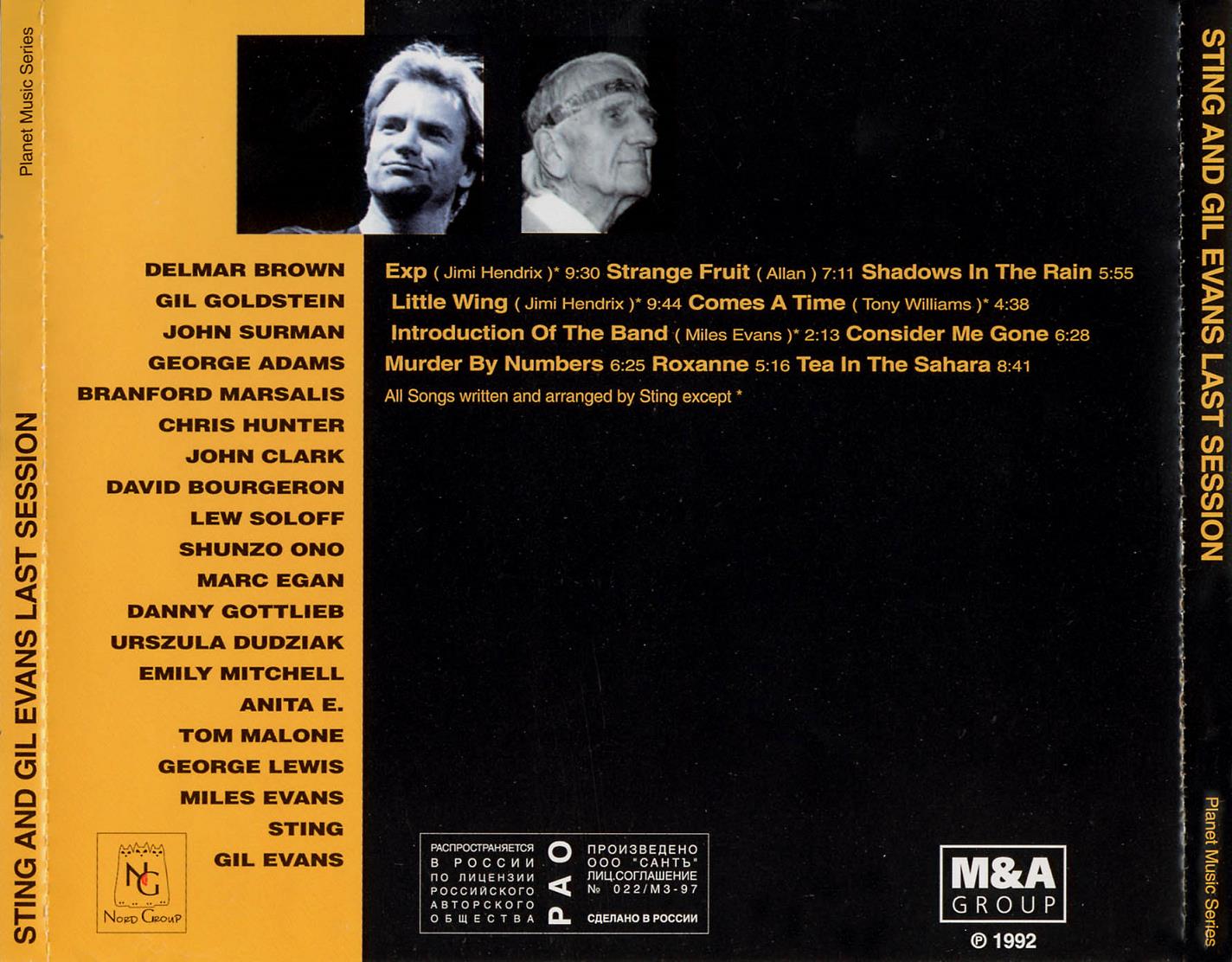 Bootlegs n°3280 + 3724