WESTWOOD ONE SUPERSTAR CONCERT SERIES

Date : 1983/1984 (?)
Lieu : Westwood one sessions
Label : Inconnu
Support : 1 cd
Durée : 77:07 mn
Source : FM
Qualité sonore : 10/10

Liste des titres :
1. Thank You For Sending Me An Angel (2:37)
2. Burning Down The House (4:09)
3. Making Flippy Floppy (5:14)
4. Once In A Lifetime (5:38)
5. Found A Job (3:52)
6. Slippery People (4:16)
7. What A Day That Was (6:36)
8. This Must Be The Place (5:39)
9. Life During Wartime (5:55)
10. Big Business / I Zimbra (7:34)
11. Swamp (4:39)
12. Psycho Killer (5:06)
13. Crosseyed and Painless (7:36)
14. Take Me To The River (8:16)

Commentaire : Pas beaucoup d'information sur l'origine de ces enregistrements à part qu'ils proviennent du « Stop Making Sense » tour. « Show n°90-52 » précisait l'étiquette, diffusé sur Westwood One le week-end du 29-30 décembre 1990.

Voici ce qu'indiquait le type (anonyme) qui a diffusé le botleg sur Internet: « I bought this 3 disc LP boxed set (and a few other syndicated radio show discs) at a flea market a few years ago and am just getting around to digitizing them. It's in relatively good shape except for side 2 (Once In a Lifetime) which is a bit scuffed up. Apparently Westwood One reshuffled the TH setlist to suit their needs – I used the track order as they appear on the records. The Big Business / I Zimbra medley seems to be a creation of Westwood One as well. The discs included radio spots and DJ announcements which I have edited out. »
Disponible / available : ici / here*
*Eviter de télécharger avec Firefox, qui semble incompatible avec le cloud 1fichier.com
For a reason of compatibility, better download this with Google chrome than Firefox.  
Pochette :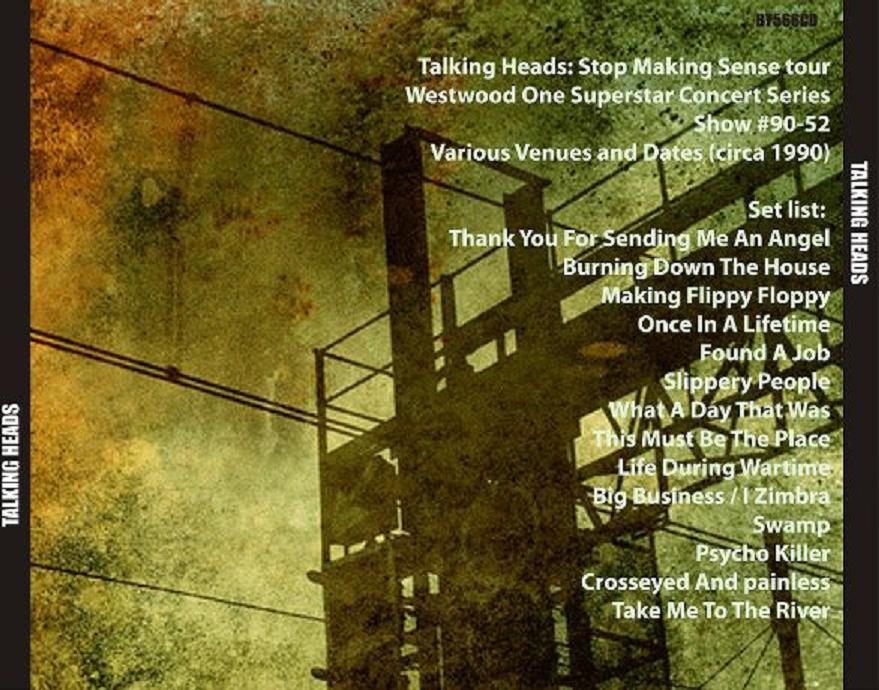 Bootleg n°2464