C'est Noël pour le rock français !


ATHÈNES AVEC TOI

Bootleg fourni par Jeff

Date : 27/07/1985
Lieu : Stadio Antico Panathinaïkos, Athènes, Grèce
Enregistrement : Inconnu
Pochette : Ace Bootlegs Production
Support : 1 cd
Durée : 32:10 mn
Source : Soundboard
Qualité sonore : 9,5/10

Liste des titres :
01. Un Peu De Ton Amour (4:49)
02. Cendrillon (3:52)
03. Dure Limite (4:45)
04. New York Avec Toi (2:44)
05. Electric Cité (5:11)
06. Le Taxi Las (2:53)
07. Juste Un Autre Genre (4:04)
08. Argent Trop Cher (3:52)
Commentaire :  Une programmation d'enfer pour ce festival « Rock in Athens '85 » avec rien moins que The Clash, The Cure, Talk Talk ou Nina Hagen, tout ça le même jour (le jour précédent avait vu se succéder les Stranglers, Culture club et Depeche Mode)… ce qui replace Téléphone à sa juste valeur : l'un des grands groupes mondiaux de la première moitié des années 1980.
Disponible ici* :  https://1fichier.com/?f488ptsti7xc511e802d
*Assurez-vous que le téléchargement de ces fichiers ne contrevienne pas à la législation en vigueur.    
Pochette :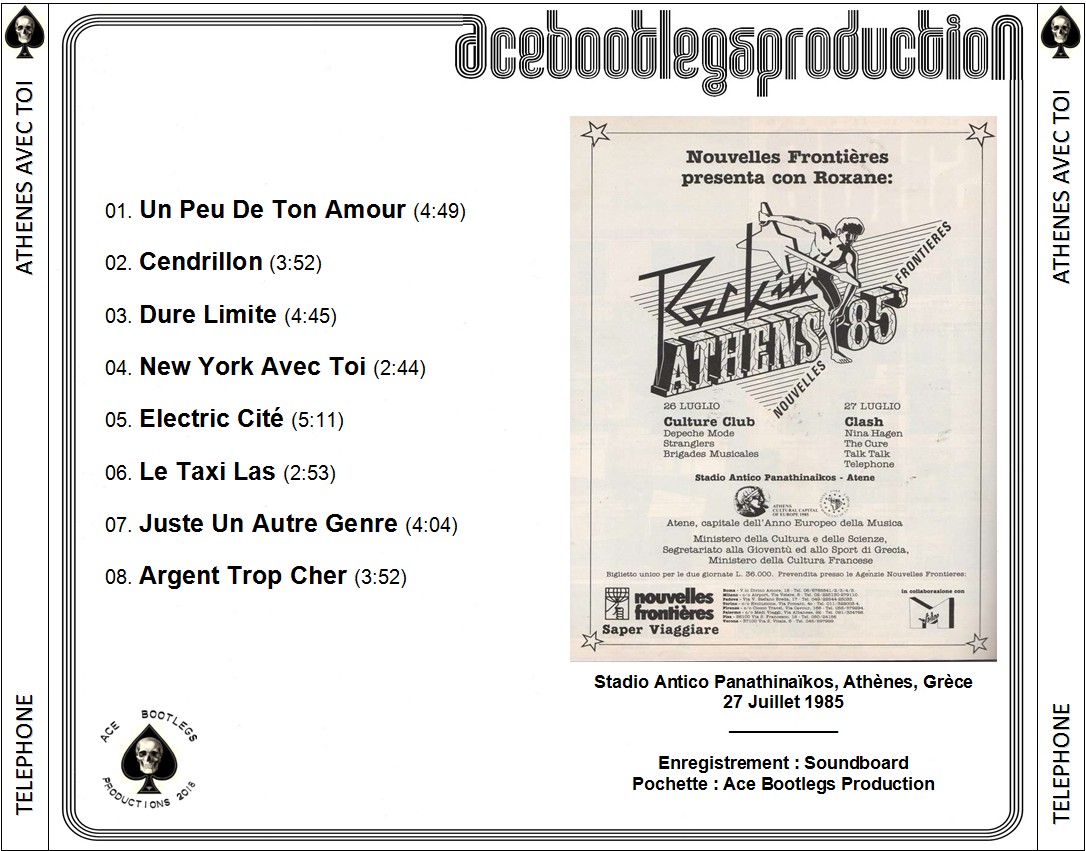 Bootleg n°3432