LASER VILLIANS

Date : 22/02/1979
Lieu : Hatfield Polytechnic, London
Label : Royal Sound (Ref. : RS CD 92102)
Support : 1 cd
Durée : 46:38 mn
Source : FM
Qualité sonore : 10/10

Liste des titres :
1. Can't Stand Losing You (5:22)
2. So Lonely (6:10)
3. Fall Out (2:39)
4. Hole In My Life/Fixin' A Hole (4:13)
5. Truth Hits Everybody (2:47)
6. Message In A Bottle (4:08)
7. Peanuts (3:44)
8. Roxanne (7:01)
9. Next To You (4:25)
10. Can't Stand Losing You/Banana Boat Song. (6:09)

Commentaire : Concert parfaitement représentatif des performances énergiques de cette période de la carrière du groupe. Qualité sonore parfaite. Un très bon choix.
An interesting note about the concert is the banter between Sting and the audience. Sting is a bit nervous, as this is the first time many would see The Police on TV (they had performed 2 songs on the Old Grey Whistle Test show in late '78 but here they had an entire concert broadcast). This show was the first time that « Message In A Bottle » was played live (actually, it hadn't even been recorded in the studio, much less released).
La titre de ce bootleg repose sur une faute de frappe initiale, qu'on trouvait déjà sur la version vinyle (intitulée « Vinyl Villians ») : le terme « Villians est en fait une erreur avec « Villains ». Voir détail dans les commentaires ci-dessous. Et voir pochette la corrigée là-dessous.
Disponible ici (fichiers flac mais source mp3) * : http://dfiles.eu/files/lbqdpfces

*Assurez-vous que le téléchargement de ces fichiers ne contrevienne pas à la législation en vigueur.  
Pochette :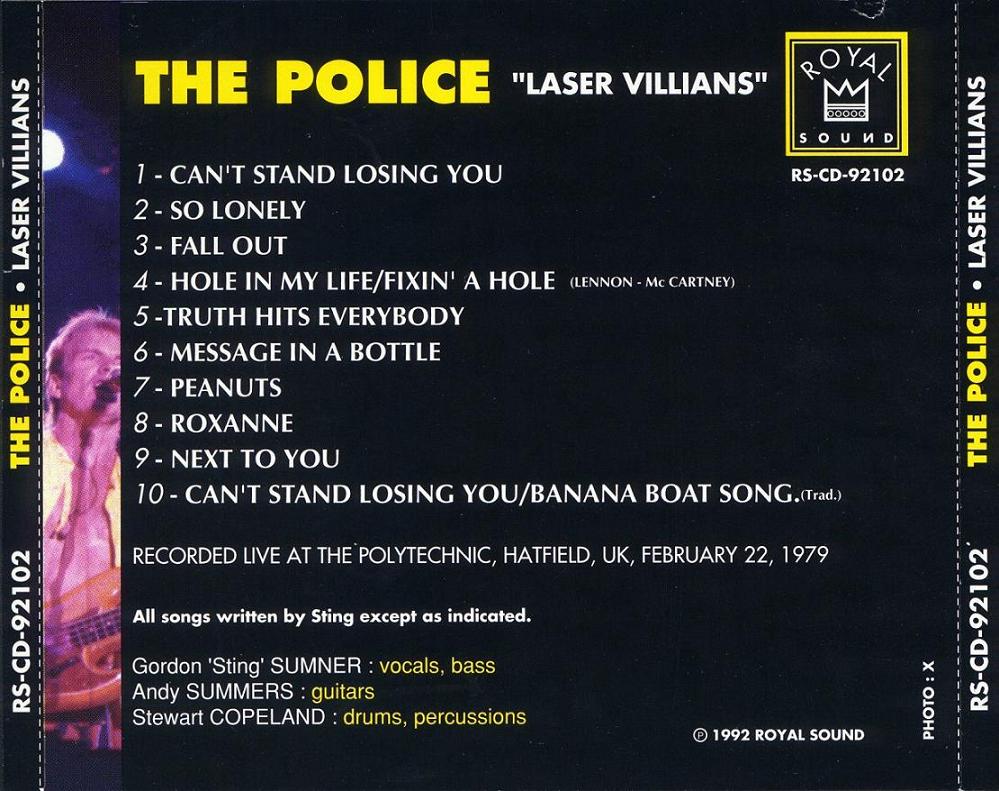 Pochette rectifiée :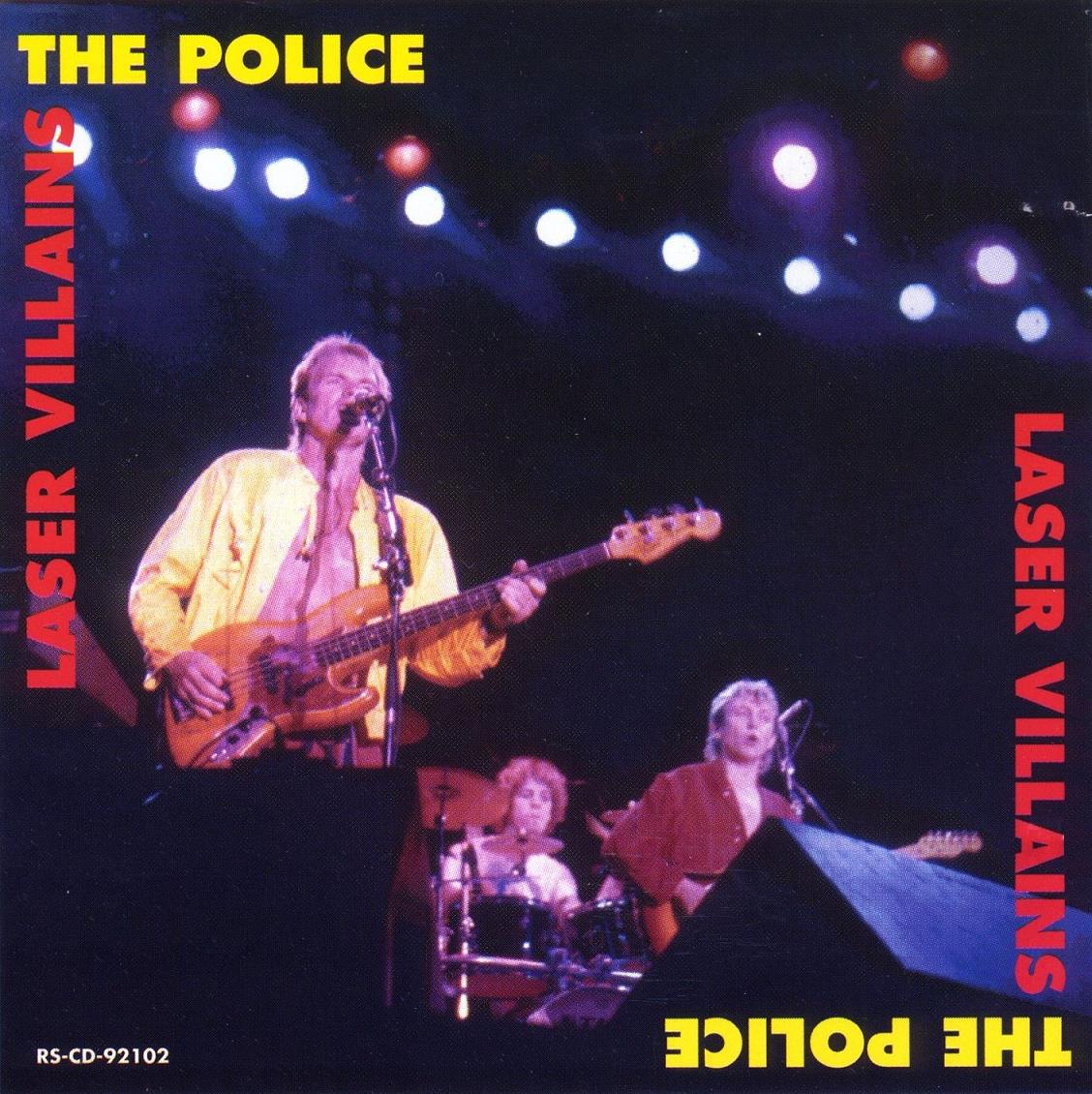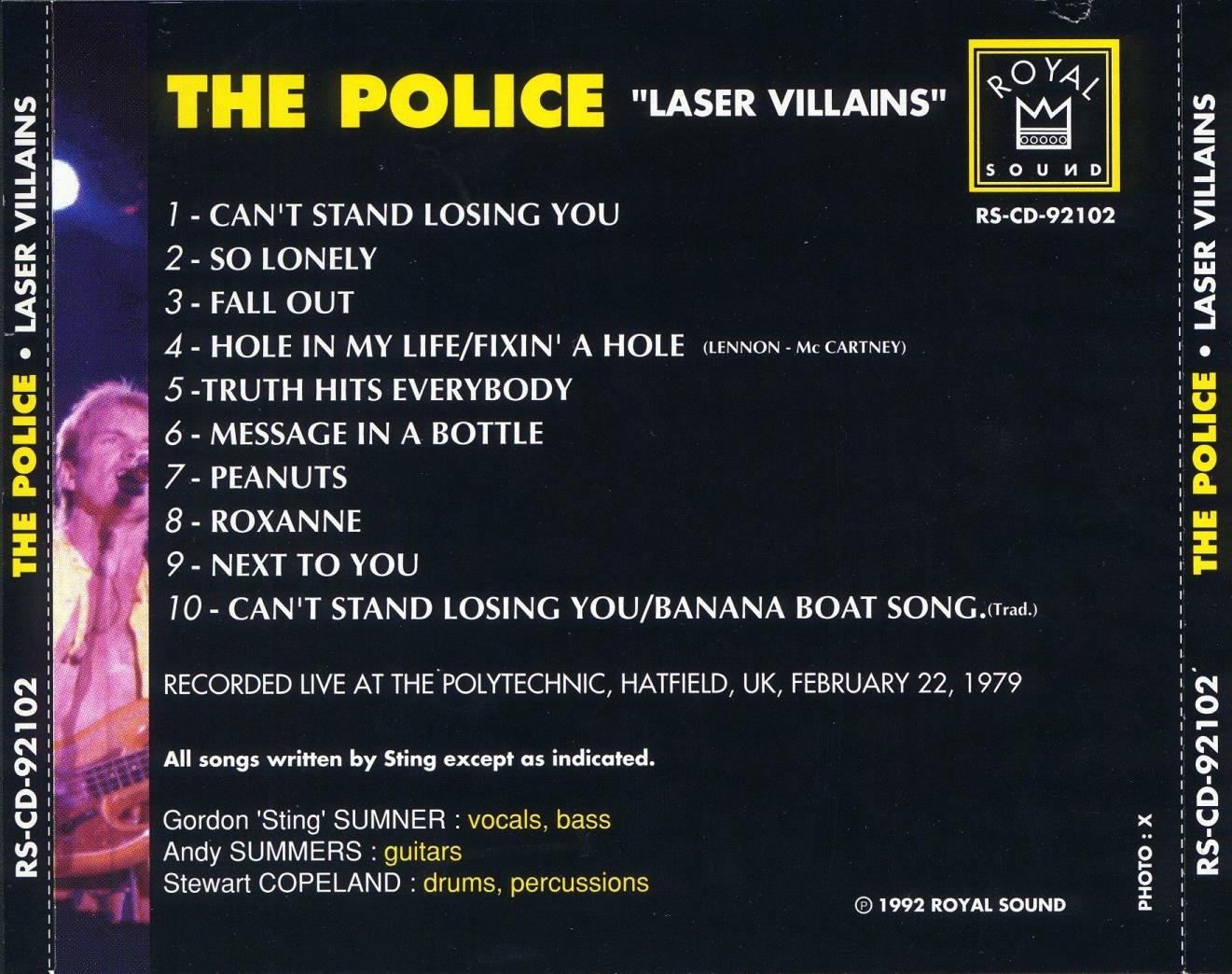 Bootleg n°343