UNPLUGGED

Date : 1968-1973
Lieu : Studio
Label : Invasion Unlimited (IU 9542-1 / 1995)
Support : 1 cd
Durée : 58:41 mn
Source : Soundboard
Qualité sonore : 10/10

Liste des titres :
1. Dear Doctor (3:29)
2. You Got The Silver (2:50)
3. Family (4:12)
4. No Expectations (2:50)
5. Sister Morphine (5:36)
6. Blood Red Wine (5:19)
7. Country Honk (3:03)
8. You Can't Always Get What You Want (6:43)
9. You Gotta Move (2:35)
10. Wild Horses (5:31)
11. All Down The Line (4:21)
12. Cocksucker Blues (3:30)
13. Dead Flowers (4:07)
14. Angie (4:35)

Commentaire : Compilation de versions alternatives acoustiques. Voici la critique qu'en donne Ringoswig sur le site « Bootleg Zone » :
Rating: ***** A must have !
This one's so damn good it was copied about five minutes after it was released!
It's also available as 'Acoustic Motherf*ckers' on Kobra KRCR 04, with a few extra tracks from Voodoo Brew that don't add to the listening experience of this cd. Try and find the original, it's put together like an album.
We're looking at the plainest cover without a rubber stamp that I've seen in quite some time, but it does evoke the original Beggar's Banquet, and this has some Beggar's Banquet era tracks on it, so it works for me.
Invasion Unlimited bills this collection of outs from 68 – 73 as « "blah, blah, blah Together they make up for a superb "Unplugged" cd (with the occasional electric guitar here and there) recorded long before the days of MTV." They're right, it is a superb little collection of mostly acoustic songs. The best thing is that it doesn't drown in a sea of "mellow" like so many acoustic records by the MTV generation can.
Unplugged fires up with 'Dear Doctor' (take 1), which is widely available, and usually in high quality.
This release is certainly no exception, and the quality of this recording sets the tone for the others on this release. There aren't any speed problems to be found, and if there's a crackle, you're missing the point – listen to the music and you just aren't going to hear technical imperfections on this CD. It sounds as good as ABKCO CD's of the same period, and I doubt these guys had "original master recordings" to work from, so I'm impressed with the results.
If you've got a large collection you're sure to have most of these songs by now. Some tracks, like the terrific 'No Expectations' out, and the long, very different version of one of my favorites, 'Sister Morphine', were available on Scorpio's 'Time Trip Vol. 4'. Both are spectacular looks at what should be considered the Stones at their best.
'Family' and 'Blood Red Wine' are commonly called Trident Demos, and don't sound like vinyl sources here to me.
The acoustic version of 'All Down The Line' from the NME flexi-disc also appears here, with wide dynamic range and a nice rich sound.
One of the wish list songs of the No Security Tour shows up also. 'You Got The Silver' appears with the officialy released backing track, but Mick takes the vocals on this version. Keith adds some charm of his own to the official track, but Mick seems to have laid a guide vocal for Keith on this one that Keith followed to the best of his ability.
Mick doesn't have the sincerity that Keith does, but he adds a bit of a chiseled heart to the feel of the song. It works; it just works differently.
Several other tracks sound great, like 'You Can't Always Get What You Want' without the stupid choir, 'Blood Red Wine', and an interesting version of 'Country Honk' without the car horn. Unplugged would make a good official album.
Considering that Stripped has been released officially, this makes a nice look at what a similar idea would sound like twenty-five years earlier.
Disponible ici* : https://1fichier.com/?9fw3n2cnqu

*Assurez-vous que le téléchargement de ces fichiers ne contrevienne pas à la législation en vigueur.  
Pochette :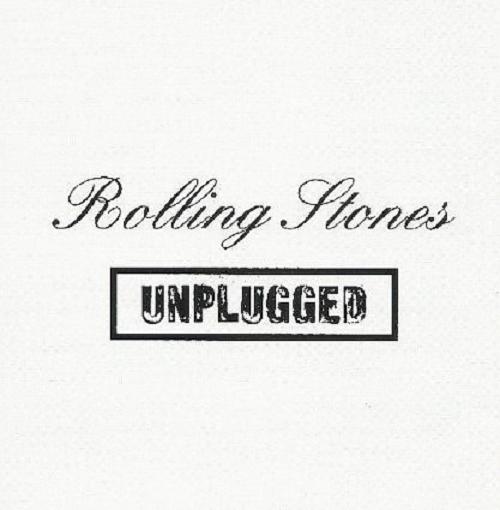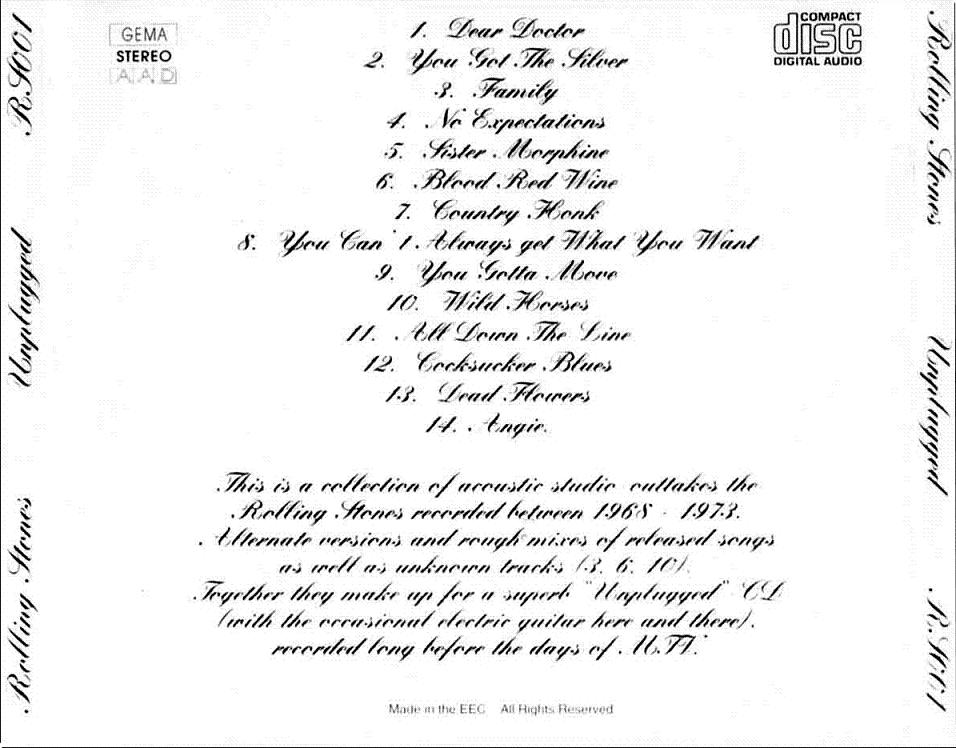 Bootleg n°1073