LIVE IN HYDE PARK 1996
Date : 29/06/1996
Lieu : Hyde Park, Londres, England
Label : Inconnu
Support : 1 cd
Durée : 32:27 mn
Source : Soundboard
Qualité sonore : 10/10

Liste des titres :
1. The Real Me (3:46)
2. The Dirty Jobs* (4:57)
3. I Had Enough (6:38)
4. 5:15 (6:20)
5. Drowned (3:54)
6. Love, Reign O'er Me* (6:52)
*avec David Gilmour à la guitare

Commentaire : Juste un extrait de ce concert (qui existe aussi dans sa version complète, mais avec une qualité « audience » très inférieure). Intéressant en raison de la présence de David Gilmour sur deux titres. Qualité sonore parfaite et interprétation très convaincante. On en oublierait presque qu'il s'agit d'un concert tardif et que Keith Moon est au paradis.
Disponible ic* : http://vivalesbootlegs.blogspot.fr/2011/02/who-feat-dave-gilmour-hyde-park-1969.html

*Assurez-vous que le téléchargement de ces fichiers ne contrevienne pas à la législation en vigueur.  
Pochette :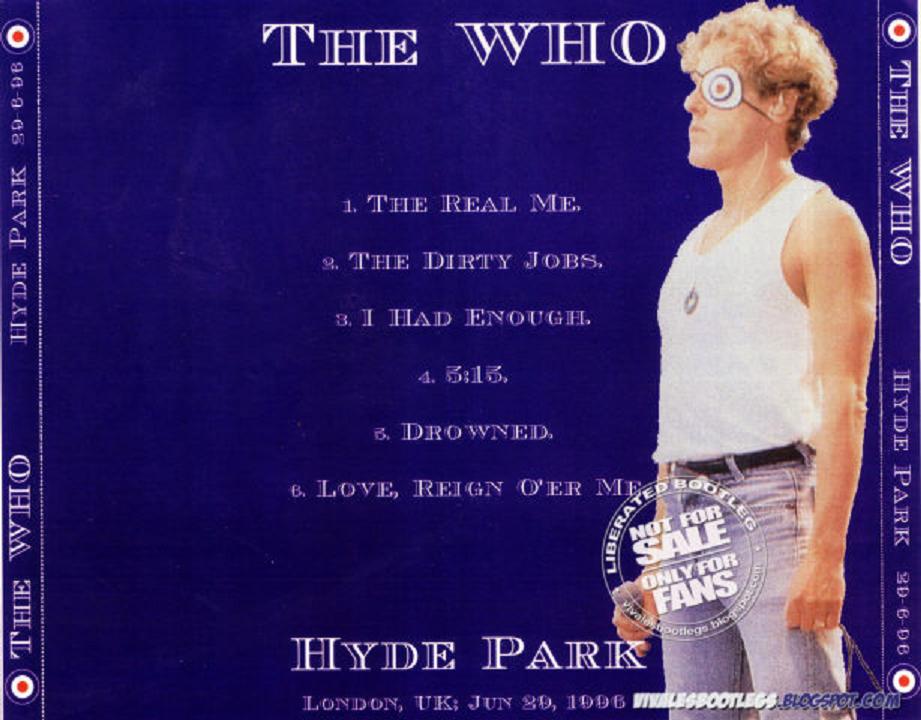 Bootleg n°1569