NEW YORK PALLADIUM 1979
Date : 16/02/1979 (early show)
Lieu : The Palladium, New York, NY
Label : Ace Bootlegs Production
Transferred, Edited and Tracked by kingrue upload 675 for Trader's Den
Support : 2 cd
Durée : 89:50 mn
Source : FM (WNEW FM)
Qualité sonore : 9/10

Liste des titres :
CD1 – 43:33
01. Trapped (3:20)
02. Love In Action (3:55)
03. Abandon City (5:11)
04. Love of the Common Man (4:30)
05. It Wouldn't Have Made Any Difference (4:57)
06. The Death Of Rock 'N Roll (5:25)
07. Gangrene (4:30)
08. Can We Still Be Friends (4:17)
09. Todd Talks (2:13)
10. Black Maria (5:15)
CD2 – 46:17
01. All Revved Up (5:27)
02. Johnny B. Goode (8:11)
03. DJ Commentary (4:13)
04. Radio Intro (1:15)
05. Hang On Sloopy (2:25)
06. Just One Victory (2:40)
07. Funky But Chic (4:47)
08. Frenchette (6:10)
09. Stairway To The Stars (4:06)
10. Don't Fear The Reaper (5:55)
11. WNEW Credits (1:08)
Musiciens :
Todd Rundgren – guitar, keyboards, vocals
Roger Powell – keyboards, vocals
Kasim Sulton – bass, vocals
John Wilcox – drums, vocals
Disponible ici* :   http://www.filefactory.com/file/262ij8k5s0rl/Todd_Rundgren
Ou bien ici*: http://www.guitars101.com/forums/f145/todd-rundgren-passiac-nj-10-31-79-fm-216709.html
*Assurez-vous que le téléchargement de ces fichiers ne contrevienne pas à la législation en vigueur.
Commentaire:  Billed as the « Indochinese Refugee Concerts. » This event had several big names involved. Blue Oyster Cult, Todd Rundgren headlined the event. Former New York Doll's frontman David Johansen (The Johansen Group) and guitarist Rick Derringer (who had just finished his own show over at 'My Father's Place'). Todd introduces Meat Loaf at the beginning of track 11. Mr Loaf joins in on 2 songs.
Funny enough that 'Johnny B. Goode' is dedicated to John Denver, not sure why.
There was also Patti Smith who came out and performed during each set. She performed the broadway Annie classic 'Tomorrow' and apparently the crowd reacted rudely.
Patti came out again later with a version of 'Gloria' and 'Rock n Roll Nig*er'.
Unfortunately none of her performances were broadcast. (as far as i know).
The bonus material is from the late show.  We have Rick Derringer on guitar joining in. We also have David Johansen doing 'Funky But Chic' and 'Frenchette'.
Along with Blue Oyster Cult performing a 9 song set, we only get 2 of those songs here. 'Stairway To The Stars' and 'Don't Fear The Reaper'.
Quite a cool selection of artists and songs here.
I had never heard any of this umtil now.
There was an unexpected tape cut during 'Black Maria' @ 1:26.  a small portion is missing.
The tape flip was between tracks 10 and 11.
Pochette :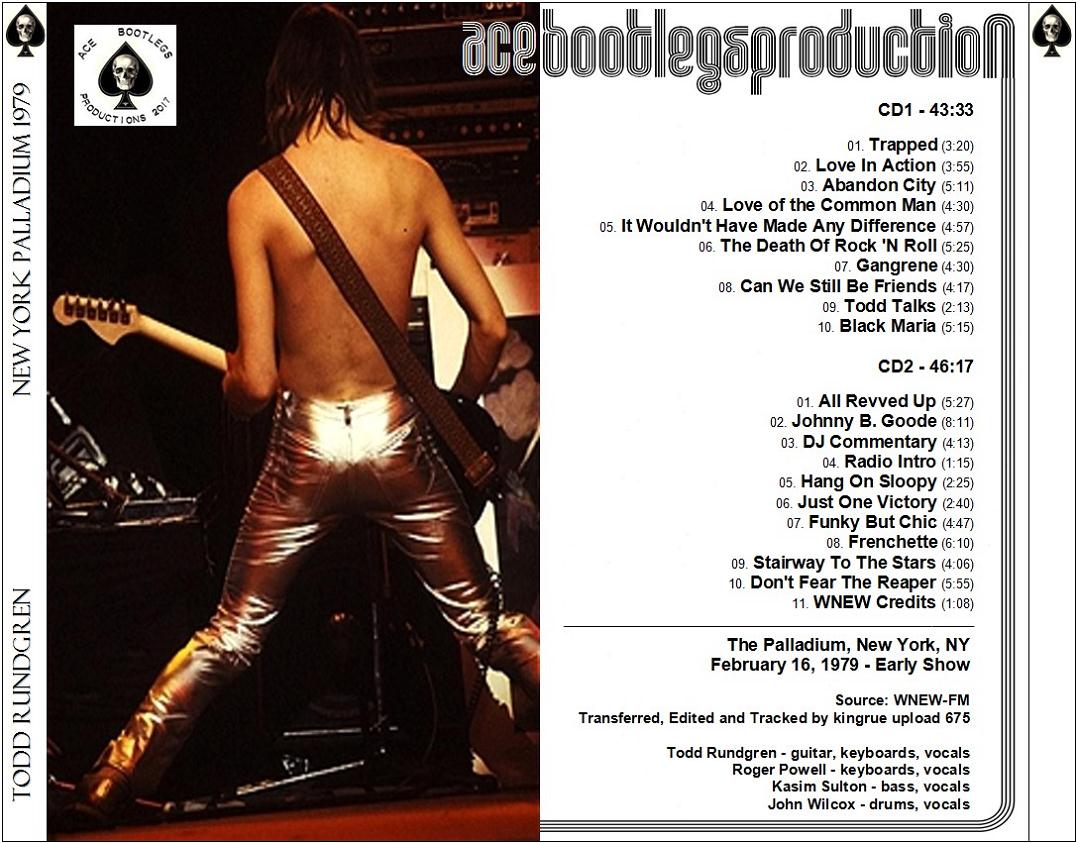 Bootleg n°2704