Le Noël du rock français continue !
FESTIVAL DE READING
Bootleg envoyé par Fred A.
Date : 29/08/1981
Lieu : Festival de Reading, U.K.
Enregistrement : auteur inconnu
Label : inconnu
Support : 1 cd (mp3)
Durée : 34:47 mn
Source : Soundboard (FM ?)
Qualité sonore : 9/10

Liste des titres :
01. Death Instinct (4:17)
02. Les Brutes (5:42)
03. In the name of the race (3:35)
04. Pick me up, pick me down (7:20)
05. Paris is still burning (5:39)
06. Antisocial (8:14)
Commentaire : Après avoir publié une version anglaise de l'album « Répression » trust s'embarque pour une tournée en première partie d'Iron Maiden. Le groupe joue aussi au Festival de Reading, en première partie du Ian Gillan Band qui, énervé par le succès des frenchies, les empêche de faire un rappel, d'où la brièveté du set.

Disponible ici (en mp3)* :  https://mega.nz/#!FEZxiSZb!eu2NbRVCU0wLPrAT3t-Mdty92LisGU4J3Bu8_B6x1q8
*Assurez-vous que le téléchargement de ces fichiers ne contrevienne pas à la législation en vigueur.  
Pochette: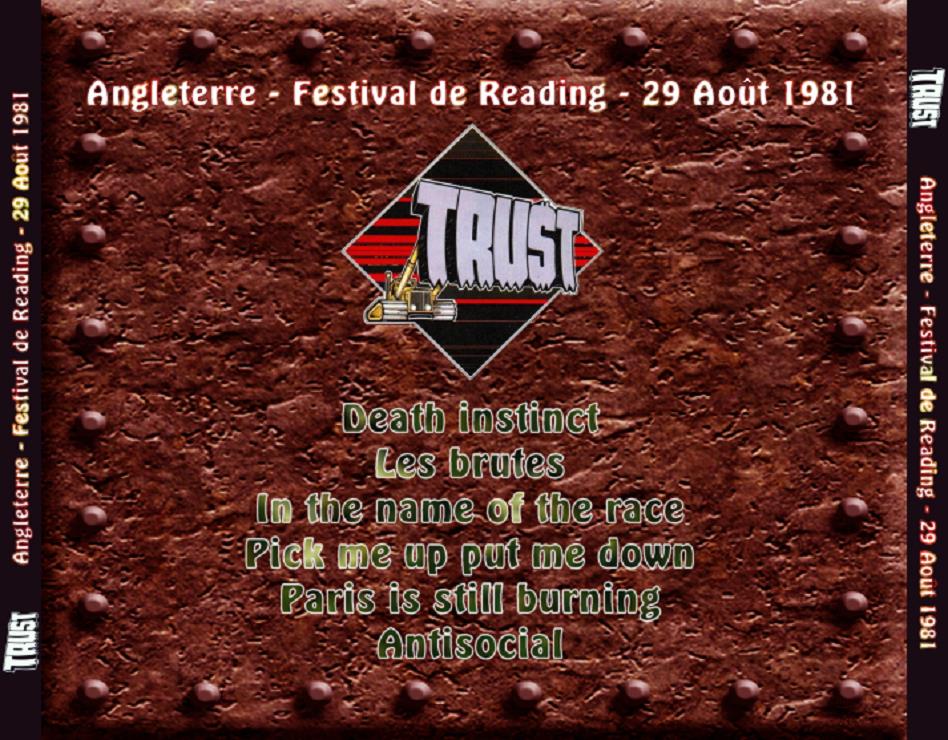 Bootleg n°3436