HEMISPHERE SAN ANTONIO 1969
Date : 22/11/1969
Lieu : Hemisphere, San Antonio, Texas, U.S.A.
Label : inconnu
Support : 1 cd
Durée : 75:45 mn
Source : audience
Qualité sonore : 3/10

Liste des titres :
01. Intro (1:48)
02. Shotgun (8:35)
03. Take Me For A Little While (5:53)
04. You Keep Me Hanging On (7:21)
05. Season Of The Witch (12:30)
06. Street Walking Woman (39:38)
Commentaire : Qualité vraiment pourrie mais je le publie quand même car les bootlegs de Vanilla Fudge sont vraiment durs à trouver et, pour les plus intrépides, car le dernier titre est une longue jam qui aurait pu être vraiment enthousiasmante si on entendait quelque chose.
Disponible : http://www.guitars101.com/forums/f145/vanilla-fudge-1969-11-22-san-antonio-tx-aud-flac-133866.html#post981769

*Assurez-vous que le téléchargement de ces fichiers ne contrevienne pas à la législation en vigueur.
Pochette: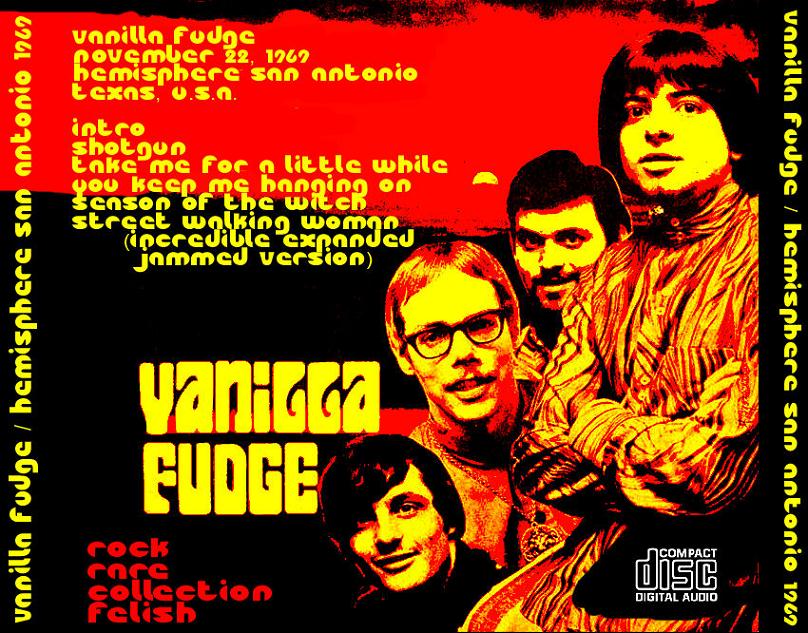 Bootleg n°2828