MADISON SQUARE GARDEN 1974

Date : 28/11/1974
Lieu : Madison Square Garden, New York, New York
Label : circule sous de nombreux labels (ou sans label)
Support : 1 cd
Durée : 71:30 mn
Source : Soundboard
Qualité sonore : 9,5/10

Liste des titres :
01. Funeral for a Friend – Love lies Bleeding (11:53)
02. Rocket Man (5:03)
03. Take Me to the Pilot (6:00)
04. Bennie and the Jets (5:59)
05. Grey Seal (5:27)
06. Daniel (4:06)
07. You're so Static (4:32)
08. Whatever Get You through the Night* (4:40)
09. Lucy in the Sky with Diamonds* (6:15)
10. I Saw Her Standing There* (3:17)
11. Don't Let the Sun Go Down on Me (5:57)
12. Your Song (3:58)
13. The Bitch is Back (4:23)
** w/ John Lennon
Commentaire :  Apparition surprise de John Lennon (apparemment suite à un pari passé avec Elton John quelque temps plus tôt). Ce fut la dernière apparition sur scène de Lennon. Plus de détails ci-dessous (en anglais):
The date was November 28, 1974. The place is Madison Square Garden, in New York City. On stage is Elton John.  
His career is at its peak. Numerous hit singles and best selling albums. Spectacular stage show. Fantastic band. Elton, at this time is the biggest star in the popular music world. It can't get any better than this, can it? Thanksgiving night in NYC with Elton and his boys?
Then Elton addresses the audience: « Seeing it's Thanksgiving, we thought we'd make tonight a sort of joyous occasion by inviting someone up with us on the stage. And umm…I'm sure he'll be no stranger to anyone in the audience. It's our great privilege and your great privilege to see and hear MR. JOHN LENNON!! »
In July 1974, Lennon was back in an NYC studio to record his new album « Walls and Bridges ». Among the musicians were « Concert For Bangladesh » veterans, Jesse Ed Davis, Jim Keltner and Klaus Voormann. Pianist Nicky Hopkins and Sax man Bobby Keys also played. Recruited to play on a song was Elton John. The song was « Whatever Gets You Through The Night ». During the sessions, Elton pulled Lennon aside to tell him this song was going to the top of the charts. Lennon laughed it off. Elton persisted. They made a bet. If it became a number one song, Lennon would join Elton's band onstage and sing the song. Lennon thought it would never happen in a million years. We don't know the other side of the bet.
The single was released in September 1974. It hit the number one spot on the Billboard 100 charts the week of November 16th. The bet would be paid off in twelve days.  
After Lennon was introduced, they played three songs. « Whatever Gets You Through The Night », « Lucy In The Sky With Diamonds » and « I Saw Her Standing There », which Lennon introduced as being written by an old fiance of his, Paul.
The Thanksgiving concert in 1974 was John Lennon's last live concert performance.
By Howard Moore, February 2, 2014
Disponible ici* :  http://www.guitars101.com/forums/f145/elton-john-1974-11-28-new-york-city-ny-sbd-flac-170293.html#post1131912
*Assurez-vous que le téléchargement de ces fichiers ne contrevienne pas à la législation en vigueur.
Pochette :
version 1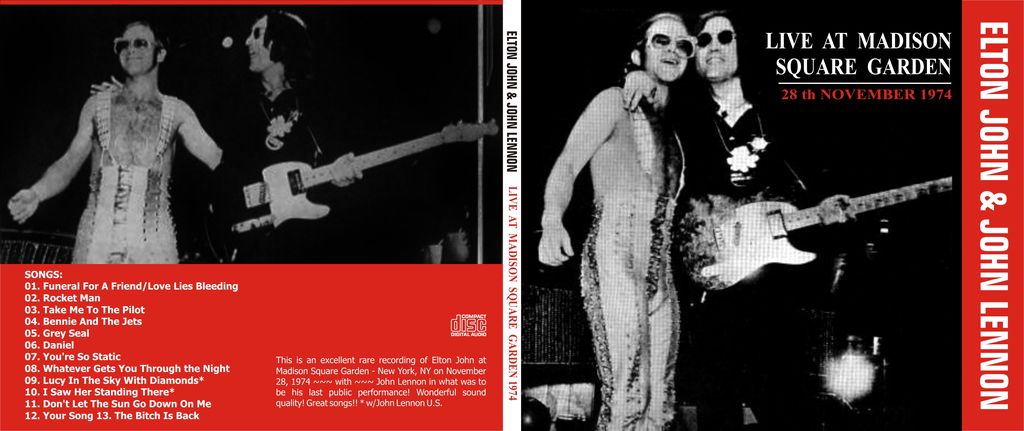 version2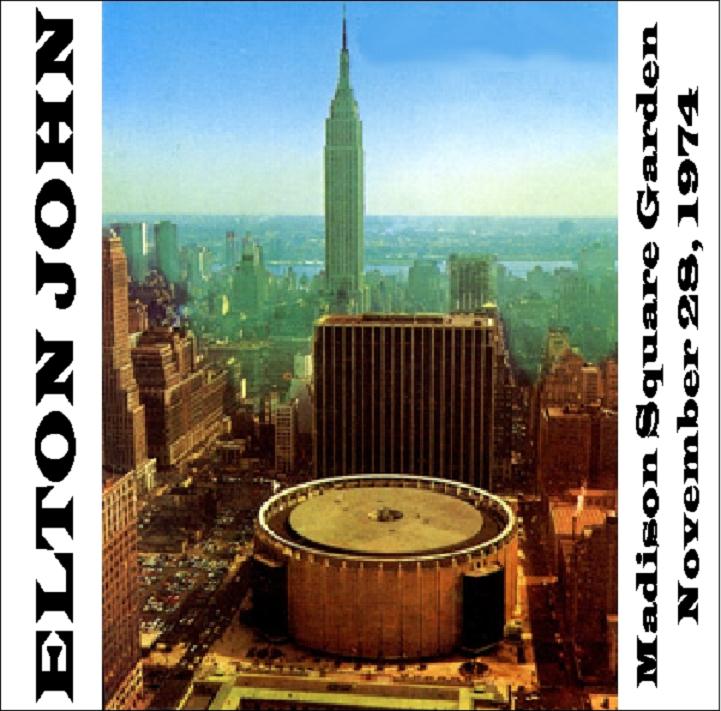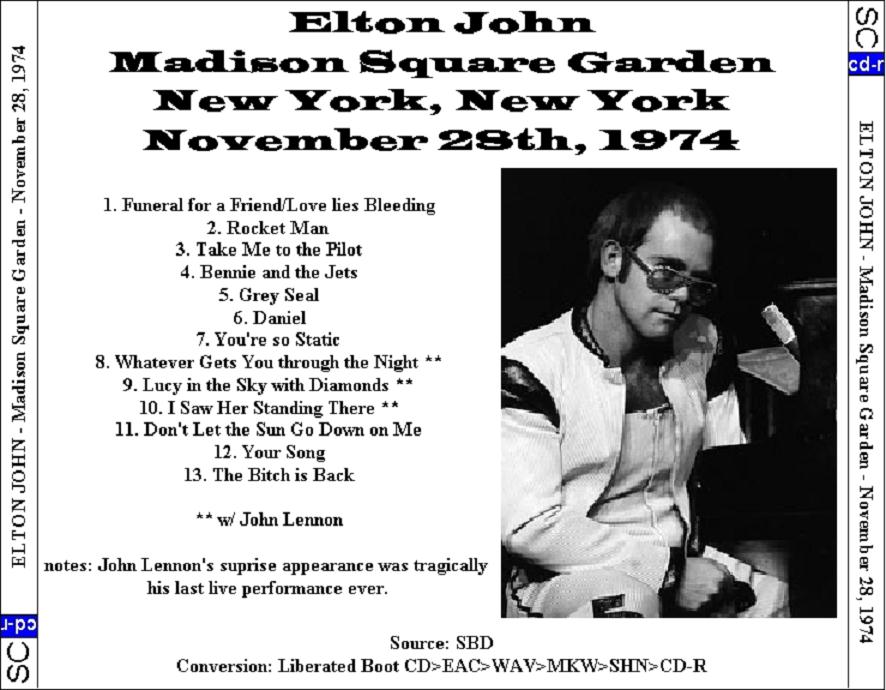 version3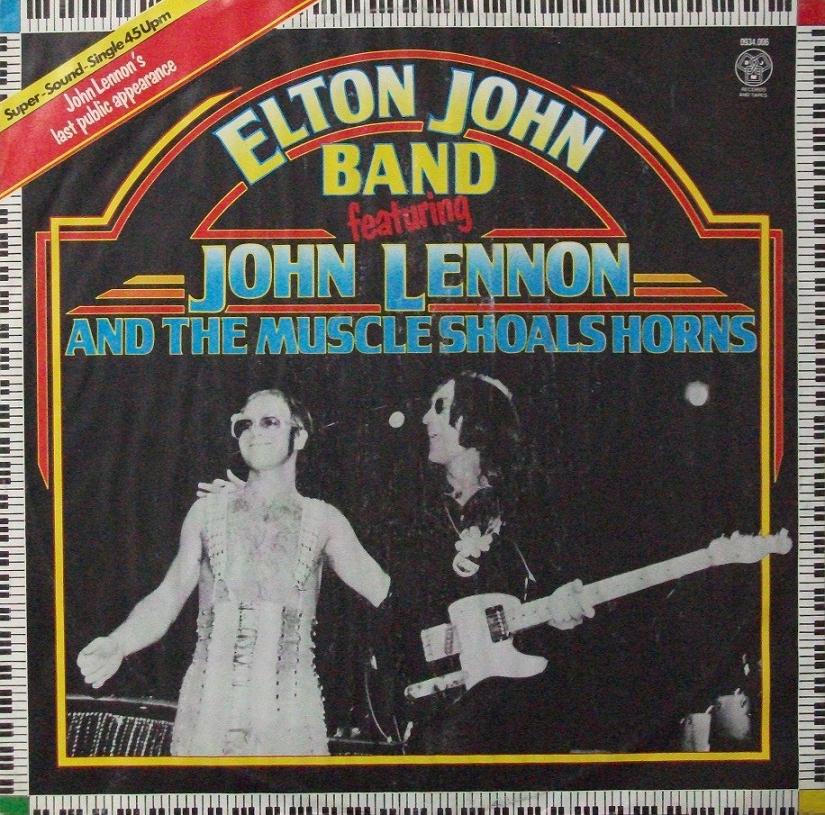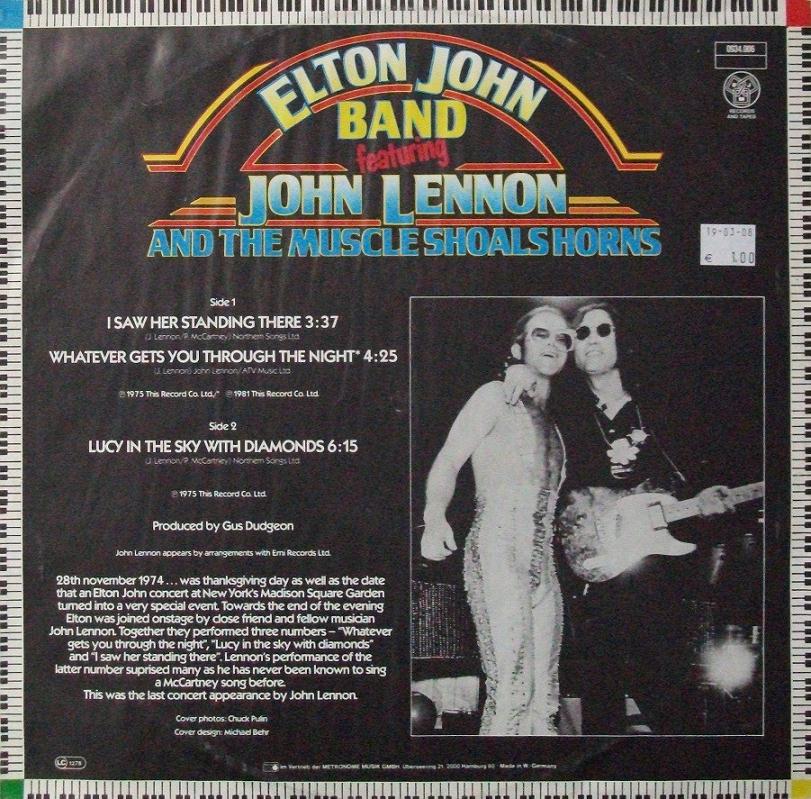 version4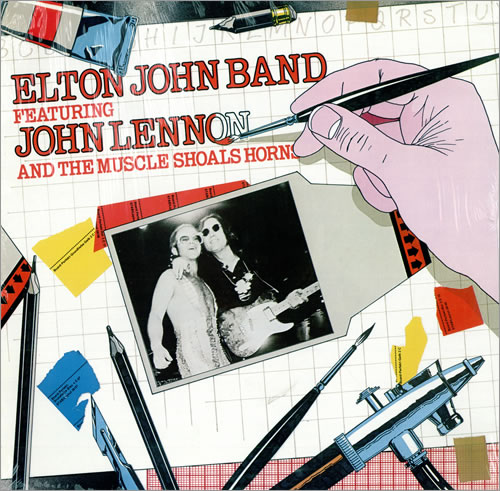 Bootleg n°2595