BELFAST '69 CORRECTED

Date : 08/08/1969 (*)
Lieu : Plumpton Race Track, East Sussex, London (*)
Label : Ace Bootlegs Production
Support : 1 cd
Durée : 33:30 mn
Source : divers
Qualité sonore : 6/10
Liste des titres :
01. Careful With That Axe, Eugene (8:53)
02. A Saucerful Of Secrets (12:58)
03. Set The Control For The Heart Of The Sun (9:25)*
04. Green Is The Colour (3:14)*
Commentaire : Ceci n'est pas le concert de Belfast! A ma connaissance, il n'existe pas d'enregistrement du concert de Belfast (le 10 juin 69 à l'Ulster Hall). Lorsque ce bootleg a été diffusé pour la première fois, il s'appelait « Belfast '69 » et beaucoup ont cru à l'authenticité de cette origine, mais on sait aujourd'hui qu'il s'agit en fait de deux titres tirés du concert de Plumpton du 8 août ainsi que de deux titres repiqués sur le live officiel « Ummagumma ». Encore un bel exemple d'arnaque au bootleg en définitive.
Pochette :
Livret (verso)
Dos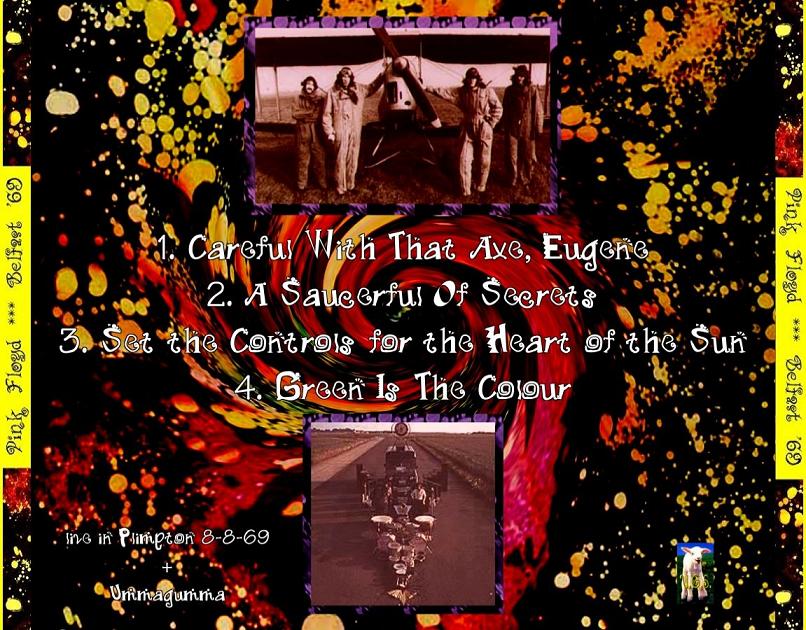 Bootleg n°25