PAVILLON DE PARIS, PARIS, JUNE 19, 1978

Date : 19/06/1978
Lieu : Pavillon de Paris, Paris, France
Recorded and shared by finkployd49
Setlist compiled by Bylar
Support : 2 cd
Durée : 122:07 mn
Source : Audience
Qualité sonore : 9/10

Liste des titres :
CD1 – 51:15
101. Paris Improvisation 1 (7:07)
102. Paris Improvisation 2 (9:38)
103. Paris Improvisation 3 (2:17)
104. Paris Improvisation 4 (14:42)
105. Paris Improvisation 5 (8:16)
106. Paris Improvisation 6 (9:15)
CD2 – 70:52
201. Paris Improvisation 7 (11:59)
202. Pulstar (9:44)
203. The Plum Blossom* (2:47)
204. Asian Improvisation 1* (12:40)
205. Création du monde* (4:43)
206. Asian Improvisation 2* (6:41)
207. Alpha* (7:53)
208. Spiral* (14:25)
*Violon : Michel Ripoche
Commentaire : The music at this concert is mainly improvised but sounds surprisingly full, considering the era it was performed in. Although there was no way yet to work with MIDI setups and smartly splitted and layered multisettings Vangelis managed to give a broad and lively performance.
The piano has a rather dominating function but is mostly accompanied by synthesizer sounds of all sorts. Also some sequenced cues are triggered by Vangelis to accommodate the music. Only a few small parts feature other musicians. The most important of these is the appearance of violist Michel Ripoche
Some parts of the new music are reminiscent of Ignacio (especially the piano part some 10 minutes into its first part) and China. Although a lot familiar cues appear, like the sequence of « I hear you now » (which was to be released a year after), very few actual pre-existing compositions were included. Amongst those that did appear were « Alpha » and of course « Pulstar » which Vangelis seems to play every time he can, each in a different way.
(http://elsew.com/)
Disponible ici * : http://www.guitars101.com/forums/f145/vangelis-1978-06-19-paris-fr-aud-flac-209295.html
*Assurez-vous que le téléchargement de ces fichiers ne contrevienne pas à la législation en vigueur.  
Pochette :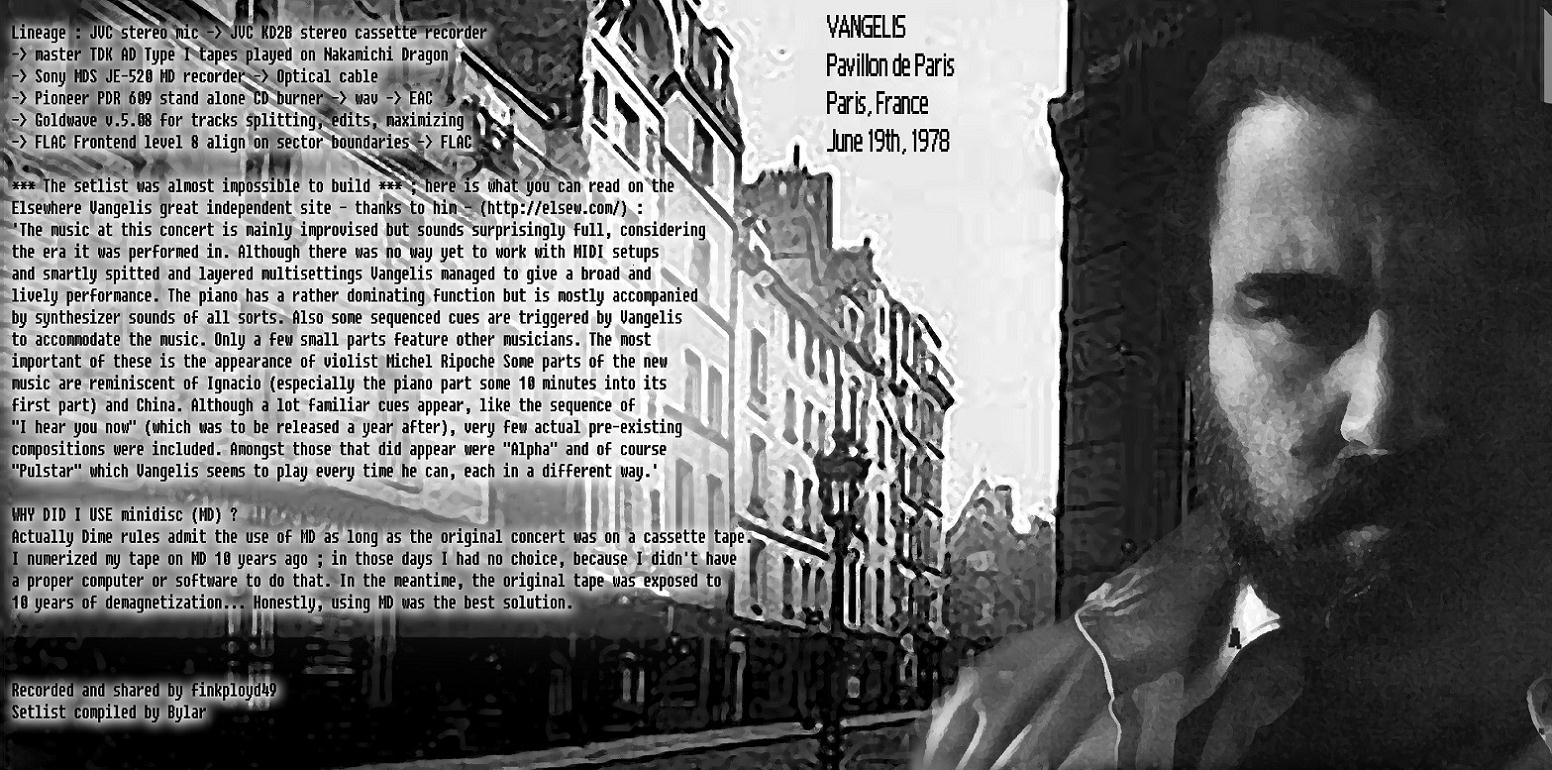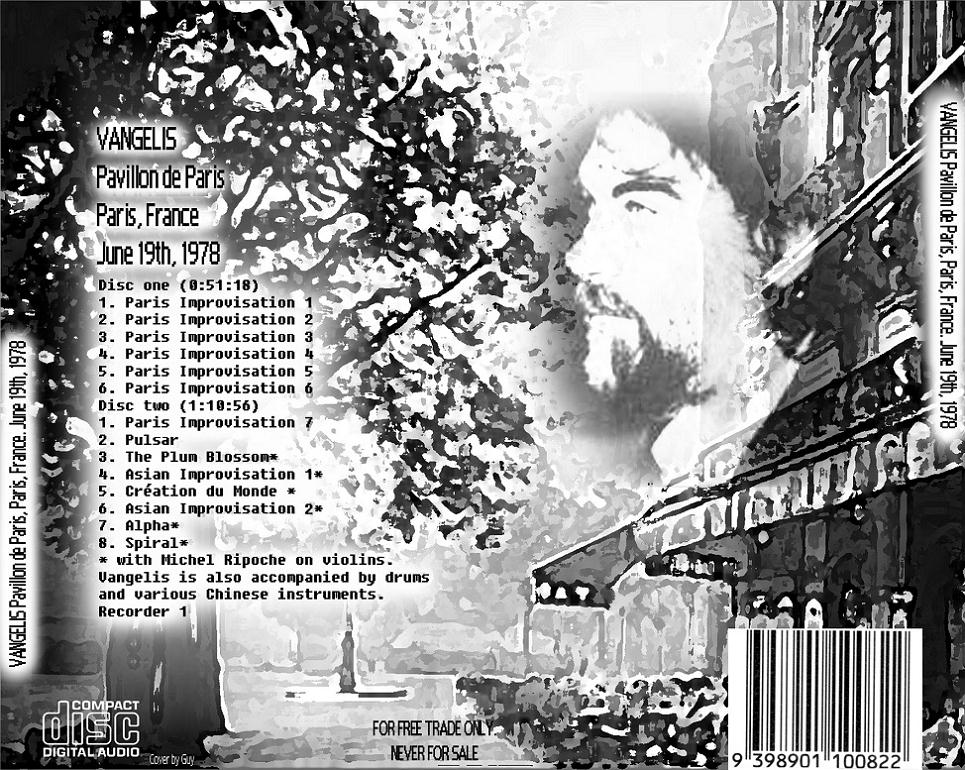 Bootleg n°2387