LIVING IN THE HELL
Date : 16/10/1979
Lieu : Towson, Maryland
Label : « Flashback »
Référence : 06.91.0152
Support : 1 cd
Durée : 70:54 ou 76:50 mn (selon versions)
Source : Soundboard
Qualité sonore : 9/10

Liste des titres :
1. Live wire (6.09)
2. Shot down in flames (4.01)
3. Hell ain't a bad place to be (4.06)
4. Sin city (5.20)
5. Problem child (4.23)
6. Bad boy boogie (1.42)
7. She's got the jack (6.09)
8. Highway to hell (3.12)
9. High voltage (6.22)
10. Whole lotta rosie (5.04)
11. Rocker (8.20)
12. If you want blood (6.06)
13. Let there be rock (5.54)*
*Disponible sur certaines versions seulement (voir commentaires)
Commentaire : Ce bootleg est l'un des tous meilleurs concerts de la période Bon Scott. Il existe dans deux versions : la version du CD original, qui ne comprend que les 12 premiers titres et la version vinyle qui en comprend un treizième : « Let there be rock ». Bizarrement, les 13 titres tenaient parfaitement sur un seul CD mais le label Flashback a dans un premier temps décidé de sucrer ce dernier titre sur son édition CD. Heureusement, une version 13 titre est sortie ultérieurement avec ce fameux dernier titre (et quel titre!).
Le concert de Towson est disponible ici dans différentes versions alternatives :
Par exemple ici (en mp3) : http://depositfiles.com/files/9m7uh06h5/ACDShGoBalTow79-mpt.rar

Ou ici (en mp3 aussi) : http://www.filefactory.com/file/b36693h/n/1979_Living_In_The_Hell.rar
Ou enfin ici, en lossless mais dans une version alternative : http://depositfiles.com/files/9lca55c1o/ACD791016DemDriTow-flc.rar
Enfin, on peut trouver la version 13 titres en format lossless dans un coffret comportant 13 CD et un DVD qui s'intitule « The complete soundboard collection with Bon Scott » et qui est disponible ici* : http://www.guitars101.com/forums/f146/ac-dc-the-complete-soundboard-collection-with-bon-scott-1976-1979-dvd5flac-191315.html
*Mais il vaut mieux s'armer de beaucoup de patience (ou bien d'un abonnement à uploaded.net) car il y a 30 liens pour les CD et 31 autres pour le DVD.
Sinon, il y a un autre bootleg du même concert, qui dispose d'une qualité sonore au moins aussi bonne et qui comporte les 13 titres. Il s'appelle « Demon Drive » (disponible ici).
Pochette :
Livret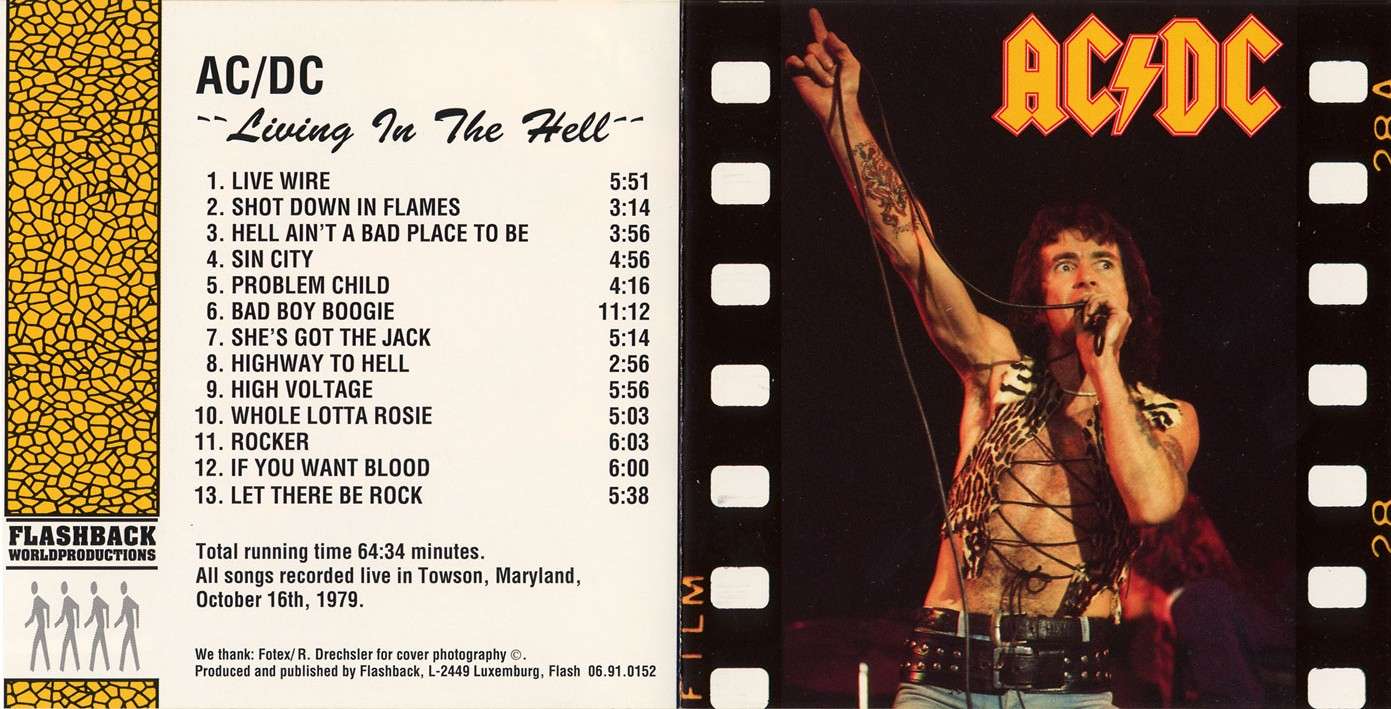 Dos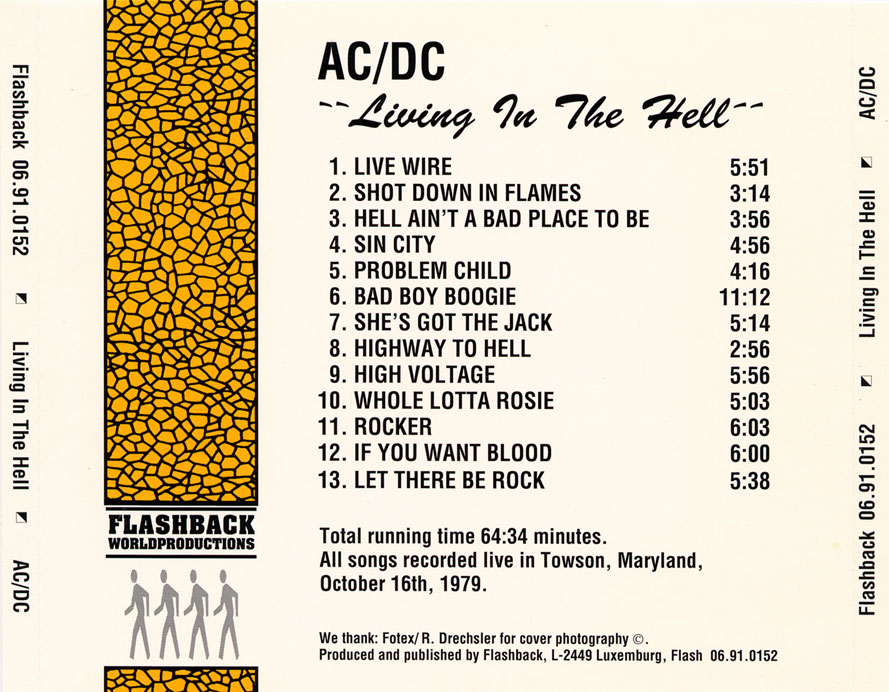 Bootleg n°270