Iron Maiden a été, avec Judas Priest, Saxon, Motorhead et quelques autres, le groupe phare de la nouvelle vague du Heavy metal britannique. De l'album « Iron Maiden » (1980) jusqu'à leur septième album studio (« Seventh Son of a Seventh Son », 1988), ils ont réalisé un sans faute, gagnant progressivement en sophistication ce qu'ils perdaient en énergie brute, et sachant survivre à quelques changements majeurs de personnel, notamment le départ de leur chanteur Paul Di Anno après leur second album et le départ de leur batteur Clive Burr à l'issu du troisième album.
Depuis 1988, leur carrière studio a été nettement plus chaotique. Ils ont pondu quelques albums sympas mais sans grande originalité (« No prayer for the dying », 1990 et « Fear of the dark », 1992), ils ont perdu leur chanteur le temps de deux albums où ils donnaient l'impression d'être perdus et sans inspiration, puis ils en ont sorti d'autres plus intéressants, mais qui n'ont toutefois jamais retrouvé la réussite musicale des débuts.
Par contre, leurs albums live officiels sont de bonne qualité (mention spéciale à « Maiden Japan – japanese edition » et à « Maiden England »). Enfin, question bootlegs, on en trouve beaucoup, mais pas tous excellents. En voici une poignée représentatifs des différentes phases de leur longue carrière (et qui disposent, pour beaucoup, d'une très bonne qualité sonore).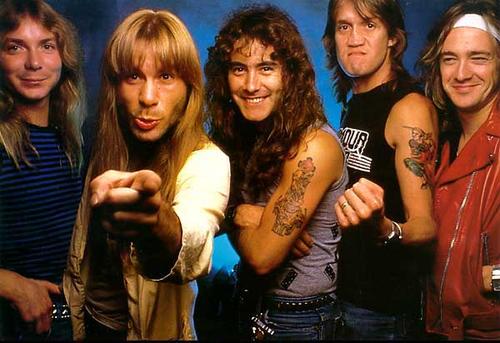 BOOTLEGS D'IRON MAIDEN

(Liste alphabétique)
2016 TOKYO FIRST NIGHT – 20/04/216
BEAST TAMES OXFORD (THE) – 09/03/1982
BRAIN DAMAGE AT HAMMERSMITH – 26/05/1983
BRITSH METAL ONSLAUGHT / THE BEAST TAMES OXFORD – 09/03/1982
BRITSH METAL ONSLAUGHT / BRAIN DAMAGE AT HAMMERSMITH – 26/05/1983

BRITSH METAL ONSLAUGHT / GAUMONT SLAVES – 18/09/1984

CAUGHT SOMEWHERE IN LEICESTER – 14/10/1986
CAUGHT SOMEWHERE IN MILWAUKEE – 08/03/1987
DIE WITH YOUR BOOTS ON – 26/05/1983
DYNAMO IN THE RAIN  –  03/06/2000
EDDIE RIPS UP GOTHENBURG – 09/07/2005
IT WAS 20 YEARS AGO – 07/12/1988
LIVE AT THE APOLLO THEATRE, MANCHESTER 1986 – 10/10/1986
LIVE IN DORTMUND '83 – 18/12/1983
LIVE IN LONDON (SECRET GIG) – 19/12/1985
MAIDEN IPSWICH – 08/05/1983 + 30/09/1983
MAIDEN JAPAN (JAPANESE EDITION) – 24/05/1981
MAIDEN JAPAN VOL.2 – 23/05/1981
METAL IN THE PARK – 20/08/1988
NEW YORK PALLADIUM – 29/06/1982
ONE RING TO RULE THEM ALL – 05/06/2014
PADOVA PALASPORT 1981  –  29/10/1981
QUILMES ROCK 2009 – 28/03/2009
REVELATIONS – LIVE AT THE RAINBOW  –  20/10/1980
SLAVERY MASTER – 29/10/1984 + 19/12/1984
SOMEWHERE IN PARIS  –  29/11/1986
THE SOUNDHOUSE TAPES & MORE – Singles & rare tracks
SPECTRUM (THE) 1987 – 13/01/1987
THE BEAST TAMES OXFORD – 09/03/1982
THE TEENAGE WEREWOLF – 12/09/1992
WORLD SLAVERY LONG BEACH – 15/03/1985
BOOTLEGS
D'IRON MAIDEN
(Liste chronologique)
Singles & rare tracks – THE SOUNDHOUSE TAPES & MORE
20/10/1980  –  REVELATIONS – LIVE AT THE RAINBOW
23/05/1981 – MAIDEN JAPAN VOL.2
24/05/1981 – MAIDEN JAPAN (JAPANESE EDITION)
29/10/1981  –  PADOVA PALASPORT 1981
09/03/1982 – THE BEAST TAMES OXFORD
29/06/1982 – NEW YORK PALLADIUM
26/05/1983 – BRAIN DAMAGE AT HAMMERSMITH
26/05/1983 – DIE WITH YOUR BOOTS ON
18/12/1983 – LIVE IN DORTMUND '83
29/10/1984 + 19/12/1984 – SLAVERY MASTER
15/03/1985 – WORLD SLAVERY LONG BEACH
19/12/1985 – LIVE IN LONDON (SECRET GIG)
10/10/1986 – LIVE AT THE APOLLO THEATRE, MANCHESTER 1986
14/10/1986 – LEICESTER '86 / SOMEWHERE IN LEICESTER
29/11/1986  –  SOMEWHERE IN PARIS / PARIS 29.11.1986
13/01/1987 – THE SPECTRUM 1987
08/03/1987 – CAUGHT SOMEWHERE IN MILWAUKEE

20/08/1988 – METAL IN THE PARK
07/12/1988 – IT WAS 20 YEARS AGO
12/09/1992 – THE TEENAGE WEREWOLF
03/06/2000  –  DYNAMO IN THE RAIN
09/07/2005 – EDDIE RIPS UP GOTHENBURG
28/03/2009 – QUILMES ROCK 2009
05/06/2014 – ONE RING TO RULE THEM ALL
20/04/2016 – 2016 TOKYO FIRST NIGHT