COME TO THE SABBATH

Date : 20/12/1970
Lieu : Paris, France
Label : Living Legend Records (Réf. : LLRCD 061)
Support : 1 cd
Durée : 52:21 mn
Source : TV
Qualité sonore : 9/10

Liste des titres :
1. Paranoid (3:08)
2. Hand of doom (8:12)
3. Iron man (6:27)
4. N.I.B. (8:36)
5. Behind the wall of sleep (5:50)
6. War pigs (5:24)
7. Fairies wear boots (7:58)
8. Black sabbath (6:46)

Commentaire : Un version légèrement différente de ce fameux concert dont une diffusion télé a permis l'émergence de nombreux bootlegs. Celui-ci est presque identique au bootleg « War Pigs », avec cependant une légère nuance au niveau du son et une indexation des titres un tout petit peu différente. En tout cas, il offre une très bonne performance du groupe à ses débuts avec, notamment, des paroles un peu différentes de la version album sur les titres « Paranoid » et « War Pigs ».
Disponible ici* : http://soundaboard.blogspot.fr/2010/02/black-sabbath-come-to-sabbath-1970.html
*Assurez-vous que le téléchargement de ces fichiers ne contrevienne pas à la législation en vigueur.
Pochette :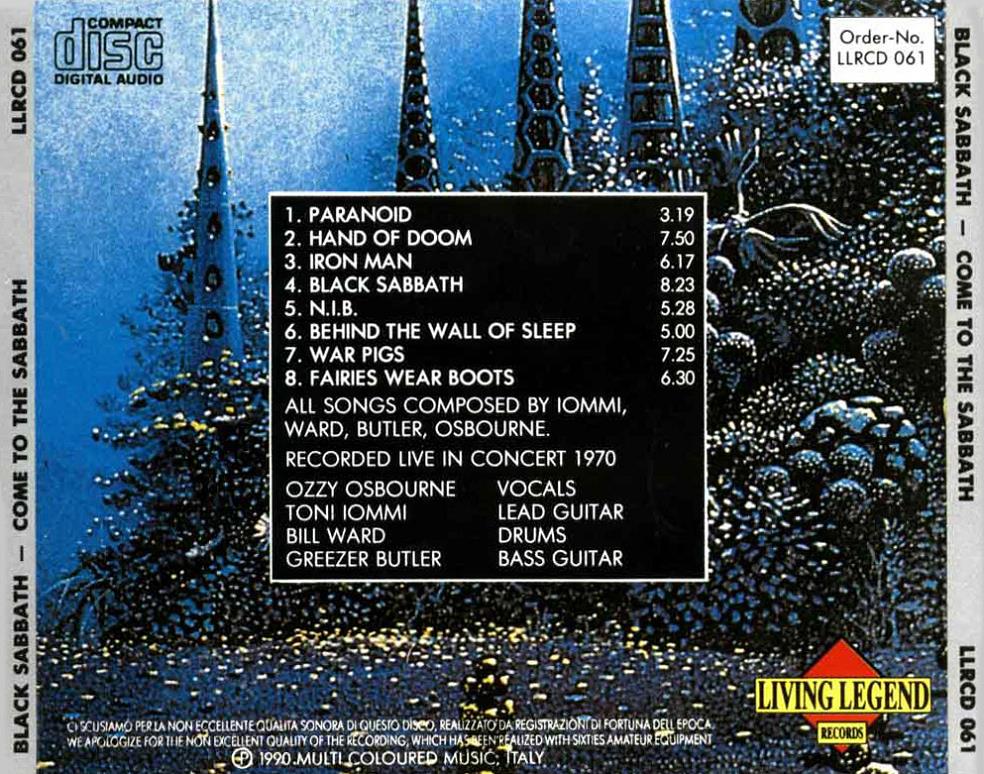 Bootleg n°352