MASERATI GT IN MOTOR CITY

Date : 11/09/1976
Lieu : Cobo Arena, Detroit, Michigan
Label : Ace Bootlegs Production
Support : 2 cd
Durée : 90:52 mn
Source : Audience
Qualité sonore : 7,5/10 à 9/10 (voir commentaire)

Liste des titres :
CD1 – 51:08
1. Intro (4:18)
2. Stairway To The Stars (3:44)
3. Harvester Of Eyes (5:08)
4. Cities On Flame With Rock And Roll (4:43)
5. E.T.I. (Extra Terrestrial Intelligence) (5:46)
6. Morning Final (4:46)
7. Flaming Telepaths (5:49)
8. Then Came The Last Days Of May () (5:41)
9. ME 262 (3:25)
10. Dominance And Submission (7:48)
CD2 – 39:44
1. Buck's Boogie (8:40)
2. This Ain't The Summer Of Love (2:51)
3. 5 Guitar Medley (Mark II) (5:57)
4. Born To Be Wild (7:12)
5. Don't Fear The Reaper (5:52)
6. Maserati GT (I Ain't Got You) (9:12)
Musiciens :
Eric Bloom – lead vocals, rhythm guitar
Donald (Buck Dharma) Roeser – lead guitar, vocals
Allen Lanier – keyboards, guitar
Joe Bouchard – bass, vocals
Albert Bouchard – drums, vocals
Commentaire :
Réjouissez-vous ! Enragez ! Voici le pire meilleur bootleg de Blue Öyster Cult que l'on puisse imaginer. L'objet ne paye pas de mine de prime abord ; un enregistrement audience de 1976 ; on craint le pire. On écoute. Surprise, le son est excellent, en vraie stéréo, avec tous les instruments parfaitement définis, même la batterie. Et la voix est claire et forte. Miracle. Quelques secondes passent et patatras! Une prise micro est mal branchée ; d'horrible grésillements parasitent l'enregistrement. Il devient presque inaudible et ça dure presque tout le premier morceau. Sur les titres suivants, le faux contact persiste, mais seulement par intermittence, et seulement sur une voix. Une horreur!
Pour sauver l'ensemble du naufrage, je me suis résolu à supprimer la stéréo sur tous les titres endommagés et à ne la conserver que sur les autres. Le résultats final est donc beaucoup moins bon que ce que l'on aurait pu espérer, mais les live de 1976 ne sont pas légion. De plus, la moitié des morceaux ont échappé au massacre. Résultat final mitigé, donc, et pour que chacun puisse se faire sa propre idée, je propose en téléchargement les deux versions. De plus, si quelqu'un se sent l'âme d'un ingénieur du son, je suis sûr qu'il pourra faire mieux que mon rafistolage avec les moyens du bord (en l'occurence Cool Edit Pro).
Disponible ici* :
Version 1 (réparée mais partiellement en mono) :  https://1fichier.com/?sbxfsdngsz24lx0w7xy1
Version 2 (avec faux contact mais en stéréo) : http://www.guitars101.com/forums/f145/blue-oyster-cult-1976-09-11-detroit-mi-aud-flac-163213.html#post1098879
*Assurez-vous que le téléchargement de ces fichiers ne contrevienne pas à la législation en vigueur.
Pochette :
Livret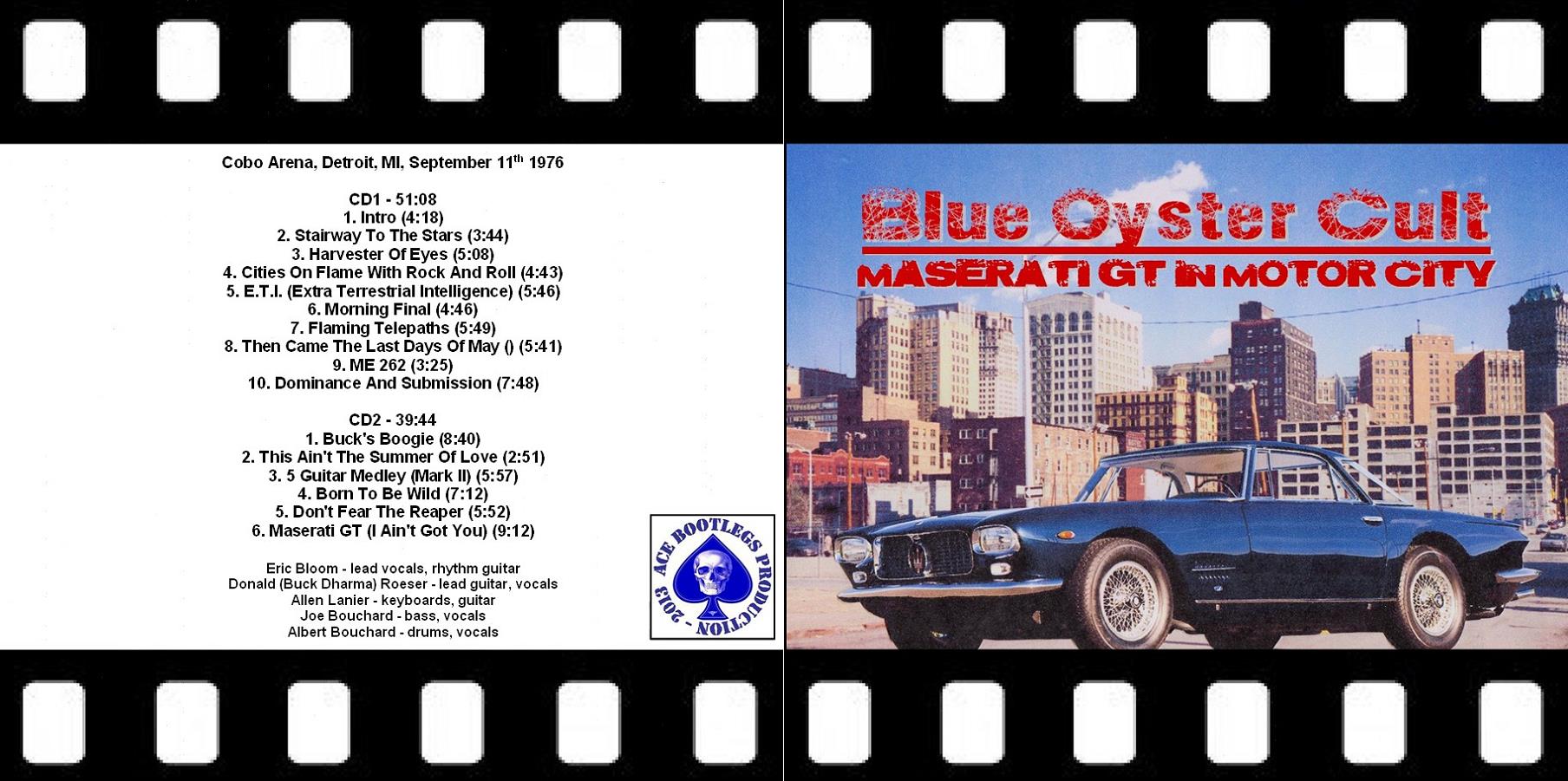 Dos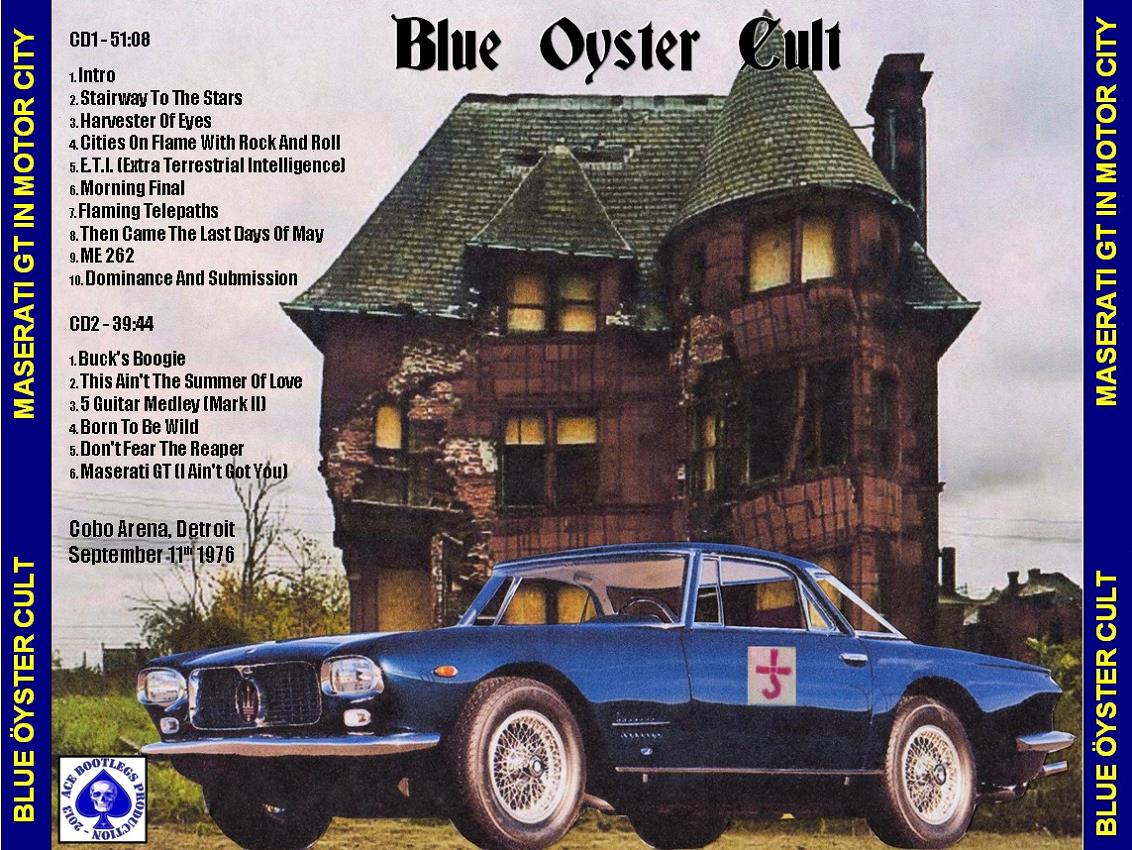 Bootleg n°256