ROCK'N'ROLL SUICIDE

Date : 20/10/1972
Lieu : Civic auditorium, Santa Monica, Californie
Label : The Swingin' Pig (Réf. : TSP CD 041/042)
Support : 2 cd (Original silver discs)
Durée : 75:00 mn
Source : Soundboard
Qualité sonore : 8,5/10

Liste des titres :
1. Hang on to yourself (2.47)
2. Ziggy stardust (3.22)
3. Changes (3.31)
4. The supermen (2.55)
5. Life on Mars ? (3.27)
6. Five years (5.17)
7. Space oddity (4.54)
8. Andy Warhol (4.09)
9. My death (5.43)
10. The width of a circle (10.41)
11. Queen bitch (2.58)
12. Moonage daydream (4.32)
13. John (I'm only dancing (3.36)
14. Waiting for the man (5.57)
15. The Jean Genie (3.54)
16. Suffragette city (3.35)
17. Rock'n'roll suicide (3.17)
Commentaire : Un bootleg de Bowie ultra célèbre et qui existe dans plusieurs versions. Celle-ci est complète et propose une excellent qualité sonore.  Il capture le premier des deux concerts consécutifs donnés au Santa Monica Civic auditorium lors de la première tournée de Bowie aux Etats-Unis. Le concert du jour suivant ne fut jamais enregistré alors que celui-ci fut diffusé sur une radio FM, permettant aux bootleggers de réaliser quelques bootlegs mémorables. Parmi ceux-ci, les deux vinyls intitulés « In America » (qui contenait la première partie du concert) et « In Person » (deuxième partie) furent un temps considérés comme les meilleurs bootlegs de tous les temps. Ce sont eux qui ont été utilisés par le label « The Swingin' Pig » pour réaliser leur coffret double CD qui fut l'un de mes premiers bootleg en CD. Comme toujours avec ce label, la qualité de la production est assez bonne, mais on entend quand même assez bien les craquements du vinyle d'origine. En outre, la durée du concert ne nécessitait pas un double CD. Ceci dit, on s'en fout un peu car ce concert existe maintenant en version officielle avec un son parfait.
Pochette :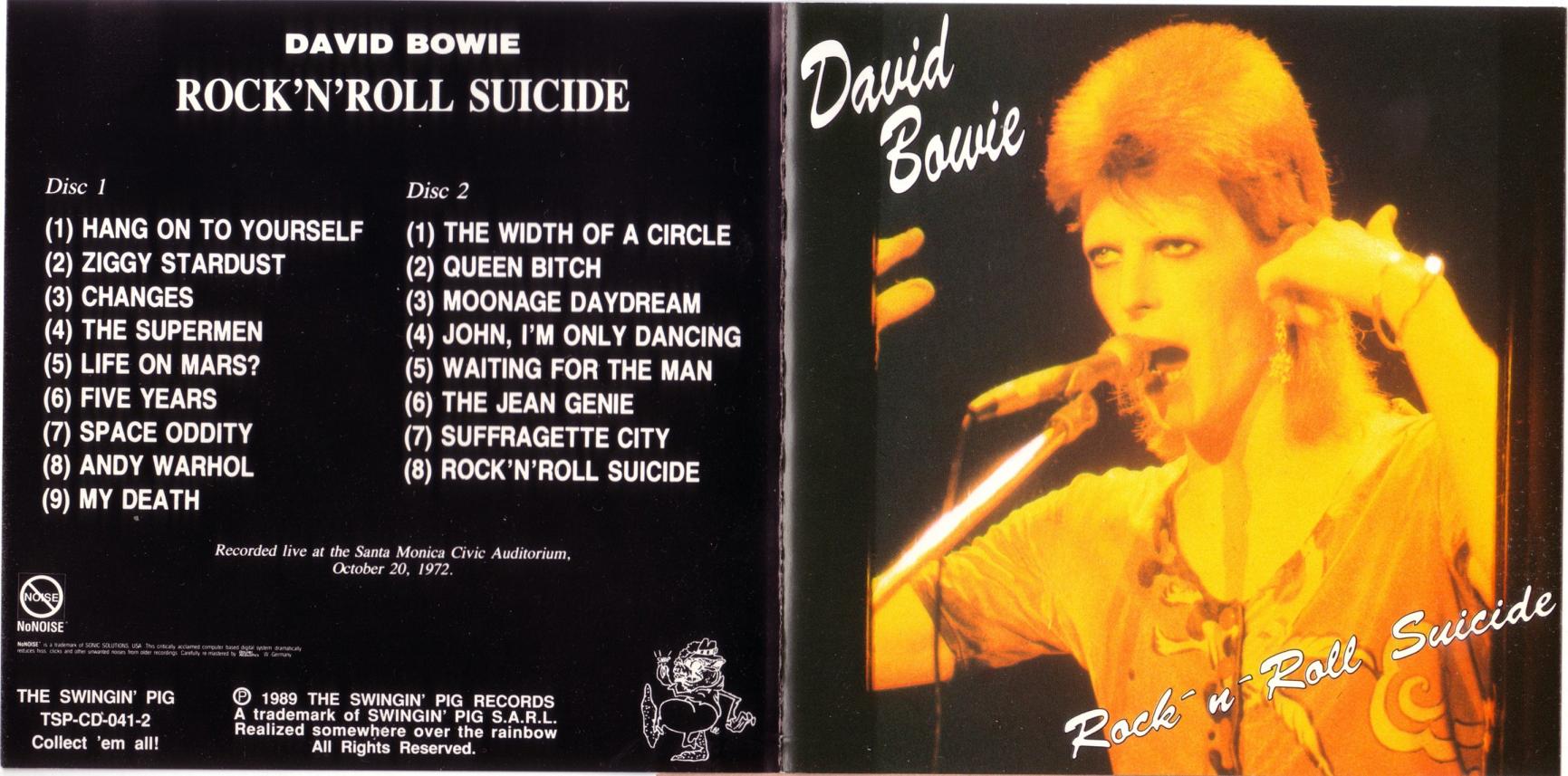 Bootleg n°1484