SAN ANTONIO '85

Date : 17/08/1985
Lieu : Southern Star Amphitheatre, Houston, Texas (très probablement)
Label : Living Legend Records (Réf. : LLRCD 097-098)
Support : 2 cd
Durée : 90:01 mn
Source : Soundboard
Qualité sonore : 8,5/10

Liste des titres :
CD 1
1. Sultans of Swing (11:46)
2. Why Worry (5:21)
3. Walk of Life (3:55)
4. Two Young Lovers (4:48)
5. Brothers in Arms (7:48)
6. Solid Rock (4:48)
7. Going Home (Local Hero) (4:58)
CD 2
1. Ride Across the River (9:52)
2. Expresso Love (6:35)
3. One World (5:50)
4. Romeo and Juliet (8:39)
5. Money for Nothing (8:03)
6. Tunnel of Love (7:55)
Musiciens :
Mark Knopfler – vocals, guitar
Jack Sonni – guitar
John Illsey – bass, vocals
Guy Fletcher – keyboards, vocals
Alan Clark – keyboards, vocals
Terry Williams – drums
Chris White – saxophone, flute
Commentaire :Non seulement il ne s'agit pas du concert de San Antonio, mais en plus l'ordre des chansons est totalement erroné. Enfin, le concert n'est pas tout à fait complet (il semble qu'il manque « Private Investigations »). Apparemment, le seul bootleg proposant le « vrai » concert de San Antonio » est « Secrets in the closet » (voir ici). Tous les autres contiennent en réalité le concert de Houston du lendemain (17/08/1985).
Pour ce qui concerne ce bootleg en particulier, j'ai une incertitude : normalement, à la fin de Brothers in arms, Mark Knopfler crie à chaque fois le nom de la ville. Sur le bootleg « Houston '85 » (cf ici) on l'entend par exemple nettement crier « Thank you Houston ». Or, sur le bootleg « San Antonio '85 » publié par le label Living Legend, la musique semble absolument identique au concert de Houston, mais le cri de Knopfler est absent ; on dirait qu'il a été effacé, ce qui accréditerait l'hypothèse d'une manœuvre frauduleuse destinée à induire l'auditeur en erreur. Une manœuvre bien dans la manière de bootleggers peu scrupuleux comme ceux de Living Legend.

La version téléchargeable ci-dessous rétablit l'ordre correct et les titres manquants, et il s'agit réellement du concert de San Antonio.. Par contre, elle est fournie sans pochette. Pour une version complète avec pochette, voir ici.

Disponible ici* : http://www.guitars101.com/forums/f145/dire-straits-1985-08-16-san-antonio-tx-sbd-flac-133755.html#post981359

*Assurez-vous que le téléchargement de ces fichiers ne contrevienne pas à la législation en vigueur.
Pochette :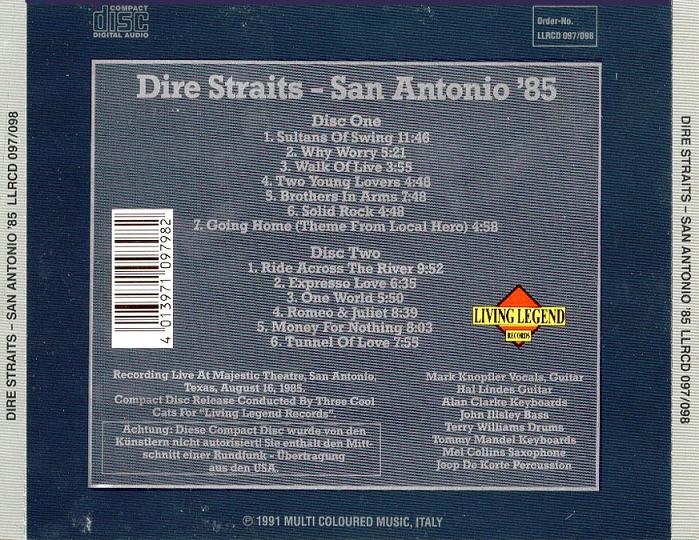 Bootleg n°474