STICK AROUND THE THEATRE

Date : 06/03/1979
Lieu : Tower Theater, Philadelphia, USA
Label : Enlight Project
Support : 3 cd
Durée : 181:35 mn
Source : Soundboard
Qualité sonore : 9 à 9,5/10

Liste des titres :
CD 1 – 51:48
Imtrat Silver
01-Sultans of swing (6:29)
02-Eastbound train (4:23)
03-Southbound again (5:03)
04-Water of love (7:10)
05-What's the matter baby (3:28)
06-Lions (6:02)
07-Six blade knife (4:32)
08-Down to the waterline (3:07)
09-In the gallery (5:50)
10-Wild west end (5:44)
CD 2 – 56:53
FM Master Reel
01-Announcer introduction-Down to the waterline (5:48)
02-Six blade knife (4:56)
03-Water of love (7:21)
04-In the gallery (5:49)
05-What's the matter (3:35)
06-Lions (6:16)
07-Sultans of swing (6:37)
08-Wild west end (5:39)
09-Eastbound train (4:34)
10-Southbound again (4:46)
11-Radio announcer closing credits (1:32)
CD 3 – 72:54
Different sources
01-Down To The Waterline (4:42)
02-Six Blade Knife (4:11)
03-Water Of Love (5:29)
04-In The Gallery (5:35)
05-What's The Matter Baby (2:48)
06-Lions (5:50)
07-Sultans Of Swing (5:49)
08-Wild West End (4:50)
09-Eastbound Train (3:48)
10-Southbound Again (4:36)
11-Once Upon A Time In The West (5:25)
12-Lady Writer (3:44)
13-Where Do You Think You're Going (4:21)
14-News (3:47)
15-Bernadette* (3:30)
16-In My Car* (4:29)
*[Orpheum, Boston USA, 8th September 1979 ]
Commentaire : Ce coffret regroupe trois versions différentes du concert du 6 mars 1979 à Philadelphie. Dans les trois cas, il s'agit de version soundboard.
– Le CD1 est issu du bootleg 'officiel' « Live & Alive » (chroniqué ici). Le son est très propre car il est issu d'une diffusion à la radio, mais les titres sont dans le désordre par rapport à l'ordre dans lequel il furent joués. De plus, la diffusion radio n'a repris qu'une partie du concert. En effet, en raison d'un problème de copyright, la radio n'avait le droit de diffuser que les titres extraits du premier album de Dire Straits.
– Même problème sur le CD2, tiré d'une autre diffusion radio, mais cette fois les morceaux sont dans le bon ordre et incluent aussi les annonces. Une version un peu plus complète, donc.
– Le CD 3 est une tentative de reconstitution du concert complet dans le bon ordre. Le son est excellent lorsque les versions diffusées à la radio ont pu être utilisées mais un peu moins bon (quoique encore très bon et de qualité soundboard) sur les six autres titres. Les deux derniers titres proviennent d'un autre concert (postérieur de six mois) car ceux de la version de Philadelphie n'ont pas pu être retrouvés. Enfin, on peut entendre Mark Knopfler expliquer au public, juste après le morceau « Water of Love » qu'ils ne joueront d'abord que les morceaux du premier album pour des questions de droits de diffusion mais qu'à la fin du concert, ils joueront aussi les morceaux de leur prochain album. Il s'en excuse même auprès des auditeurs de la radio.
Disponible ici* : http://www.guitars101.com/forums/f145/dire-straits-stick-around-the-theatre-sbd-flac-177440.html#post1163162
*Assurez-vous que le téléchargement de ces fichiers ne contrevienne pas à la législation en vigueur.
Pochette :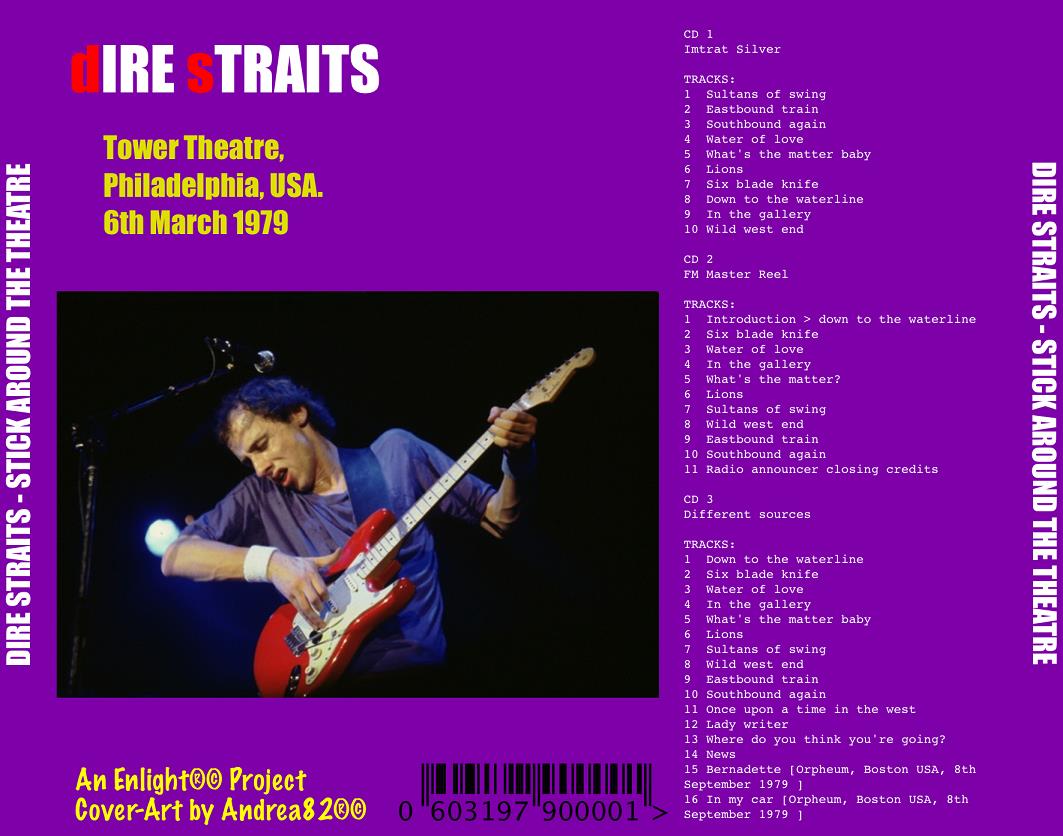 Bootleg n°183